Hyperloop One Files Countersuit In Response To Co-Founder's Lawsuit
The transportation startup has made a robust response to a lawsuit filed last week by its co-founder and former CTO, Brogan BamBrogan, alleging assault, defamation, and breach of fiduciary duty.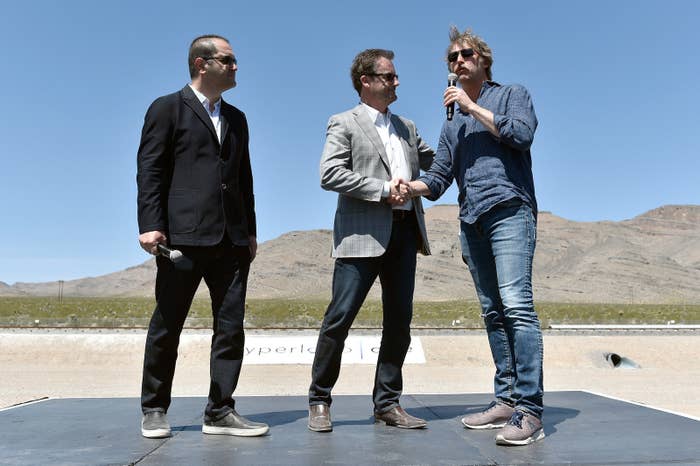 Hyperloop One, the transportation startup developing a high-speed shuttle, has filed a countersuit against its co-founder Brogan BamBrogan, who last week filed suit against the company. The countersuit alleges that BamBrogan acted "illegally and in bad faith" by "manufactur[ing] a rebellion and incit[ing] conflict in a transparent attempt to seize control of the Company." In the countersuit, Hyperloop Technologies asks for over $250 million in damages and a trial by jury.
Orin Synder, Hyperloop's lawyer, sent the following statement:
Today's lawsuit demonstrates that these four men staged a failed coup to try to take over Hyperloop One and then conspired to start their own competing company. They engaged in gross misconduct in pursuit of their illegal plan and will now be held fully accountable in a court of law. Today's filing also makes clear that the complaint filed last week was an attempt to divert attention, through lies and half-truths, from the erratic and unlawful behavior of these four individuals. Hyperloop One's board and management are unified in standing up to this illicit attack on the company, and today the company is stronger than ever in its mission to bring the Hyperloop to the world.
The countersuit comes less than a week after news broke that Hyperloop One co-founder Brogan BamBrogan had filed an incendiary lawsuit against his own company alleging misuse of funds, defamation, and assault. BamBrogan was an early engineer at SpaceX and served as Hyperloop One's chief technology officer until he abruptly left the company this month. The initial lawsuit alleged that BamBrogan and other employees were wrongfully terminated for trying to bring attention to mismanagement at Hyperloop One.
Today's countersuit refers to BamBrogan and the other employees as "the Gang of Four" and alleges that they manufactured a rebellion.
The countersuit alleges that these four individuals recruited employees from within Hyperloop One to leave and start a new company (referred to as NewCo. or Hyperloop Two). Indeed, according to the suit, the domains "hyperlooptoo.com", "hyperlooptwo.com" and "hyperloop2.com" were all purchased around the same time the so-called "coup" started to take form. Additionally, the suit says each of the "Gang of Four" was "on notice for poor performance and had good reason to believe his days at the Company were numbered."
Like the original lawsuit — which centered around a claim that Afshin Pishevar left a noose on BamBrogan's desk — the countersuit involves disturbing allegations about personal behavior.
Here's one excerpt:
BamBrogan had become increasingly disruptive to the Company with his profane, erratic, sexist, and inebriated outbursts toward management, fellow employees, and outside consultants including screaming in the face of a co-worker for no rational reason, punching a wall, and breaking a beer bottle.
The countersuit also addresses the hangman's noose, claiming that it was "a rope tied with a lasso knot."
In his original lawsuit and in the restraining order, Brogan BamBrogan claimed that Pishevar had left a noose on his desk as a threat. The counterclaim instead alleges that the item was not a hangman's noose, but "a rope tied with a lasso knot" that Pishevar placed "on the desk where BamBrogan kept his trademark cowboy hat." The countersuit states that this stunt, while not "a threat of physical harm" was "ill-considered and in poor taste" and was the reason for Pishevar's termination.
The countersuit denies claims that Hyperloop One's leadership violated their fiduciary duties in order to help themselves and their family members.
In regard to the claims in the original suit regarding fiduciary duty, the countersuit filed today:
denies the claim that cofounder Shervin Pishevar required investors to become involved in his fund, Sherpa Capital, in order to invest in Hyperloop One
denies the claim that nepotism influenced Hyperloop's hiring of the firm Fideras for fundraising, and states that Joe Lonsdale (whose brother is part of Fideras) recused himself from the vote in which Fideras was selected
The claim alleges that the tension between the "Gang of Four" and the current Hyperloop defendants spiraled, causing "unprofessional" and "erratic" scenes in the workplace:
In a perplexing and disturbing act befitting their unprofessionalism, BamBrogan and Pendergast insisted that their family members — including, for Pendergast, his wife and two children — be present at the Company's headquarters during heated discussions. At the climax of these discussions with Rob Lloyd, the Company's CEO, Pendergast demanded that the CEO fire him — shrieking, with his children and wife beside him, "If you're going to fire me, do it now! Fire me! Fire me right here and now!"
The countersuit also echoes a statement by the Pramana Collective that the increase in the fee to the PR company from $15,000 to $40,000 was the result of "the expanded scope of the firm's work" and not related to Pishevar's personal relationship with a Pramana employee, though the countersuit does acknowledge that the relationship existed.
The lawyer representing BamBrogan contested many of the claims made in the countersuit.
In a statement provided to BuzzFeed News, Justin T. Berger, the attorney representing BamBrogan and his fellow plaintiffs, wrote: "Mr. BamBrogan never came to work with alcohol on his breath." Berger also said that the plaintiffs were told their performance was stellar, adding: "None of the plaintiffs received negative evaluations from management." In addition, Berger noted that the plaintiffs did not retain their work computers. As for the hyperlooptoo.com domain, BamBrogan purchased it, but did not register it, said Berger. It was done "as a joke at the prompting of a coworker, and never intended to use it for business."
Berger's statement goes on to say that the "Defendants are attempting to recast Plaintiffs' efforts as a failed coup, and claim that Plaintiffs were planning to start a competing company for months. To the contrary, Plaintiffs had no desire to leave the company until their attempted intervention was met with threats of termination."
The company has taken a tumultuous turn since announcing an additional $80 million in fundraising and a deal with Vladimir Putin this spring.
The initial complaint named Shervin Pishevar (a well-known Silicon Valley venture capitalist) and his brother Afshin Pishevar (Hyperloop One's former chief legal officer) as defendants, along with Hyperloop One's vice chairman Joe Lonsdale, who also co-founded the data startup Palantir.
Prior to filing the lawsuit, BamBrogan requested a restraining order after Afshin Pishevar allegedly left a noose on BamBrogan's desk. A judge swiftly denied the restraining order because both BamBrogan and Afshin Pishevar no longer work together. According to the lawsuit, the noose was placed on BamBrogan's desk after a group of 11 employees wrote a letter of complaint about how the company was mismanaged. The suit alleges that the defendants retaliated by saying they would "'come after them" and "bleed the employees dry with frivolous lawsuits."
The company started the company a couple years ago based on a futuristic transportation proposal put forth by Elon Musk, the billionaire CEO of SpaceX and Tesla. Musk has not put his support behind either of the companies currently trying to bring Hyperloop concepts to market.
This is breaking news, we will update the post as we learn more. Check out our previous coverage of the restraining order and lawsuit.