Protests against President-elect Donald Trump continued in major cities on Saturday, with thousands taking to the streets to denounce the Republican just days after his election.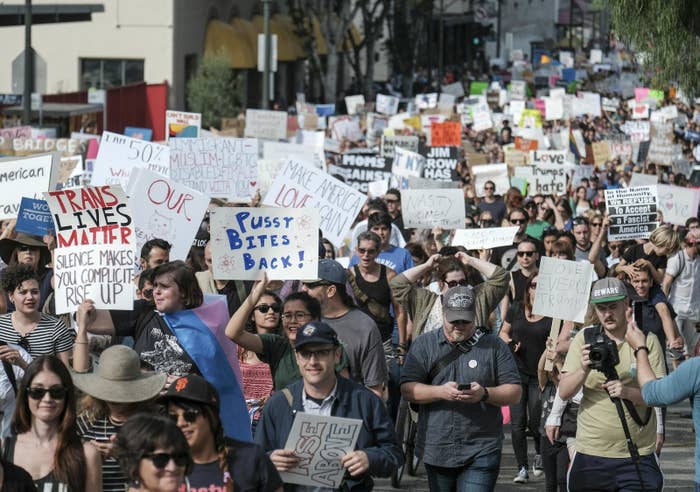 In New York City, the protest began at Union Square, with demonstrators marching up Fifth Avenue towards Trump Tower.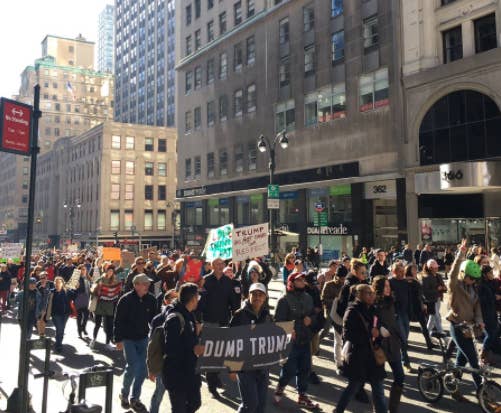 Some protestors brought signs.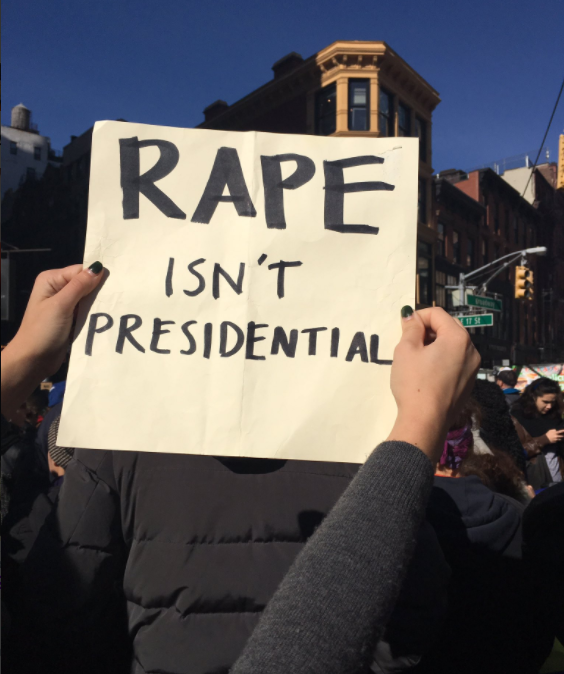 Others dressed up.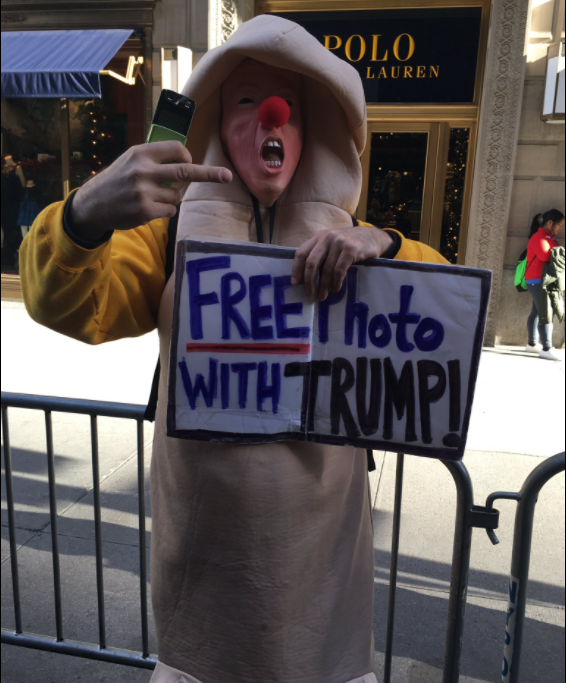 Outside Trump Tower, the crowd sang the national anthem, with many following the example of the pro-athletes who have kneeled during the "Star Spangled Banner" as a form of protest.
"I don't feel that Trump represents my values as an American, and I'm very unhappy that he got elected, especially considering he lost the popular vote," protester Marissa Crowe told BuzzFeed News.
"I think the president should really represent what the American people want," Crowe said.
Other protesters told BuzzFeed News they fear the policies Trump's administration may enact.
"As a trans queer person, I don't feel safe with someone like Donald Trump or Mike Pence as president," Fritz Roads said. "So, I feel like I had to come here and make my voice heard."
In Los Angeles, crowds gathered the historic MacArthur Park and marched toward the city's downtown area.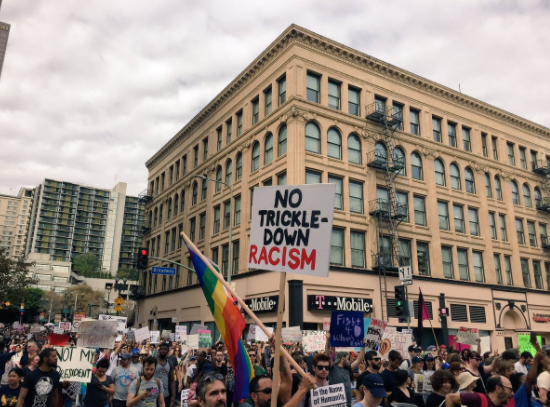 LA Mayor Eric Garcetti said he was "proud" of LA residents "exercising their democratic rights."
In an interview with CNN on Saturday, Mayor Garcetti said the "overwhelming majority" of protestors were students or citizens going out to protest for the first time.
"This is really the voice of a new generation of Americans, saying that we want to do something about climate change, we want to unite this country, we stand for love and not division," Garcetti said.
"What we will do is stand up against hatred and division and things that single out people because of the language their parents spoke or where they come from, or what their religion is," the mayor said.
At least two large groups of demonstrators also marched by Trump's Chicago building, holding signs that said "Love trumps hate" and "Not my president."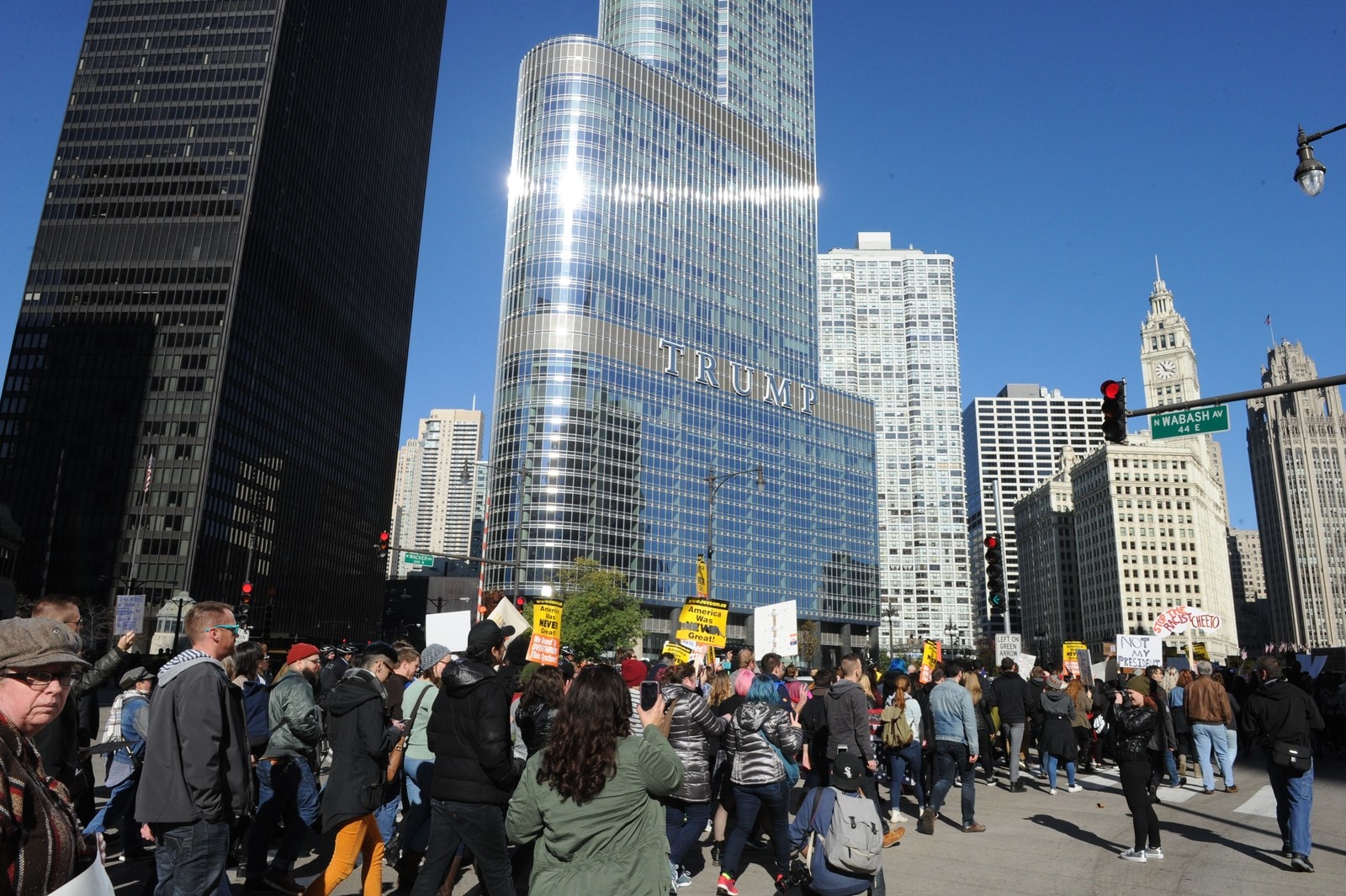 "[It went] fantastically," said Chicago Police Lt. Godfrey Cronin told the Chicago Tribune. "A bunch of young people got together, they didn't know each other, they controlled the crowd wonderfully and everybody peacefully protested, got their message out."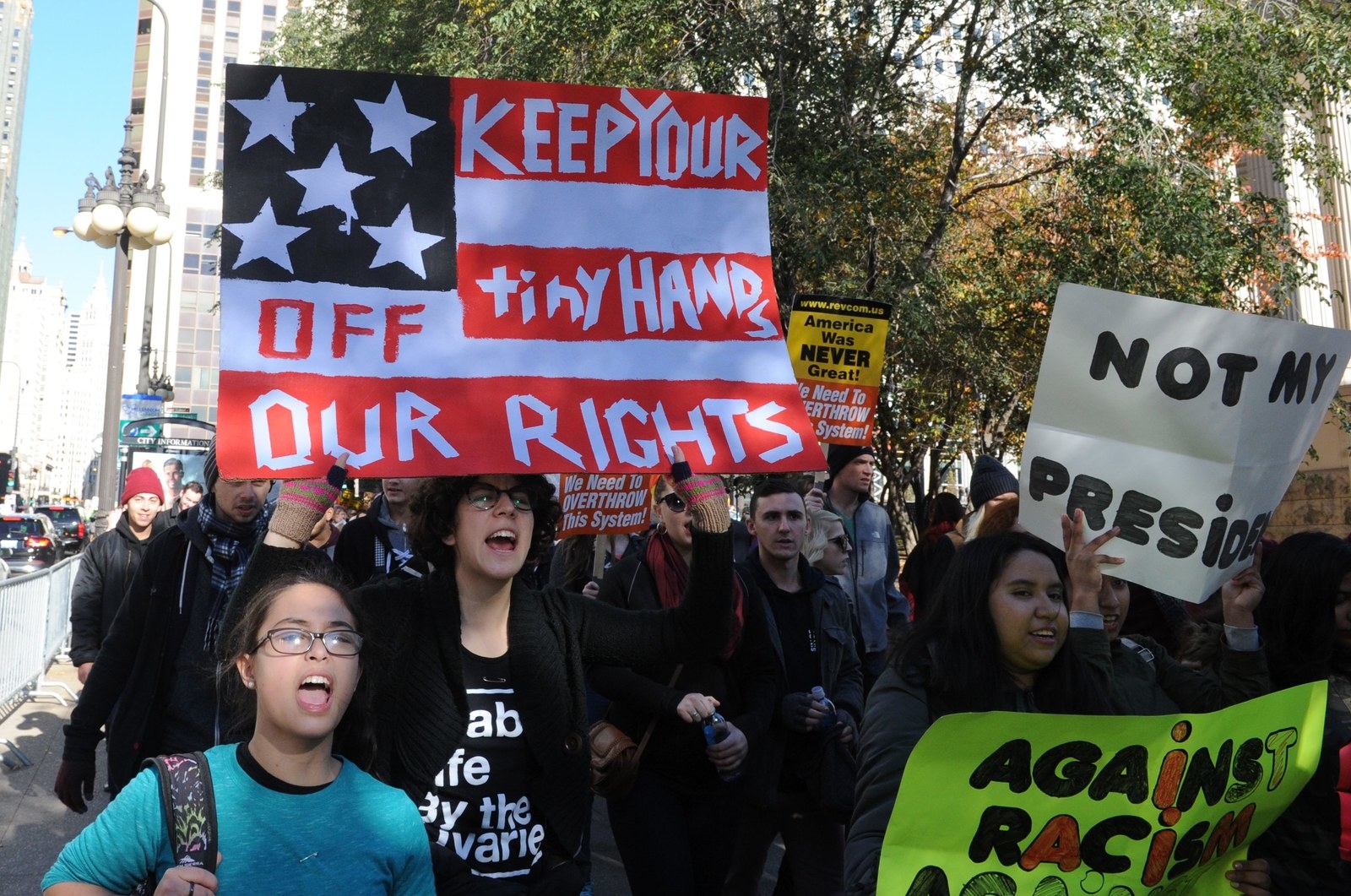 "We're just trying to exercise our First Amendment rights. We're protesting Donald Trump," protest organizer Richard Domenico Ehlert told the Tribune. "We do not accept Trump's hatred, his bigotry, his sexism and his homophobia. With the popular vote we elected Hillary Clinton, not Donald Trump."
About 400 people also gathered at the State House in Providence on Saturday afternoon, according to the Providence Journal.
Protests in Portland turned into riots, resulting in millions of dollars of property and more than 70 arrests.