As the floodwaters clear and the roads dry out, Houston hospitals that spent the week keeping tropical storm Harvey at bay are bracing for a massive surge of patients.
In the wake of what was essentially a disruption in healthcare as usual as Harvey loomed over the Texas coast, hospitals are re-opening urgent care facilities. Several are beefing up their staffs in anticipation of big crowds.
Medical facilities will be tending to this extra patient load while finding and repairing damages at sites hit by the storm. As of Wednesday, more than 27 hospitals in Harvey's path had evacuated and closed. By Thursday, state personnel had evacuated 1,086 patients on 165 missions, according to the Texas Department of State Health Services.
People injured while evacuating — by falling debris, or sporting skin infections from touching contaminated floodwater — will need medical care. But more than usual, people with chronic conditions who couldn't get the medications or treatments they needed during Harvey's shutdown of Houston, are also anticipated to show up to the emergency room in high numbers.

"Hospitals are seeing just the tip of the iceberg right now. I suspect it's going to get worse before it's going to get better," Daniel Waxman, a professor at the UCLA Department of Emergency Medicine and a health policy researcher at the RAND Corporation, told BuzzFeed News.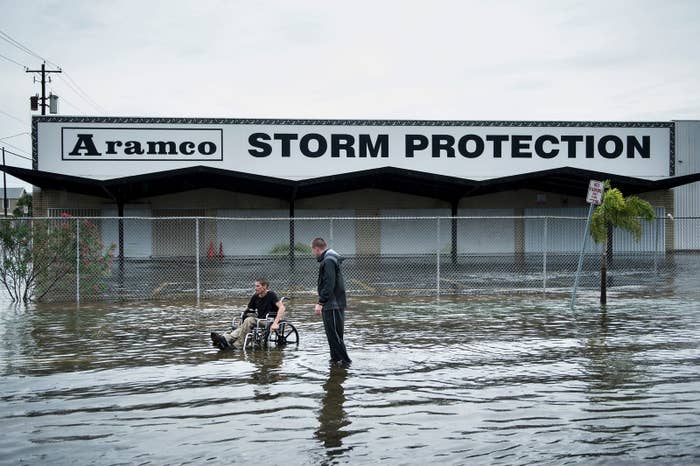 During the storm, 47-year-old Houston resident Kimberly Phelps worried about her 90-year-old father, who'd previously had a stroke and a heart attack. Phelps wasn't sure if he'd been able to grab all the medications he needed before water submerged the first floor of his home.
"I'm going to be honest, I'm scared he's going to have a heart attack or something," she told BuzzFeed News on Monday. "It's been hell, it really has," she said. "Plain and simple, it's been hell."
Brithani Byrd, who is 25, says her grandparents have a lot of medical conditions that could have led to major trouble if they hadn't been rescued when they were. Both are diabetics who rely on daily insulin injections, and her grandmother, 67, has had her right leg amputated, a complication of the disease. Her grandmother is also on dialysis for kidney disease. "It's not easy for her to be mobile on a regular day, let alone a day when her home is filled with water," Byrd told BuzzFeed News.
By early Monday afternoon, her uncle got his hands on a motor boat, picked up her grandparents, and took them to a shelter, Byrd said.
"I still feel very anxious and I am upset but I also know I can't leave my house so I'm just trying to keep everything together, basically, and not freak out too much," she said.
At DaVita Med Center Dialysis on Tuesday, patients waited hours to get treatment according to NPR, and the company sent a call for employees in other parts of the state to travel to Harvey-affected areas to help.
Also taxing the capacity of space and staff at clinics across the city: Recovering patients may not be able to give up their beds to new ones, because they have nowhere to go. "You can't discharge someone who's just had a serious infection to a football stadium," Waxman said.
HCA Healthcare, a Nashville-based company that runs 59 facilities in Texas, is sending 360 additional nurses and staff to Houston by the end of the week, spokesperson Ed Fishbough told BuzzFeed News by email. The tropical storm caused the shutdown of three centers in Corpus Christi and one in Houston. Active centers are currently overseeing 2,400 patients, Fishbough said.
"We're already seeing an increase in patients at emergency rooms across our system," Alex Loessin, spokesperson for Memorial Hermann Health System, which operates 275 locations in the Houston area, told BuzzFeed News on Thursday. Memorial Hermann opened four urgent care centers in the city Wednesday to allow people with minor injuries to begin getting treatment, Loessin said.
Two Memorial Hermann hospitals closed early in the week because the water-logged roads made them inaccessible. Memorial Hermann in Sugar Land was evacuated and closed Tuesday, anticipating that the Brazos River nearby would flood its banks. Patients were transferred to Memorial Hermann Southwest Hospital.
On Sunday, doctors at University of Texas's MD Anderson Cancer Center posted photographs of water entering areas of the Texas Medical Center facility.
The cancer center closed sites through Wednesday, prompting worries that patients would fall behind on radiation treatments or chemotherapy. On a call with reporters Tuesday, chief medical officer Karen Lu said that staff had begun contacting patients and rescheduling appointments. The hospital did not provide a number for how many patients had been affected in this way.

Ahead of the storm, many hospitals announced that new appointments and elective surgeries would be cancelled. In part, Waxman said, this decision was made to help prepare for the massive medical needs of patients after the storm had subsided.
"They know that there's going to be a surge of patients who are at risk for dying," he said.
Stephanie Lee from BuzzFeed News contributed to this report.