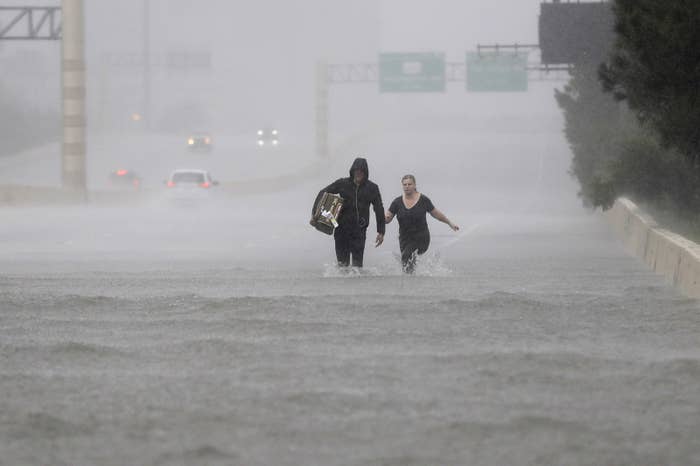 Public health experts in Texas are warning Houston residents to be wary of floodwater, which carries harmful chemicals and bacteria that could spread infections.
This is only the first of a multitude of public health concerns following a disaster of this scale.

On Tuesday, the storm slammed Texas for the fourth day running, with the National Weather Service predicting 10 more inches of rainfall for Houston areas already underwater. Homeowners are estimated to face up to $30 billion in property damage, and 30,000 residents are expected to be displaced to shelters. With the human toll of the event only just coming into view, local authorities have so far confirmed at least two deaths.
As the storm rages on, state and federal agencies are bracing for a public health fallout that will last months, carried by the floodwater currently submerging the city.
With roads still waterlogged, preventing drowning deaths is a first priority, Tegan Boehmer, acting chief of the Health Studies Branch at CDC's National Center for Environmental Health, told BuzzFeed News. The agency is supporting state and federal first responders, and has sent 24 staff members to Texas so far.
At shelters or at home, another immediate priority is the safety of food and water, Chris Van Deusen, spokesperson for the Texas Department of Health and Human Services, told BuzzFeed News.
Floods can contaminate water sources with bacteria and shutdown treatment plants. While health officials say that Houston's drinking water supply has so far been spared, the city of Victoria continues to recommend that residents boil tap water before drinking it. In Corpus Christi, city officials issued a precautionary boil water notice on Friday, but on Sunday declared the water on the mainland safe to drink. Van Deusen advised people in Houston and regions affected by Harvey to remain alert for any drinking water advisories from local municipalities.
The EPA is planning to begin testing Houston's floodwater "as soon as conditions in the area allow," agency spokesperson David Gray told BuzzFeed News in an email.
For food, the CDC recommends monitoring anything that has not been refrigerated, and cleaning off food cans that have come in contact with floodwater.
"Those are the first concerns at a time like this, when we're still early on in this event," Van Deusen said.
Other risks involve coming into direct contact with floodwater, which contains contaminants that can cause skin infections. "It starts mixing with debris and soil and runoff from agricultural areas, and so pretty quickly you get floodwater that's contaminated with lots of different kinds of bacteria," Linda Yancey, an infectious disease specialist at Memorial Hermann Katy Hospital in Houston, told BuzzFeed News.

Sewage is also expected to mix with floodwater, along with E. coli bacteria from animal feces and agricultural runoff.
People are often tempted to take their shoes off while wading through the water, but "that's actually a terrible thing to do because they get nicks and scratches from stuff in the water and rough surfaces of the road," Yancey said. "We saw quite a few of them in the evacuees after Katrina." Her advice to residents is to wash themselves thoroughly as soon as they are out of the water, disinfect any wounds, and watch for telltale signs of an infection, like red streaks.
People in Houston are also reporting more visible threats like floating fire ant colonies — their bites are very painful but rarely lethal, Yancey said — and alligators.
State regulators asked Texas residents to report any suspected oil or gas spills during the storm. As of Monday, the Railroad Commission of Texas reported one gas spill from a leaking tank at a site east of Houston, and one fire. In Houston or elsewhere, "chemical hazards are something we're always concerned about anytime there's flooding," Van Deusen said. Gasoline and oil are extreme irritants, Yancey added, and can cause mild chemical burns to the skin.
No "significant spills" have been reported so far, according to EPA spokesperson Gray.

Harvey-hit cities are also bracing for the resurgence of mosquito-borne diseases, with West Nile at the top of the list. It's still mosquito season out on the coast, and stagnant water pools offer lots more breeding ground.
"What we've seen in past disasters is that immediately after the flooding, the risk of mosquitoes decreases because they are washed away. But within a couple of weeks after the floodwaters have started to recede, we see an increase in mosquito population," Boehmer said.
Corpus Christi already has plans to begin treating standing pools of water with insecticide, according to a city release. Once the storm subsides, workers will also spray for bugs.
With homes and highways underwater along the Gulf Coast, Harvey is drawing comparisons to Hurricane Katrina, which hit New Orleans in 2005 — displacing 200,000 and running up $100 billion in damages. Estimates for lives claimed by the storm vary, and range from 986 to 1,833. During that event, the EPA and independent researchers sampled the water in various parts of the city for bacteria and chemicals. The contaminants in floodwater, the agencies said, depended on the kinds of factories or facilities nearby.
Water that had stayed stagnant for longer carried higher levels of heavy metals and toxins, Steve Presley, director of the biological threats lab at Texas Tech University who sampled sites across New Orleans, told BuzzFeed News.
"Arsenic was the primary toxic metal that we found that was of significant concern in New Orleans," Presley said. Possible sources could be soil that had been dredged up by the floodwater, or arsenic that may have been used in wood preservation that had leached back into the water from flooded homes.
Later, when water levels recede and people begin returning to their homes, city and state agencies will be on the watch for a list of other risks, including falling tree limbs and loose debris in homes. Generators within 20 feet of a home or garage also pose a hazard for carbon monoxide poisoning, Boehmer, of the CDC's National Center for Environmental Health, said.
She also recommends that residents returning home keep a safe distance from certain items that the floods may have moved: Car batteries can leak corrosive acid, and propane tanks from grills can explode.
Then, in the months after the event, allergens like mold lurk inside buildings and can emerge.
"The danger doesn't go away, even when the water does," Van Deusen said.