Here Are The Health Hazards In Houston's Floodwater
From floating fire ant colonies to leaking car batteries to sewage, public health experts are expecting storm-related health effects to last months.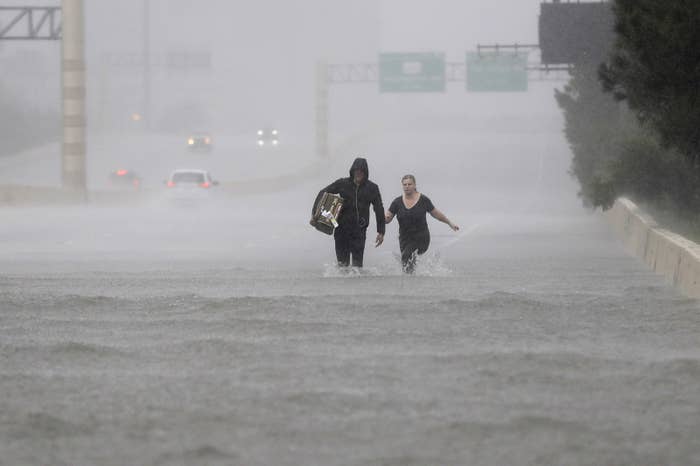 Public health experts in Texas are warning Houston residents to be wary of floodwater, which carries harmful chemicals and bacteria that could spread infections.
This is only the first of a multitude of public health concerns following a disaster of this scale.

On Tuesday, the storm slammed Texas for the fourth day running, with the National Weather Service predicting 10 more inches of rainfall for Houston areas already underwater. Homeowners are estimated to face up to $30 billion in property damage, and 30,000 residents are expected to be displaced to shelters. With the human toll of the event only just coming into view, local authorities have so far confirmed at least two deaths.
As the storm rages on, state and federal agencies are bracing for a public health fallout that will last months, carried by the floodwater currently submerging the city.
With roads still waterlogged, preventing drowning deaths is a first priority, Tegan Boehmer, acting chief of the Health Studies Branch at CDC's National Center for Environmental Health, told BuzzFeed News. The agency is supporting state and federal first responders, and has sent 24 staff members to Texas so far.
At shelters or at home, another immediate priority is the safety of food and water, Chris Van Deusen, spokesperson for the Texas Department of Health and Human Services, told BuzzFeed News.
Floods can contaminate water sources with bacteria and shutdown treatment plants. While health officials say that Houston's drinking water supply has so far been spared, the city of Victoria continues to recommend that residents boil tap water before drinking it. In Corpus Christi, city officials issued a precautionary boil water notice on Friday, but on Sunday declared the water on the mainland safe to drink. Van Deusen advised people in Houston and regions affected by Harvey to remain alert for any drinking water advisories from local municipalities.
The EPA is planning to begin testing Houston's floodwater "as soon as conditions in the area allow," agency spokesperson David Gray told BuzzFeed News in an email.
For food, the CDC recommends monitoring anything that has not been refrigerated, and cleaning off food cans that have come in contact with floodwater.
"Those are the first concerns at a time like this, when we're still early on in this event," Van Deusen said.
Other risks involve coming into direct contact with floodwater, which contains contaminants that can cause skin infections. "It starts mixing with debris and soil and runoff from agricultural areas, and so pretty quickly you get floodwater that's contaminated with lots of different kinds of bacteria," Linda Yancey, an infectious disease specialist at Memorial Hermann Katy Hospital in Houston, told BuzzFeed News.

Sewage is also expected to mix with floodwater, along with E. coli bacteria from animal feces and agricultural runoff.
People are often tempted to take their shoes off while wading through the water, but "that's actually a terrible thing to do because they get nicks and scratches from stuff in the water and rough surfaces of the road," Yancey said. "We saw quite a few of them in the evacuees after Katrina." Her advice to residents is to wash themselves thoroughly as soon as they are out of the water, disinfect any wounds, and watch for telltale signs of an infection, like red streaks.
People in Houston are also reporting more visible threats like floating fire ant colonies — their bites are very painful but rarely lethal, Yancey said — and alligators.