Anneliese Harlander hadn't thought much about the professor in the five years since graduating from UC Santa Cruz. But the memories flooded back this January, when an old college friend called to ask: Have you seen the letter?
The long, single-spaced Google Doc, shared widely among UC alumni, contained explosive allegations about Gopal Balakrishnan, a Marxist historian in the humanities division.
"Gopal Balakrishnan has a pattern of using his position of power as a professor and influential academic to intimidate, harass, and even assault young women and gender nonconforming people," the letter read.
It was not addressed to the university, and the 165 people who had signed their names to it were not "hoping to influence university legal proceedings." Instead, they wanted to spread the word about Balakrishnan's reputation where it would count: in his social and professional circles. And they didn't mince words.
"We believe that healthy communities need to defend the safety and autonomy of their members, and be proactive about abuses of power taking place in their midst," the letter said. "This includes setting clear standards for what kinds of behavior we will tolerate. Misogyny, sexual harassment, and sexual assault should have no place among us."
Seven vivid and anonymous anecdotes followed, describing uncomfortable interactions with the 52-year-old professor in academic or professional settings.
Harlander had chills reading the stories. They brought her right back to the devastating evening as an undergraduate when, feeling ill and very drunk, she had to repeatedly push a naked Balakrishnan out of her bed. She had never known about other students with similar experiences. Rattled, she contacted the school's Title IX office, which fields complaints about harassment and discrimination, and shared her account.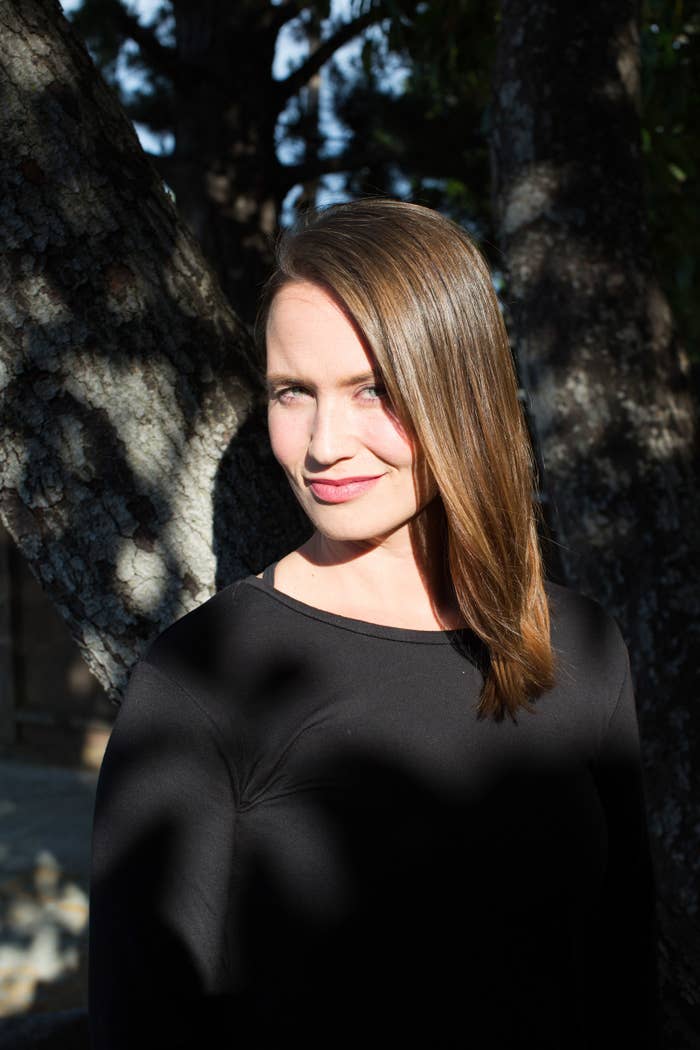 Harlander is one of at least three former Santa Cruz students who have filed university complaints about Balakrishnan in the last six months, prompting a university investigation into sexual harassment and sexual violence.
Those three and three others told BuzzFeed News about firsthand incidents — in which he aggressively pushed to have sex with students and colleagues despite being told no, used cocaine with students, and insulted women or gender-nonconforming students in class — between 2006 and 2017. Many students had complained to the university in years past about behavior they believed crossed a line. But it was only after the letter circulated that the school took real action.
"[T]he serious and troubling allegations that have been described online, if true, represent a serious violation of campus and UC system Faculty Code of Conduct and sexual violence/sexual harassment policies," university spokesperson Scott Hernandez‑Jason told BuzzFeed News by email. "Given the publicity, we can confirm that allegations against Professor Gopal Balakrishnan are being investigated."
Published in heat of the #MeToo movement, and weeks after the Shitty Media Men list caught national attention, the anonymous letter was the final strike in a series of covert efforts to expose Balakrishnan as a "sexual predator" — words printed on leaflets and scrawled on campus bathroom mirrors in the spring of 2017. This rogue campaign raised uncomfortable questions about the rights of the accused and polarized the Santa Cruz community. A January story in the Chronicle of Higher Education suggested that "vigilante justice" had brought "paranoia" to campus.
Balakrishnan's lawyer, Jamie Dupree, told BuzzFeed News that the "dangerous atmosphere" got so bad that it was not Balakrishnan's students who were unsafe, but her client. And she blames the university for doing nothing to quell the furor of the nameless crowd.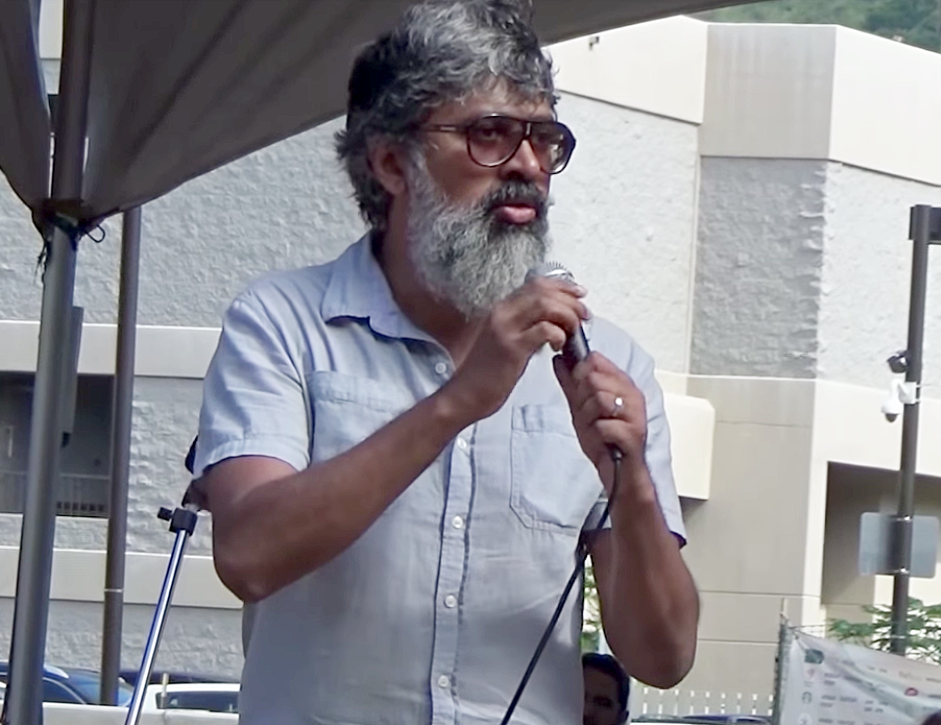 "They really botched it," Dupree told BuzzFeed News. Balakrishnan went on paid leave in the fall of last year, with a $110,300 annual salary. "Professor Balakrishnan was subjected to graffiti, protests, angry activity, and really driven from the university without the university doing anything to protect him as one of their employees against anonymous allegations."
Dupree declined to discuss a detailed list of allegations sent by BuzzFeed News, pointing out that one of the complaints being investigated involves her client's previous comments to journalists — in which he denied wrongdoing and called the anonymous attacks "gossip" and "political performance art." (The university told BuzzFeed News that Balakrishnan is free to speak with the press if he chooses.)
Meanwhile, an investigator from Balakrishnan's legal team has called three of the Title IX complainants, asking for details of their allegations in a tone that one found intimidating enough to report to the school.
A professor's due process often leaves complainants in the dark.
In Title IX cases, a professor's due process often leaves complainants in the dark. The investigations can drag on for months, and sometimes schools don't notify complainants about their conclusions. Even when professors are found to have broken the rules, they're rarely fired. And if they change jobs, their checkered past is typically kept under wraps.

The Balakrishnan letter shows how some people, emboldened by a massive cultural movement online and off, are finding ways to bypass this clumsy system.
"If you look at the accounts of various men brought down by the 'Me Too' movement, you will see the same arguments: It's vigilante justice, I was misunderstood, et cetera," said Lauren Levin, a Bay Area poet and part of the group behind the anonymous letter. "People who have been used to abusing their power see any limit-setting as vigilante justice. I see it as justice."
For years, students new to the UC Santa Cruz History of Consciousness department, a program that integrates politics, literature, and philosophy, were warned that Balakrishnan had a reputation for hitting on women outside the classroom, and denigrating them inside of it.
The Santa Cruz administration heard about Balakrishnan's classroom behavior in early 2009, when seven graduate students — Liz Bishop, Jeramy DeCristo, Nick Mitchell, Trevor Sangrey, and three others who declined to comment for this story — made a joint complaint to the department alleging that Balakrishnan was often openly hostile toward women and gender-nonconforming students. For example, Bishop said Balakrishnan implied that women aren't good at political science, while Sangrey, who was the only woman in a seminar of about 10 graduate students, said the professor told her she was "not smart enough" to do the work. (Sangrey also submitted a complaint to the Title IX office.)
The group complained to department chair Donna Haraway, a feminist scholar famous for "A Manifesto for Cyborgs," the 1985 essay that argues against identity politics based on gender. Haraway and Nancy Heishman, director of Campus Conflict Resolution Services, attempted to mediate between him and the students beginning in January 2009. The students submitted complaints and a list of requests to the school, but nothing happened. "On every imaginable level, I am terribly sorry about this outcome for everybody concerned," Haraway wrote to the students five months after their complaint, explaining that the mediation had failed.
Haraway declined to talk about the details, saying that she is not legally or ethically free to do so. "I think all the parties tried very hard," she told BuzzFeed News by email.
"Without saying anything about my opinions about the complaint or its outcome, because I cannot, I do want to make a general comment about the limits of a mediation process," she added. "If there is no satisfactory agreement and resolution, those in a position of less power and more vulnerability perceive that they have fewer options, and much of the time I think they are correct."
Eight years later, in early 2017, Santa Cruz undergraduate students began speaking openly about harassment on campus, buoyed by news that the University of California Regents had just paid a $1.15 million settlement — one of the largest in history — to a former undergraduate who said a Latin American studies professor had raped her.
Rumors swirled about undergraduates organizing underground, strategizing how to call attention to other faculty members with reputations for harassment. Messages written in black marker appeared in bathrooms of a building on campus: "GOPAL BALAKRISHNAN IS A SEXUAL PREDATOR," one said. Another called for a boycott of his classes on Women's Day.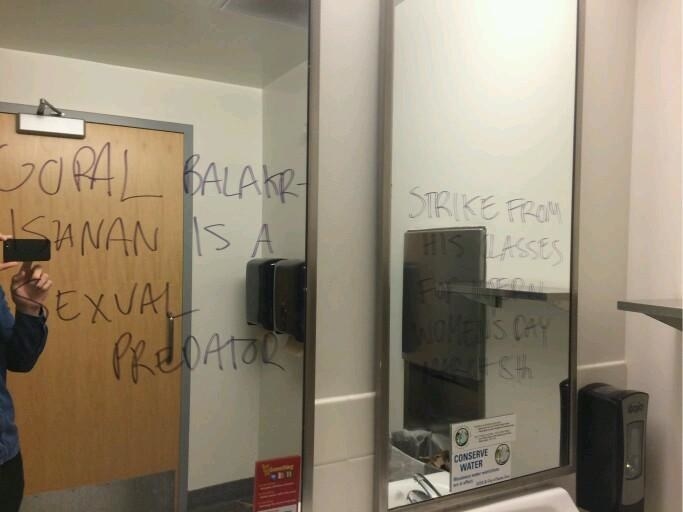 Humanities professors found flyers slipped under their office doors asking them to stop inviting "GB" to public lectures, promoting his books, and attending his talks. A "culture of misogyny" at the History of Consciousness department had "sheltered a sexual predator" and allowed him to "use campus and social spaces to target women for years," the notes said. They were signed by "Undergraduate Students invested in the Humanities departments."
Some of Balakrishnan's colleagues rose up to defend him. On May 7, 2017, four professors wrote an email to the entire humanities faculty. "We write to condemn the recent graffiti and leafleting of Humanities 1 faculty offices attacking one of our colleagues," professors Christopher Connery, Carla Freccero, Susan Gillman, and Deanna Shemek wrote. These "vigilante tactics," they added, impeded the proper procedures for making accusations. "Such a campaign threatens us all, faculty, staff and students alike, insofar as it seeks to condemn by rumor, insinuation, and repetition."
Others soon responded to the email chain in support of Balakrishnan — including Donna Haraway. "Thank you for this strong, principled response," Haraway wrote. "You speak for me too."
Margo Hendricks, an emeritus literature professor, added: "In times where anonymity has replaced principle, I agree we need to a stand against such campaigns."
In an email to BuzzFeed News, Haraway said that she would not have used the word "vigilante" — but that she stands by her conviction that the anonymous leaflets and messages are harmful. (Connery declined to comment. Freccero, Gillman, Hendricks, and Shemek did not respond to requests for comment.)
The email list included graduate student teaching assistants — who, enraged, leaked it widely.
"Historically the University of California has not done a great job in holding faculty perpetrators accountable," Jess Whatcott, president of the Graduate Student Association (GSA) at the time, told BuzzFeed News. (Across the UCs, 100 employees were disciplined for misconduct between 2013 and 2016.) "I felt like it was victim-blaming to focus on the tactics rather than content of what it was raising."
Four days after the faculty denounced the nameless wall scribes, the GSA published a note defending them.
"It is troubling that such a statement and its supporters did not consider the possibility that the graffiti and leaflets may have emerged because of a breakdown in official processes," said the letter, which ran in the student paper.
About a month later, the UC Santa Cruz Student-Workers Union sent an email to the 1,600 students it represents, urging that the "anonymous reports be taken seriously."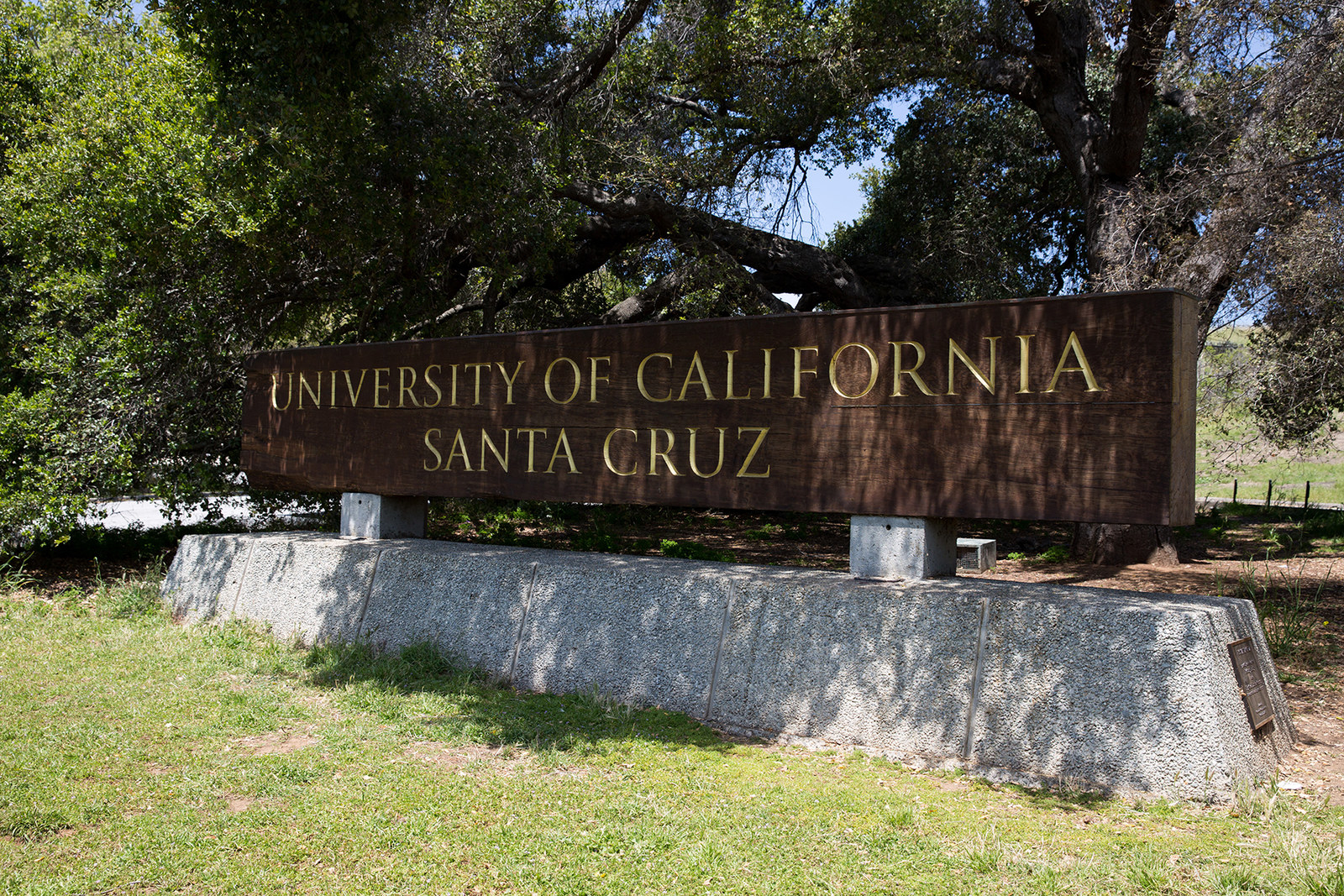 Over the course of the spring 2017 semester, the Santa Cruz Title IX Office heard from at least six people — five of whom were current or former students — describing incidents in which Balakrishnan had made unwelcome sexual advances or made them feel uncomfortable.
One was A., who took a class with Balakrishnan when she was an undergrad in 2013. A. (the first initial of her middle name) told BuzzFeed News that she told an investigator she had received calls, texts, and voicemails from him asking her to go out to bars with him, despite repeatedly saying no. A. told two friends about the texts and calls at the time, and both confirmed this account to BuzzFeed News.

The investigator, A. said, "told me that they would start an investigation and they never got back to me after that."
Around the same time, another former undergrad, Beth Peller, told an investigator by phone that in the fall of 2014, Balakrishnan sat down with her at a cafe on campus, stared at her breasts, and then asked her to meet him at a bar that evening. She ignored him. Another time, she observed Balakrishnan flirting with a drunk undergraduate student at a bar, and when Peller asked him to leave her alone, he flew into a rage. "It looked like he was going to fight me, but he was held back by another faculty member," Peller told BuzzFeed News. "I felt physically threatened."
Her friend Amanda Reyes was at the bar that evening, and told BuzzFeed News that she confirmed by phone to the Title IX office that she had witnessed this bar incident. Peller and Reyes thought their phone calls constituted formal complaints, but when they checked back with the office later in the year, they were told the office was not pursuing an investigation.
Brian Glasscock told an investigator about one night in 2009, when Balakrishnan hosted a party at his house off campus. After a few hours of drinking, someone brought out cocaine. Glasscock, then a freshman and happy to be in a professor's house with the cool crowd, joined Balakrishnan and some other students in sampling some. Later that night, both of them high on drugs and alcohol, Balakrishnan drove Glasscock home.
After hearing this retelling, the Title IX officer referred Glasscock to the Academic Personnel Office. Glasscock got busy, and gave up.
A former graduate student, whose last name begins with L., told the Title IX office about a night at a party in 2009, when Balakrishnan asked her to join him and others in a different room to do cocaine. When she got there, however, he was alone, and when she tried to leave, he blocked the exit. She ran past him and left the party. She told the Title IX office so they would have the information, she told BuzzFeed News, but opted not to file a complaint that included her name because she feared retaliation.
The Title IX office also heard from a woman with no affiliation with the school, a writer from New York who asked BuzzFeed News to refer to her by her first initial, M. She told an investigator by phone about a night in May 2013, after the East Bay Poetry Summit in San Francisco, when she found herself at a house party with Balakrishnan.
Balakrishnan flirted with her and, as the party wound down, they kissed on a living room sofa. "He asked if I would have sex with him," M. said. "I said no, clearly, multiple times."
M. settled to sleep on a mattress in the study on the ground floor with her friend, another poet. While they were sleeping, Balakrishnan joined them in the bed. "I woke up because I felt his penis against me," M. said. "I jumped up and it was him." Again, she asked Balakrishnan to leave, but he wouldn't. The commotion woke her friend, who told BuzzFeed News that she persuaded him to leave, and the two women went back to sleep.
Then he came back again. "I woke up again and found him back in the room having unlocked the doors — looming over me and taking off his clothes to get back into bed," M. said.

The two women again pushed him out of the room with his clothes in his hand. Then they pushed a chair against the door and tried to sleep. The next morning, they described the events of the night to their host, who confirmed hearing about it to BuzzFeed News.
M. recounted the episode to the Title IX office in May of 2017, she said. But after talking to the investigator, she decided not to lodge a formal complaint, skeptical that her story, from someone unaffiliated with the school, would carry any weight.
"I felt like in a very subtle way, that the HR department was cooperating with the accused," she said. "It didn't seem fruitful."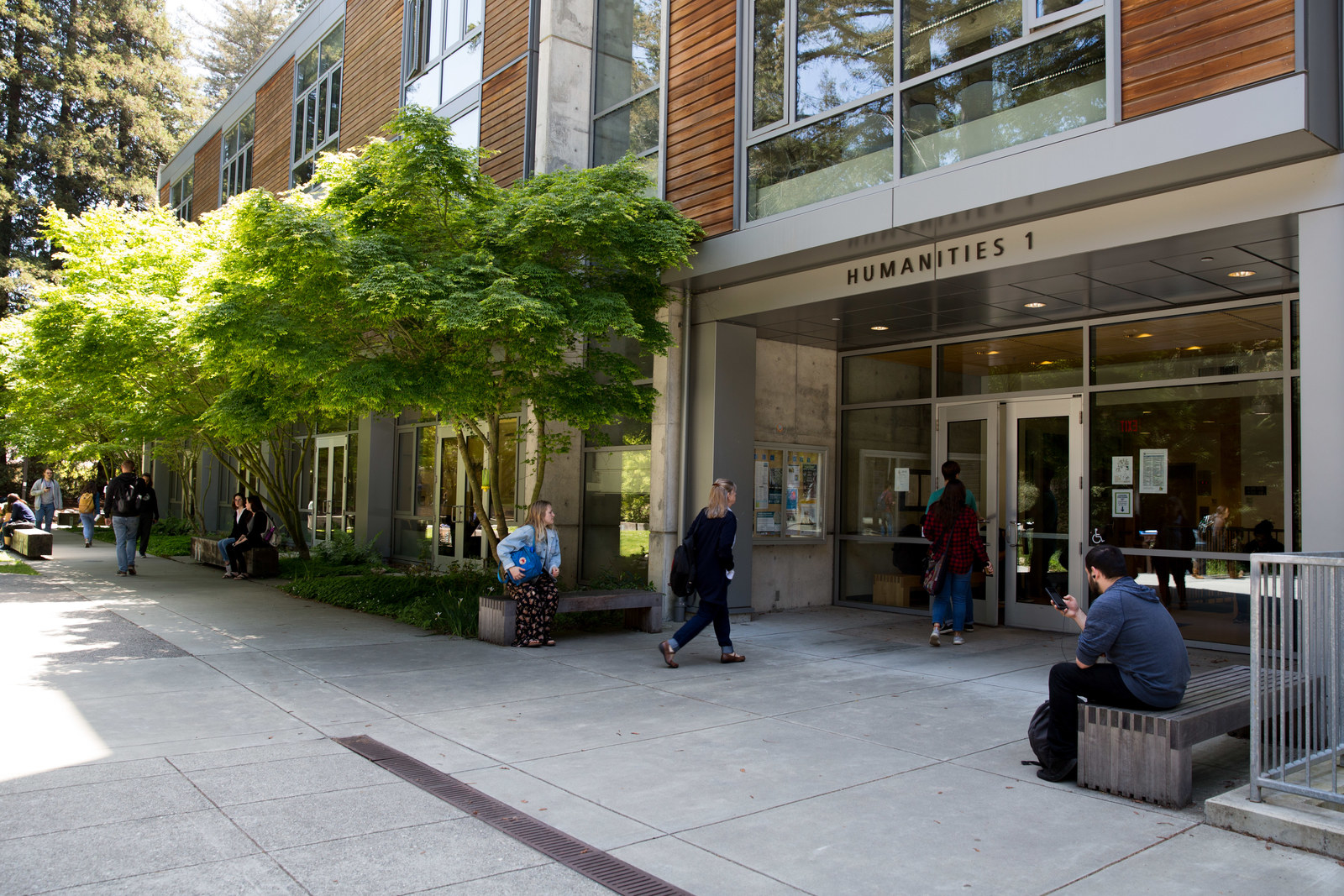 As students and faculty fought on campus last spring, UC alumni followed the Balakrishnan scandal online, reconnecting through email and Facebook comment threads. By summer, motivated by the university's apparent disregard for undergraduates' concerns, nine of them decided to act.
"We thought it would be a good idea to let them know that they have outside support if they don't have inside support," Wendy Trevino, a writer in San Francisco who helped craft the letter, told BuzzFeed News.
The leaked emails from the humanities professors characterizing the bathroom messages and leaflet deliveries as "vigilante tactics" struck a nerve. "I feel like it's basically saying, suck it up and be powerless," Laura Martin, another member of the alumni group, told BuzzFeed News.
They worked on putting the stories together over the next few months. Then in October 2017, the Harvey Weinstein revelations unleashed a tidal wave of news reports about harassers in all fields. Buoyed by #MeToo, the group found new momentum.
They made the document public Nov. 29, originally with seven anonymous accounts. Three of the stories — from A., L., and M. — described firsthand experiences. (The other four, which described either witnessing Balakrishnan's inappropriate behavior or hearing about it secondhand, confirmed to BuzzFeed News that they contributed to the document.)
Almost overnight, people began writing to the anonymous email address printed at the top of the document. Lauren Levin, the Bay Area poet, read and replied to many of the 125-plus emails. "It was a sense of relief," she told BuzzFeed News. "It was a sense of solidarity — oh, this is real."
The group members were surprised by the robust response. "If this had been 2016, it probably would not be receiving the kind of attention that it received," Trevino said.
"If this had been 2016, it probably would not be receiving the kind of attention that it received."
The viral document prompted the Chronicle of Higher Education to publish a story, in which Balakrishnan denied the accounts. But he thought he knew some of the people involved, he told local television station KION that week.

"I do know that they are dangerous, nihilistic individuals who look at these takedowns as political performance art," he said in a statement to the station. "I am concerned about physical attacks as do others who speak out on my behalf."

These public comments about students would soon cause more headaches for Balakrishnan. In early December, the UC Santa Cruz Student-Workers Union filed a grievance with the Employee and Labor Relations office. It claimed that Balakrishnan's press comments posed a health and safety concern to students.
On Dec. 22, an analyst from the office of Employee and Labor Relations replied, saying the grievance did not constitute a violation but that it had been forwarded to the Title IX office.
The circulating Google Doc also caught the attention of Donna Haraway, who joined a fiery discussion on someone else's Facebook page. She argued for due process — and accountability.
"Do I wish gb would resign? Yes, I do," she wrote in the comment thread. "Do I believe the recent statements? Do I think gb owes us all critical self evaluation of his own behavior? Yes, I do." (Asked to comment on a screenshot of this Facebook post, Haraway told BuzzFeed News that it accurately reflected her views at the time. "I continue to support those who posted the detailed anonymous accusations in that letter AND I still support gb's right, through a properly run investigative process, to be able to answer those who accuse him," she said by email.)
All the attention prompted Glasscock, Reyes, and Peller to resubmit their earlier complaints. (Reyes also claimed that Balakrishnan's comments to the press in December were intended to stop people from reporting harassment.) And in January, investigators heard from Anneliese Harlander.
Harlander's memories of her bad night with Balakrishnan in June of 2013 are disjointed flashes in the dark. The 22-year-old anthropology major had just graduated and was visiting friends next door to her house off campus. One of them had invited Balakrishnan, who turned up with booze. He spent the evening drinking and dancing in the living room with Harlander and another undergrad. Close to midnight, Balakrishnan walked Harlander, feeling ill and drunk, back to her place.
The next thing she remembers is being with him in her room. He tried to kiss her, she said. Her next memory is being in bed, with Balakrishnan there too, and she asked him to leave. They were both naked. She freaked out, and tried to push him away when he tried to penetrate her. "I distinctly remember saying no, and trying to push him off of me, and telling him that he needs to leave," Harlander told BuzzFeed News.
"I distinctly remember saying no, and trying to push him off of me, and telling him that he needs to leave."
She woke up the next day feeling disoriented and upset. She guessed they didn't have sex, but couldn't be sure. "I felt very violated and I don't know how it got to that point," she said.
When her friend Janae Million, another Santa Cruz student, came over to say hello, Harlander pieced together the events of the night. Sitting on the bed in her room, leaning against the pillows, Harlander described what she remembered. "She told me that she thought she had been taken advantage of by Gopal," Million told BuzzFeed News. "And she seemed really ashamed to talk about what had happened."

About two weeks later, still unsettled, Harlander decided to confront Balakrishnan. One evening, sitting beside Million, Harlander called Balakrishnan on his cell phone.
When he realized who was calling, both friends remembered, he flirted a little, and asked if Harlander wanted to meet again. Shaking, Harlander said she told him that he had crossed a line, and acted without her consent. At that point, Balakrishnan got mad, saying that she had come onto him, she recalled. Then he denied everything and hung up.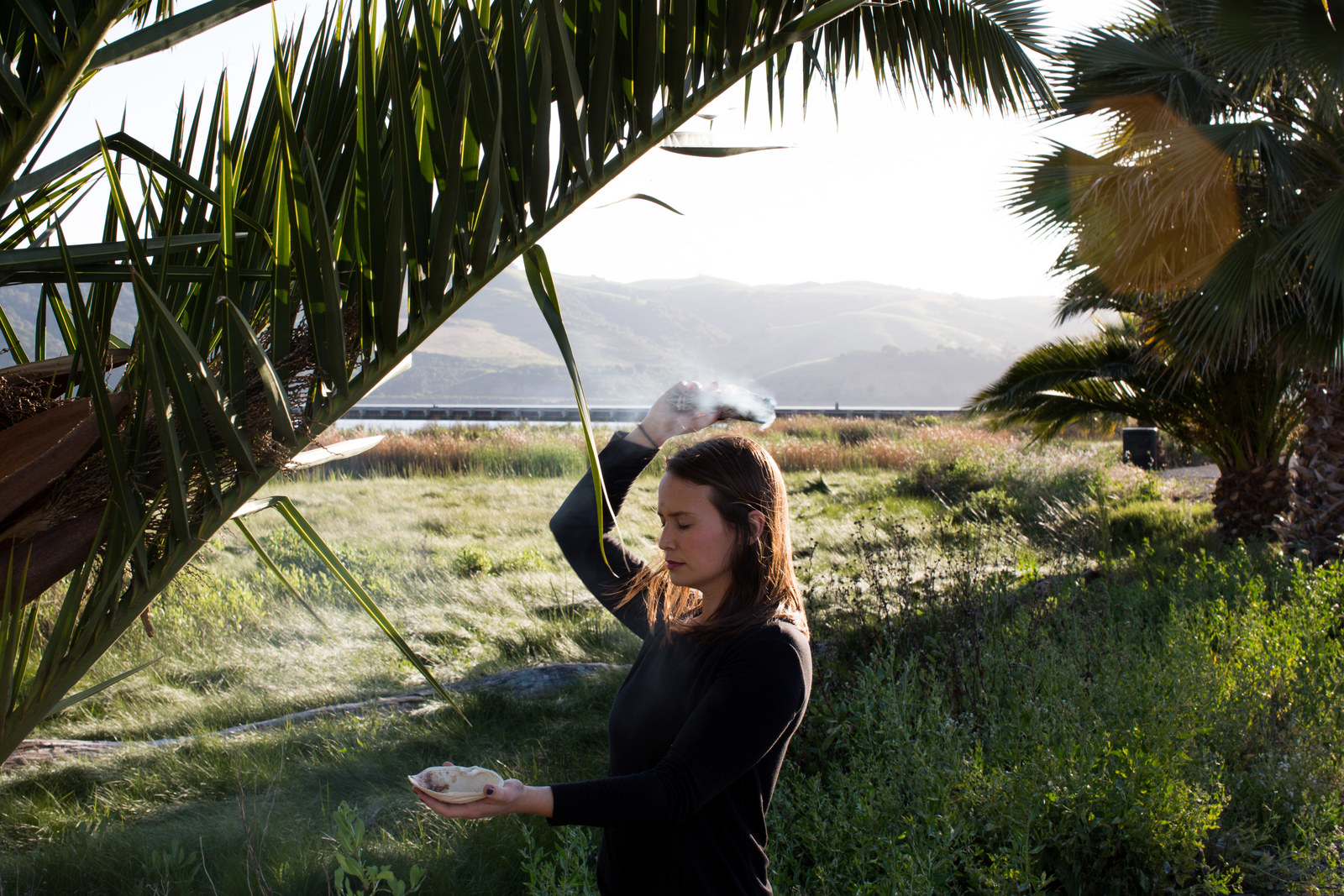 On Feb. 8 of this year, just over a week after Harlander filed her complaint, Title IX officer Cherie Scricca wrote emails to the complainants confirming that she had opened an inquiry into Balakrishnan's behavior. (Scricca told Glasscock that his complaint, initially filed as a breach of Faculty Code of Conduct, would now be dealt with by the Title IX office.)
M., the writer from New York, heard from the school in April. "We have reason to believe that you may have information relevant to the investigation," Scricca wrote her by email. M. didn't respond, and Scricca wrote again May 7. M. still hasn't responded, and is not sure she will. "I find the process suspect," she said. On May 11, the office also reached out to Trevor Sangrey, one of the seven students who had complained in 2009.
Some legal experts say this case illustrates the limits of using Title IX — a law passed in 1972 to prohibit sexual discrimination in education, and historically used to promote equity in sports — to deal with sexual harassment on campus.
"It is unfortunately a broken system," said Kristina Larsen, a lawyer who worked as an administrator at UC San Diego for two decades and now represents Title IX complainants.
"It is unfortunately a broken system."
The offices that investigate complaints, she said, are often underresourced, don't get the attention they need from senior administrators, and are periodically moved within the university. (The Santa Cruz Title IX Office, for example, announced a reorganization and overhaul of its senior staff in the fall of 2017, just a few months after complaints about Balakrishnan had flooded in.) The law's reporting requirements also put an inordinate burden on anyone who files a complaint.

"The students who reported it are almost always damaged beyond repair in their own professional careers
," Larsen told BuzzFeed News.
And so, she said, she understands why Balakrishnan's accusers resorted to anonymous accusations, even though that strategy can be dangerous. "I do understand the frustration — why they felt that nothing else was actually going to lead to any action."
In her emails to complainants in February, Scricca wrote that the university "strives to complete the investigation process" in 60 working days. On May 4, the 60th day, GayLynn Conant, an outside lawyer hired to conduct the investigation, sent an update: It would take 45 more days, at least.
UC Santa Cruz spokesperson Hernandez‑Jason said that it's not uncommon for the university to hire an outside investigator, depending on the "workload of internal investigators, complexity of the matter, [or] number of witnesses."
As the proceedings creep along, some authors of the anonymous letter see the official university response as a sign that their approach worked. "Just the fact that the university would close something and then would open it shows the fallibility of the process," said M., who wrote the first narrative included in the document.
For Harlander, the letter opened a chapter in her life that she thought was closed for good. After discovering how many people had brought accusations against him, she told BuzzFeed News, "I do think that the university should fire Mr. Balakrishnan."
"I wasn't planning on saying anything about this," she said. But hearing that other people had been through similar experiences, "that's especially what pushed me to do something."●