The Department of Energy funded a Boston researcher's project but asked that she remove references to "global warming" and "climate change" in her description of it.
Jennifer Bowen, associate professor of marine and environmental science at Northeastern University in Boston, posted a screenshot of the message on Facebook on Thursday afternoon.
"I have been asked to contact you to update the wording in your proposal abstract to remove words such as 'global warming' or 'climate change'," the email said. "This is being asked as we have to meet the President's budget language restrictions."
Nature News reported Friday that the note was sent by Ashley Gilbert, a program coordinator at the DOE's Pacific Northwest National Laboratory in Washington state. Gilbert and PNNL did not respond to a request for comment from BuzzFeed News.

In an email to BuzzFeed News on Monday, Bowen said that she shared the email on her Facebook page because it was "a stark reminder of the ongoing politicization of science." She added that she was not asked to change the scope or content of her project. By Monday, the post was no longer public.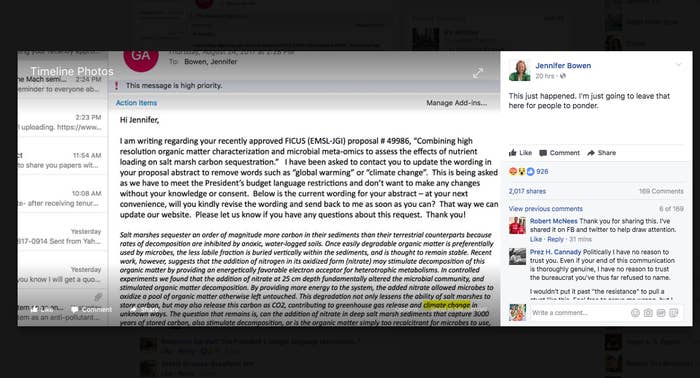 Scott Saleska, associate professor of ecology at the University of Arizona, confirmed to BuzzFeed News that he had received a similar message from a PNNL staffer on Thursday, asking to remove the phrase "climate change" from an abstract of a project funded by the agency.
But Saleska believes this was "unfortunate wording," not censorship. "It's not quite as bad as it looks," he told BuzzFeed News by email.
The president's budget guidance, he explained, says that some research projects related to climate change will be eliminated, but that others will still be funded. "They wanted to make sure that it was clear that their awards that supported the latter (which is allowed) were not mistakenly confused with the former (which, unfortunately and to our great American shame, are being cut)," Saleska said.
In response to a list of questions from BuzzFeed News, DOE spokesperson Shaylyn Hynes wrote by email that "[t]here is no departmental-wide policy banning the term 'climate change' from being used in DOE materials. That is completely false."
A DOE website lists Bowen's project on carbon and nitrogen cycling in salt marches among the projects funded by the agency this fiscal year. Bowen's project would study how microbes in salt marshes are changing the capacity to store carbon in the soil, potentially releasing more in to the atmosphere as carbon dioxide. Bowen did not respond to requests for comment from BuzzFeed News.
Her post drew outrage from scientists online. By Friday morning, it had been shared thousands of times on Twitter and Facebook.
Bowen complied with the request, she wrote in a message on Facebook. She also shared her reply: "I understand you are doing your job, so will refrain from comment. I redacted the offensive clause."
Her employer, Northeastern University, "is committed to the independent pursuit of scientific discovery in multiple areas of critical importance, including the sustainability of the planet," Matthew McDonald, assistant vice president for communications at Northeastern told BuzzFeed News by email. "A long-standing pillar of the U.S. research model is the belief that science should not be constrained or influenced by partisan politics."
Redacting the words "climate change" from government materials is not unprecedented. It happened during the George W. Bush administration, for example, when NASA scientists were not allowed to mention climate change in press releases.

"This sort of thing sounds very familiar to me," Carolyn Porco, a visiting scholar at the the University of Berkeley and a leader of NASA's Cassini mission to Saturn, told BuzzFeed News. "We would get this request whenever we mentioned climate change."
As Cassini sent back images of the outer planets and their moons, Porco and her team would draft releases explaining their findings. Sometimes, she mentioned how features of those atmospheres were relevant to Earth's own, including climate change effects. But during review, she said, those mentions were regularly excised.
"This is a kind of action that comes from a certain kind of mindset, the mindset that wants to repress that climate change is due to human activity," Porco said. "That is a dangerous, dangerous course of action."
UPDATE
This article was updated to include comment from Jennifer Bowen.