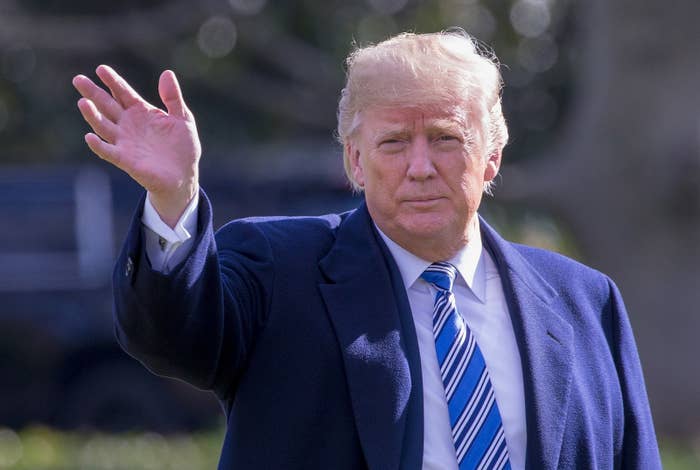 President Trump tweeted Sunday morning that "many lawyers and top law firms want to represent me in the Russia case," days after his lead attorney John Dowd quit and a lead GOP attorney, Ted Olson, turned down his case — and shortly before news broke that Trump wouldn't be hiring two new lawyers due to conflicts.

"Fame & fortune will NEVER be turned down by a lawyer, though some are conflicted," he tweeted, and then went on to say that "there was NO COLLUSION with Russia, except by Crooked Hillary and the Dems!"
"Problem is that a new...lawyer or law firm will take months to get up to speed (if for no other reason than they can bill more), which is unfair to our great country — and I am very happy with my existing team," Trump said in his tweets, sent from his Mar-a-Lago resort in Florida.
Trump previously said he was "VERY happy" with his lawyers, including John Dowd, less than two weeks before Dowd quit after making comments to the press that he and the president wanted the Mueller investigation to be shut down.

Olson, who represented George W. Bush in Bush v. Gore, was approached by the Trump team but turned down the offer even before meeting in person with the president, sources told BuzzFeed News.

The New York Times reported that Trump had also met with another lawyer, Emmet Flood, who has not joined his team of lawyers. Flood represented Bill Clinton during his impeachment, and George W. Bush and Dick Cheney in other matters.
Last Monday, Trump's personal lawyer, Jay Sekulow, announced that the president planned to hire Joseph diGenova to his Russia inquiry team. DiGenova told Fox News in January that he believes there is "a brazen plot to illegally exonerate Hillary Clinton and, if she didn't win the election, to then frame Donald Trump with a falsely created crime."

But on Sunday, Sekulow said in a statement that diGenova and diGenova's law partner and wife Victoria Toensing won't be joining his legal team on the Mueller investigation due to "conflicts." Sekulow did not say what those conflicts were.

Toensing has represented former Trump legal team spokesperson Mark Corallo, including when Corallo spoke with Mueller's office in February. Corallo previously told BuzzFeed News that he had signed a conflicts waiver that would allow the firm to represent Trump. Toensing has also represented former Trump campaign co-chair Sam Clovis and Erik Prince, who founded the private security firm formerly known as Blackwater USA and served as an adviser to Trump.

"The president is disappointed that conflicts prevent Joe diGenova and Victoria Toensing from joining the president's special counsel legal team," Sekulow said in the statement. "However, those conflicts do not prevent them from assisting the president in other legal matters. The president looks forward to working with them."
In a statement to BuzzFeed News, diGenova said, "We thank the president for his confidence in us and we look forward to working with him on other matters." He declined to specify what those other matters were.
As of Sunday, the only confirmed lawyers representing Trump in connection with the Mueller investigation were Sekulow and White House lawyer Ty Cobb. Cobb did not immediately return a request for comment. When BuzzFeed News asked Dowd if he knew who was on Trump's "existing team," per the president's tweets on Sunday, Dowd replied via email, "I don't know. Ty and Jay."
On Sunday Trump also tweeted about a French police officer who died in a hostage situation in southern France, where the attacker claimed allegiance with ISIS. The president used the incident to say that "Even stronger measures needed, especially at borders!" because of radical Islamic terrorism and referred to "enemy combatants pouring into our Country."
"Build WALL through M!" he tweeted.
He went on to talk about the $1.6 billion included in the spending bill he signed late Friday night to expand the wall on the Mexican border, saying "much can be done" with it and that "work will start immediately."
Trump added in his tweet, "remember DACA, the Democrats abandoned you (but we will not)!"

In September, the president announced he was ending the Deferred Action for Childhood Arrivals program. Since then, two injunctions in California and New York courts have been handed down requiring the government to continue processing applications for existing DACA recipients trying to renew their status.