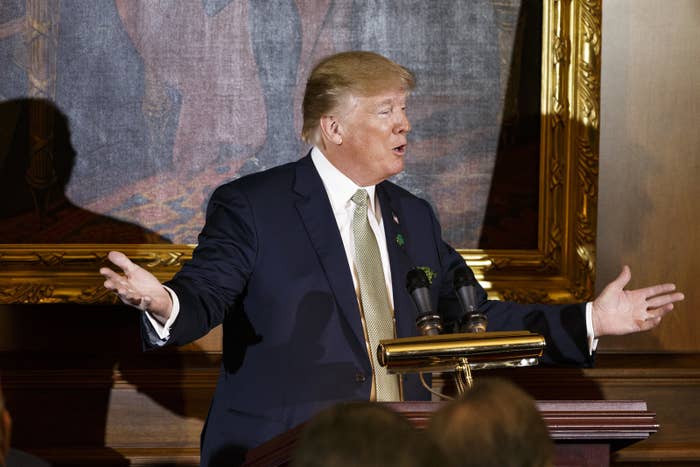 President Trump kept up his barrage of tweets against former leaders of the FBI on Sunday morning — while a chorus of his fellow Republicans sharply criticized him for firing the agency's second-in-command and for his attacks on the special counsel investigating collusion between the Trump campaign and Russia.
Trump attacked fired FBI director James Comey, alleging in a tweet that Comey lied under oath when Sen. Chuck Grassley asked him if he had ever been an anonymous source.

He went on to call memos kept by former FBI deputy director Andrew McCabe about his interactions with the president "Fake Memos" and said McCabe made them "to help his own agenda." CNN and the Wall Street Journal reported on Saturday that special counsel Robert Mueller now has the memos.


The president questioned the makeup of the special counsel's investigation, which is being headed up by Mueller, a Republican who served as FBI director for 12 years and who was appointed to that role by George W. Bush.
Rep. Trey Gowdy, the chair of the oversight and government reform committee who is not seeking reelection, was asked on Fox News Sunday if senior Republicans would act if Trump and his lawyer, John Dowd, tried to take action against the Mueller investigation.

"If you have an innocent client, Mr. Dowd, act like it," he said.

Gowdy was largely referring to Dowd's call for the Russia investigation to be shut down in the wake of McCabe's firing on Friday.

Gowdy added that Mueller was appointed to head the investigation by a Trump appointee, Deputy Attorney General Rod Rosenstein.

Faced with bipartisan concern over Trump's tweets, the White House insisted late Sunday that the president is not actually considering firing Mueller.
"In response to media speculation and related questions being posed to the Administration, the White House yet again confirms that the President is not considering or discussing the firing of the Special Counsel, Robert Mueller," White House lawyer Ty Cobb said in a statement.
The special counsel has sent Trump's legal team a list of questions to potentially interview him as part of the Russia investigation, the New York Times reported on Saturday.

Sen. Lindsey Graham, speaking to Jake Tapper on CNN's State of the Union, said it's "very important [Mueller] is allowed to do his job without interference, and there are many Republicans who share my view."

He said that if Trump tried to fire Mueller, it "would be the beginning of the end of his presidency, because we're a rule of law nation."
Sen. Marco Rubio said McCabe should have been allowed to retire — he was fired less than 48 hours before he was due to retire.

"I don't like the way it went down," Rubio said on Meet the Press. "I would have certainly done it differently."

He added that he remains "confident that the special counsel is going to conduct a probe that is fair and thorough and is going to arrive at the truth."
This is a developing story. Check back for updates and follow BuzzFeed News on Twitter.