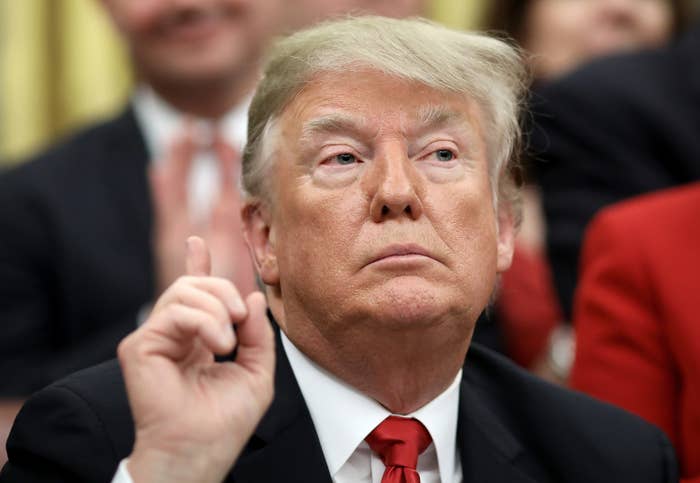 WASHINGTON — Part of the government is now shut down, after Congressional leaders could not reach a funding agreement.
The deadline for the shutdown was midnight, though both the House and the Senate had adjourned several hours earlier and it was unclear how much progress toward a resolution was made before they left. It's also unclear how long the shutdown will last: President Donald Trump told reporters Friday he was prepared for a "very long" shutdown.
Trump has long threatened a shutdown over Democrats' refusal to agree to $5 billion in funding to build a wall along the southern border. The House and the Senate had passed separate funding bills — the House version included Trump's wall money, the Senate's didn't — but as of Friday night there was little progress made toward an agreement.
On Saturday morning, national monuments and parks posted social media updates about their closure or limited services. The official National Parks Service account also said that it will not be updating or monitoring social media during the shutdown.
The NPS noted that some areas remain open but access may change without notice and that few staff will be working. Some states are taking over funding in order to keep their national parks available to the public. New York decided to keep the Statue of Liberty and Ellis Island open, and Utah will keep its three most popular parks — Zion, Arches, and Bryce Canyon — open.
This is the third shutdown in a year, but this one will not affect the entire government. Several federal departments, including Homeland Security, Justice, and State, among others, officially shut down at midnight. Those agencies will operate at minimal staffing with just employees who are considered essential — including TSA and Customs and Border Protection agents and the FBI — until the government reopens. Staff who are considered "nonessential" are not allowed to work during a shutdown, and no federal workers will get paid during that period.

Trump has already signed bills passed by Congress earlier this year to fund other federal departments through the end of September 2019, including the departments of Defense, Health and Human Services, and Veterans Affairs, all of which will remain fully open.
The Senate had already passed a funding bill that included no additional money for the wall on Wednesday, and many senators returned home for the holidays expecting the House to pass it and the president to sign it. White House press secretary Sarah Huckabee Sanders had said on Fox News Tuesday that Trump would keep the government open, with or without border wall funding.

But on Thursday, Trump said he wouldn't sign anything without money for the wall, throwing everything into chaos.
The House on Thursday passed its own spending bill, which included an additional $5 billion for border wall construction, leaving the House and Senate in a standoff. Republicans did not have enough votes in the Senate to pass the border wall funding without cooperation from Democrats.
"It's been clear from the beginning that two things are necessary, support from enough Senate Democrats ... and a presidential signature," said Majority Leader Mitch McConnell.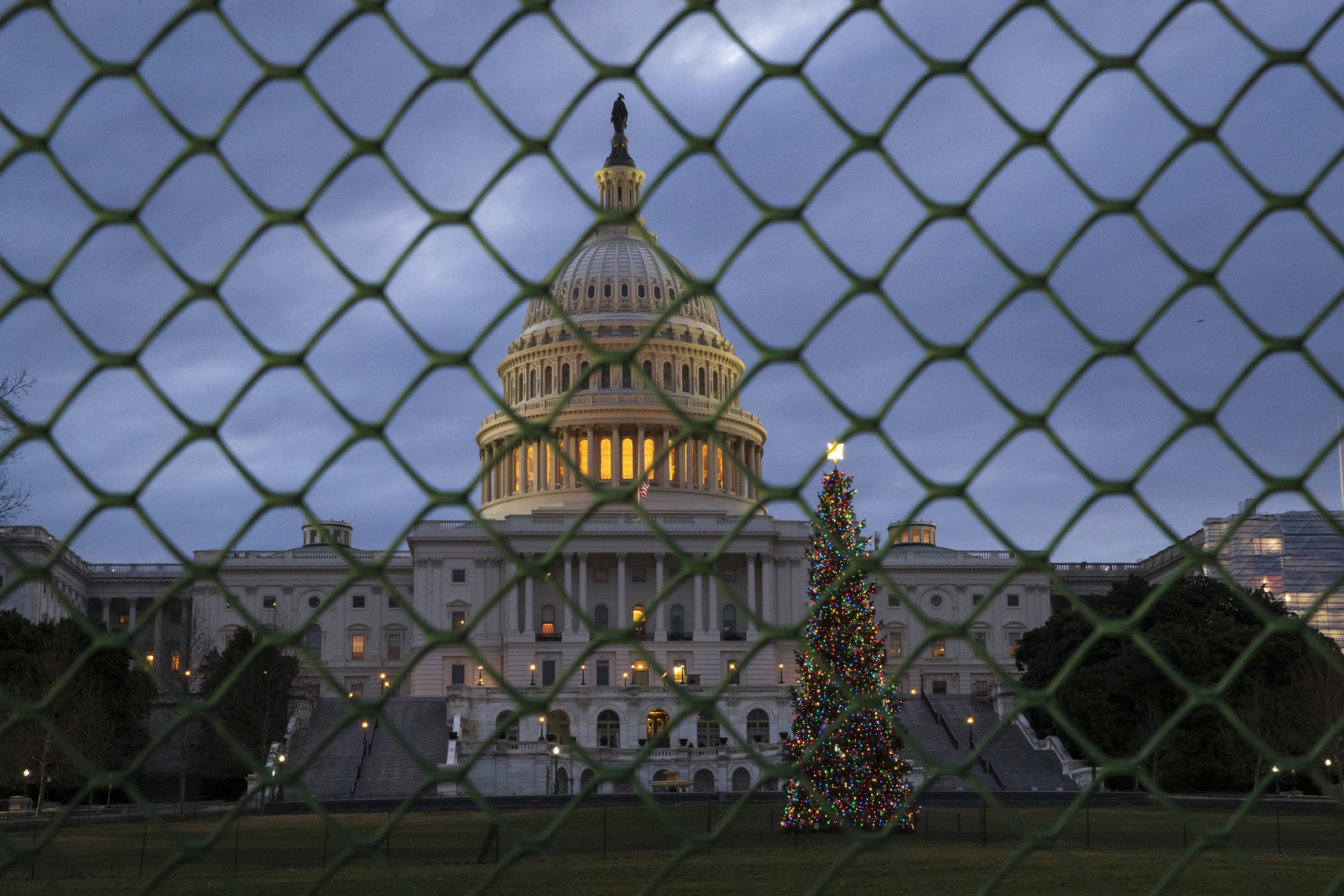 Several senators were forced to return to Washington on taxpayer-funded flights to resolve the situation Friday, many unhappy to have to return to DC just before the holidays. At one point on Friday, McConnell showed reporters a button with a moose on it that read "Senate Cranky Coalition," telling them, "It is the unanimous position of the Senate Republican conference at the moment."
The White House had dispatched Vice President Mike Pence, White House adviser and Trump's son-in-law Jared Kushner, and acting White House chief of staff Mick Mulvaney to meet with lawmakers on the Hill Friday. Members merely agreed that they would keep talking.
Both parties agreed not to vote again until a deal that could pass both houses and get the president's signature is reached.
Pence spoke with Democratic and Republican leaders before Senate Minority Leader Chuck Schumer and McConnell addressed the Senate Friday evening to say that they did not have such a deal yet.
"I hope Senate Democrats will work with the White House on an agreement that can pass both houses of Congress and receive the president's signature," said McConnell Friday.
Schumer said the Democrats "have offered three proposals to keep the government open," including a bill passed by the Senate earlier this week with no funding for the wall and another including $1.6 billion for border security.
"We are willing to continue discussions on those proposals with the president [and McConnell]," Schumer said.
Some Republicans said they had heard a clear message from Trump that he was not flexible on the wall, and that he would be OK with shutting down the government over the issue.
Others were frustrated with the president's back-and-forth on what he was willing to accept, and his pushback on Democrats' original offer of $1.6 billion in border security funding.
Republican Sen. Lamar Alexander of Tennessee said the Democrats' offer, which was backed by both parties, should have been sufficient for the president. "That would seem to be a good place to start since that's what the president asked for and a bipartisan Senate gave it to him. That's the way the place usually operates," he said.
"That's the biggest thing — we just don't know what the president will sign," said Flake, who is retiring at the end of the year.
Trump had vowed to take responsibility for a shutdown in a tense White House meeting with Schumer and House Speaker-designate Nancy Pelosi last week, but changed course on Friday.
"If we don't get what we want, one way or another … I will shut down the government. And I am proud to shut down the government for border security, Chuck," Trump told Schumer and Pelosi during the meeting. "So I will take the mantle. I will be the one to shut it down. I'm not going to blame you for it. The last time you shut it down, it didn't work. I will take the mantle and we'll shut it down."
"I am proud to shut down the government over border security," he added.
By Friday, Trump tried to blame Democrats instead.
In a statement posted on Twitter just after midnight ET, Schumer and Pelosi said Trump had "gotten what he wanted" with the shutdown.
"Republicans control the House, the Senate, and the White House. But instead of honoring his responsibility to the American people, President Trump threw a temper tantrum and convinced House Republicans to push our nation into a destructive Trump Shutdown in the middle of the holiday season," they wrote.
"If President Trump and Republicans choose to continue this Trump Shutdown, the new House Democratic majority will swiftly pass legislation to re-open government in January," they added.
Democrats taking over the House will give Trump few other opportunities to push for money for a border wall. Congress is scheduled to begin its new session on Jan. 3.
UPDATE
This post has been updated now that the deadline for a shutdown has passed.