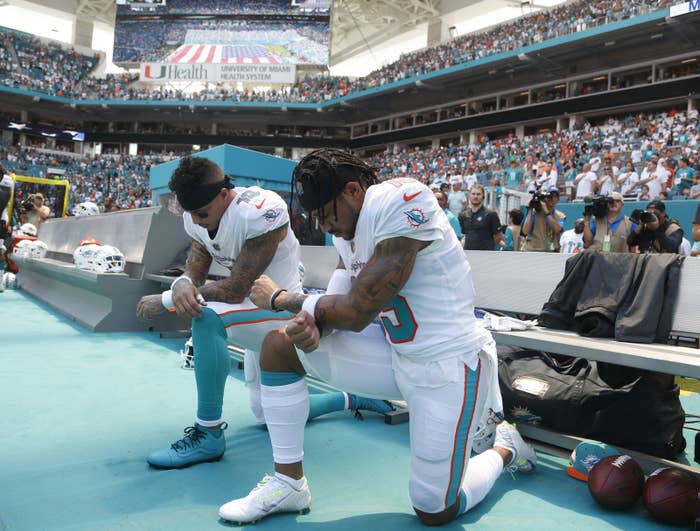 On the first big football weekend of the season, two players from the Miami Dolphins NFL team were the only one to kneel in protest during the national anthem, in a demonstration against police brutality and discrimination against people of color.

Kenny Stills and Albert Wilson took a knee as the national anthem played, before their game against the Tennessee Titans on Sunday afternoon. They were the first players of the 2018 season to continue the protests that began two years ago. Their teammate Robert Quinn raised a fist during the song.
Stills and Wilson had also taken a knee during a preseason game against the Atlanta Falcons in August.

Colin Kaepernick — the former San Francisco 49ers quarterback who started the NFL protest movement and who last week was presented as the face of Nike's 30th anniversary "Just Do It" campaign for his advocacy — tweeted his support for the Dolphins players Sunday.
"They have not backed down, even when attacked and intimidated. Their courage will move the world forward!" he wrote.
The NFL's own rules on the protests remain unresolved. Earlier in the summer, team owners put in place a new policy banning players from kneeling during the anthem — but allowing them to remain in the locker room. The NFL Players Association filed a grievance against the policy, and it's been on hold since July. An NFL official told ESPN on Sunday morning that there would be no rule explicitly banning or allowing the protests issued this season.

While Stills and Wilson were the only players who kneeled, 49ers receiver Marquise Goodwin also raised his fist while the anthem played before his team's game Sunday, as did Los Angeles Chargers left tackle Russell Okung. Denver Broncos players Demaryius Thomas and Brandon Marshall and Seahawks players Duane Brown and Quinton Jefferson stayed in their teams' tunnels during the anthem Sunday.

President Donald Trump criticized the players' protests throughout the NFL season last year and has continued his attacks at rallies and on Twitter.

In the season opener Thursday night, the Atlanta Falcons played the Philadelphia Eagles. None of the players kneeled, raised their fists, or stayed in the locker room, but the Eagles' Michael Bennett sat down on a bench toward the end of the national anthem.
As Thursday's game kicked off, the Players Association, a coalition of players who lobbied the NFL to contribute to social justice advocacy groups, tweeted: "Today, football is back. But, on any given night, over 450,000 people sit in jail w/o being convicted of a crime. Many are there because they can't purchase their freedom with cash bail."
Thursday's game, which started with a weather delay, saw a dip in ratings from previous years.
On Sunday, Trump tweeted about Thursday's lower ratings, claiming they were related to the players' protests, though no players protested during the opener.
"If the players stood proudly for our Flag and Anthem, and it is all shown on broadcast, maybe ratings could come back? Otherwise worse!" he wrote.

Several NFL team owners have rebuked Trump for his attacks on the players, especially after he said at a rally in Huntsville, Alabama, last year that owners should fire any "son of a bitch" who kneels during the national anthem.
In September, reporters asked Trump if he was stoking racial tensions by targeting the players' protest of racism and police brutality. He denied that the protests are related to race.
"This has nothing to do with race. I never said anything about race. This has nothing to do with race or anything else. This has to do with respect for our country and respect for our flag," Trump said.
The protests began in 2016 when Kaepernick, then quarterback of the San Francisco 49ers, kneeled during the anthem at several games in protest of police brutality against people of color.
"I'm not going to stand up to show pride in a flag for a country that oppresses black people and people of color," he told NFL Media in August 2016.
"To me, this is bigger than football and it would be selfish on my part to look the other way. There are bodies in the street and people getting paid leave and getting away with murder," he said.
Nike took a stance on the issue before the season began, highlighting Kaepernick and his activism in an ad campaign.