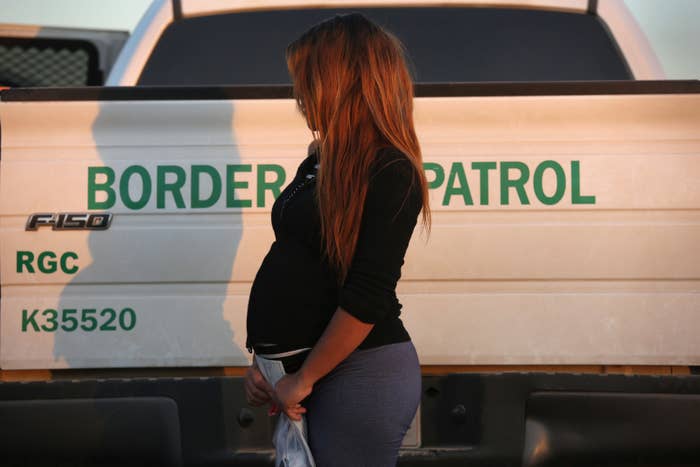 Two months after having a miscarriage inside an immigrant detention center in the US, E. voluntarily returned to El Salvador, the country she tried to flee for fear of the gang members who raped her two years ago and continue to threaten her to this day.
"I don't feel safe. I don't sleep; I don't have an appetite. I am always on edge that something is going to happen to me or my kids," she told BuzzFeed News over the phone, in Spanish. "I feel even more in danger than before. … I don't want to lose the two children I have left." She's staying with her mother and still trying to process and mourn her miscarriage.
BuzzFeed News is not disclosing E.'s full name or the names of other people and specific locations because she is currently in danger from gang members and authorities in El Salvador. And Amnesty International says women are often convicted of aggravated homicide after suffering miscarriages.
"It's a crime to be a woman in this country," she told BuzzFeed News.
Her plan was to return home, recover from her miscarriage while not in a detention center, gather up her two children, who are both under 12 years old, and try to make the grueling trip to the US again. But a recent decision by Attorney General Jeff Sessions may throw all that into chaos.
One evening in December 2016, E. was walking home after meeting a friend when several men followed her down the street and forced her at gunpoint to go to an abandoned house with them. One of them, a Barrio 18 gang member, raped her while others stood guard outside.
"He told me that if I did not open my legs that he was going to stick a knife between my legs. He told me that since I was a single woman and that he was a gang member that he had the right to do this to a woman," she told US immigration officials in her credible fear test, which is an initial interview to determine whether someone is at risk if they're returned to their home country.
"He told me that women like me do not have the right to anything but sex, sex, sex, and that we do not have the right for anything else," she said in the interview, an official transcript of which was reviewed by BuzzFeed News.
After four or five hours, the gang members took her home. The man who raped her told her not to leave the house and that he would have gang members watching her.
"I do not know how he got my telephone number," she said in the interview, "but he would call me and tell me that he was going to kill me."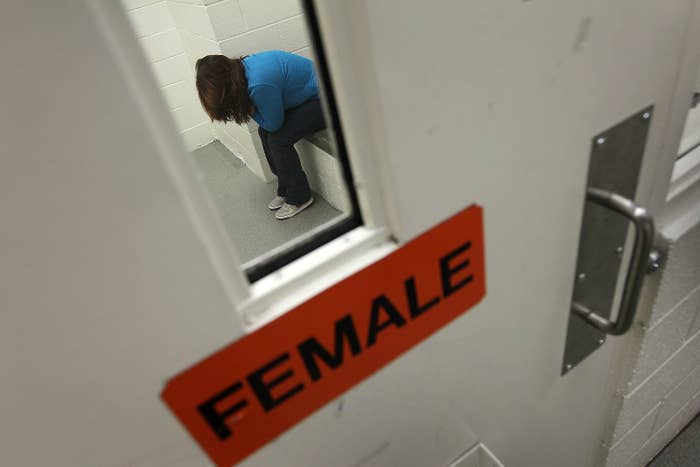 E. filed a report with local police anyway, who she said gave her a reference number to use instead of her name as a safety measure. But the day after she filed the report, she said in the interview, she got a call from the gang member who raped her. He said he knew she'd gone to the police, and that police worked for the gang.
E. also detailed in her interview with the government years of physical abuse by a man starting when she was 11 years old. She had reported him to police multiple times, but each time he was taken into custody, he was released in about a week.
After nearly a year and a half of continued threats from the gang, E. left El Salvador in March to seek refuge in the US. While she was making the journey, an MS-13 gang member threatened in a social media post to kill her.
She was around four months pregnant when she arrived at the border and told border patrol agents that she was seeking asylum. While she was in detention in San Luis, Arizona, she began bleeding profusely — and though she asked repeatedly for help, she said officials ignored her requests, and she had a miscarriage.
Ultimately, days after she spoke to BuzzFeed News about her miscarriage and the medical neglect she and other women alleged they suffered at the hands of US Customs and Border Protection and Immigration and Customs Enforcement, E. asked for voluntary departure to return to El Salvador. She returned in early July.
"I couldn't take it anymore. I just felt that I couldn't go on there. All I wanted was my son in my arms and they wouldn't help me," she said, referring to the baby she lost in her miscarriage.
"They don't have hearts; they wouldn't help me," she told BuzzFeed News. Another reason she returned, she said, was that it wasn't clear to her how long it would take to bring her other two children over to join her in the US even if she were granted asylum.
ICE and CBP responded to BuzzFeed News' original article on E.'s treatment by referring to their written guidelines on detaining pregnant women.
E. is looking for a way to leave El Salvador again soon, and this time would take her son and daughter with her immediately. "I just don't want to lose my two children that I have left," E. said.
She has carefully carried all her records back with her from the US, including documentation of her credible fear interview. She passed her credible fear interview, meaning US Customs and Immigration Services officials agreed that she demonstrated enough concern about being in danger in El Salvador that her case for asylum should be heard in full by an immigration judge.
But there's a new obstacle in her way: a Department of Justice ruling from June in which Attorney General Jeff Sessions said that gang violence and domestic violence are no longer generally considered legitimate grounds for asylum by the US government. They count as "private violence," Sessions argued, as opposed to "group persecution that the government is unable or unwilling to address."
"The mere fact that a country may have problems effectively policing certain crimes — such as domestic violence or gang violence — or that certain populations are more likely to be victims of crime, cannot itself establish an asylum claim," Sessions wrote.
The Department of Justice referred BuzzFeed News to a statement from June, which reiterated that "victims of personal crimes" do not fit the definition of "individuals who have been persecuted, or who have a well-founded fear of persecution, on account of their membership in a 'particular social group.'"
Sessions wrote in his ruling that asylum-seekers must prove that they are being persecuted because they are members of a well-defined social group that's being specifically targeted. He added that victims of gang violence and domestic violence would probably not be able to prove that under this ruling.
A Department of Justice spokesperson declined to comment beyond their statement from last month. The Department of Homeland Security did not respond to requests for comment.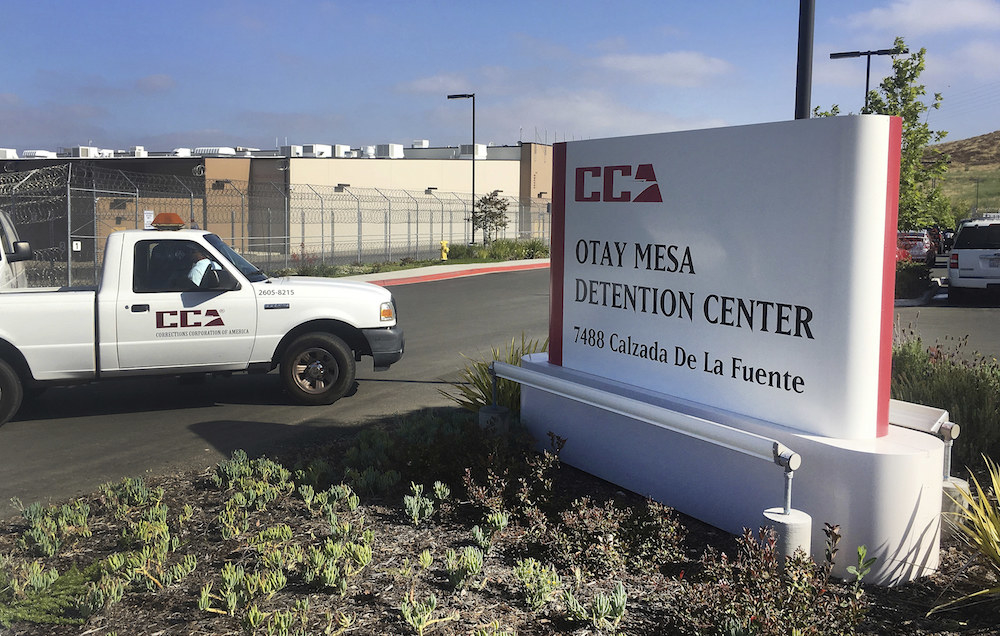 Alex Mensing, a project coordinator with Pueblo Sin Fronteras, has been in touch with E. since she joined one of the group's migrant caravans in Mexico on the way to the US in March.
"This is the kind of thing that would apply to somebody like E.: You have a situation where the US government doesn't want to recognize that gangs have essentially turned into the State, and being persecuted by a gang is like being persecuted by the government," he said.
Sessions' decision may already be leading to more negative outcomes for women who apply for asylum after experiencing domestic or gang violence, according to Irena Sullivan, senior immigration policy counsel at the Tahirih Justice Center, a nonprofit that advocates for women and girls fleeing gender-based violence.
"The ruling is very harmful for women targeted by gangs, even if they tried to reach out to police and were ignored," she said. "The burden for women is much, much higher now to show that the government actually condoned the violence and wasn't merely ineffective in protecting them. This ignores the reality of survivors' experiences on the ground, and the extreme nature of the threats they face."
Sullivan said the rules may allow US Citizenship and Immigration Services asylum officers to more easily deny them during their credible fear interviews — before they're even given the chance to go before an immigration judge who can make a more nuanced assessment of their cases.
Soon after Sessions' ruling last month, President Trump tweeted, "We cannot allow all of these people to invade our Country. When somebody comes in, we must immediately, with no Judges or Court Cases, bring them back from where they came."
Human rights groups say gangs like Barrio 18 and MS-13 are known to target women and have a "very big arm" throughout Central America and the US.

"They are in collusion with law enforcement," said Marselha Gonçalves Margerin, advocacy director at Amnesty International USA. "Our concerns in terms of asylum-seekers is that the [Salvadoran] justice system can't protect these individuals from being targeted by Barrio 18 or MS-13."
Amnesty International calls El Salvador "one of the most dangerous countries to be a woman" in their most recent report on the country. The report adds that, as a result of gang violence and a lack of government stability, it also has one of the world's highest murder rates — 3,605 Salvadorans were murdered in 2017, including 429 femicides. And 900 women were reported raped in 2017, among nearly 3,000 total reported sexual assaults, according to El Salvador's Legal Institute of Medicine.
In the first four months of 2018, 155 femicides had been committed in the country, an increase of more than 20% from the same period last year.
The two dominant gangs in the country, Barrio 18 and MS-13, were both founded in the US and brought back to El Salvador mostly in the 1990s, according to InSight Crime, an organization that tracks organized crime in Latin America.
Excluding gang violence and domestic violence from asylum claims is in contrast to decades of US legal case law and contravenes international human rights laws, said Katie Shepherd, national advocacy counsel at the American Immigration Council.
She said the decision is "yet another attack in the administration's war on bona fide asylum-seekers."
Refugee resettlement agencies say they're especially troubled by Department of Homeland Security guidance issued July 11 instructing border patrol and asylum agents on how to carry out Sessions' decision. The guidance presents five bullet points of what officers should consider when they're deciding whether or not to approve an asylum case, including whether the person can prove their government cannot or will not protect them, whether they could live elsewhere in their own country instead of seeking asylum, and finally leaves it up to "the officer's discretion."
"There's so many things wrong with this guidance," said Mark Hetfield, CEO of HIAS, a resettlement agency that works with dozens of women from El Salvador, Honduras, and Guatemala fleeing gang and domestic violence. "It's going to be very difficult if this guidance is implemented successfully. It's so outrageous that this would be done without any notice or comment period, rolling back decades of asylum law."
For E., being back where her rape happened and knowing that the police can't protect her is frightening. She barely leaves the house. She's planning to go to the US Embassy to ask what else she can do to get herself and her children to a safe place.
"I was happy when she came back, but on the other hand I was scared for her after everything that happened to her," her mother, who also did not want to use her name for fear of retribution, told BuzzFeed News.
"It's bad here for women. It's bad. Just recently three girls disappeared and then one was found mutilated," her mother said. "I told [E.], 'It's better if you go somewhere else.'"
In her interview with the government, E. was asked about her rape, "Why do you believe this person targeted you specifically?"
"I don't know. I asked him why he would do this and that I had never talked to them and that I did not have anything against them," she said. "He said that they have the right to do this to the women and that is the reason why there are so many women dead."
CORRECTION
Irena Sullivan's name was misspelled in an earlier version of this post.