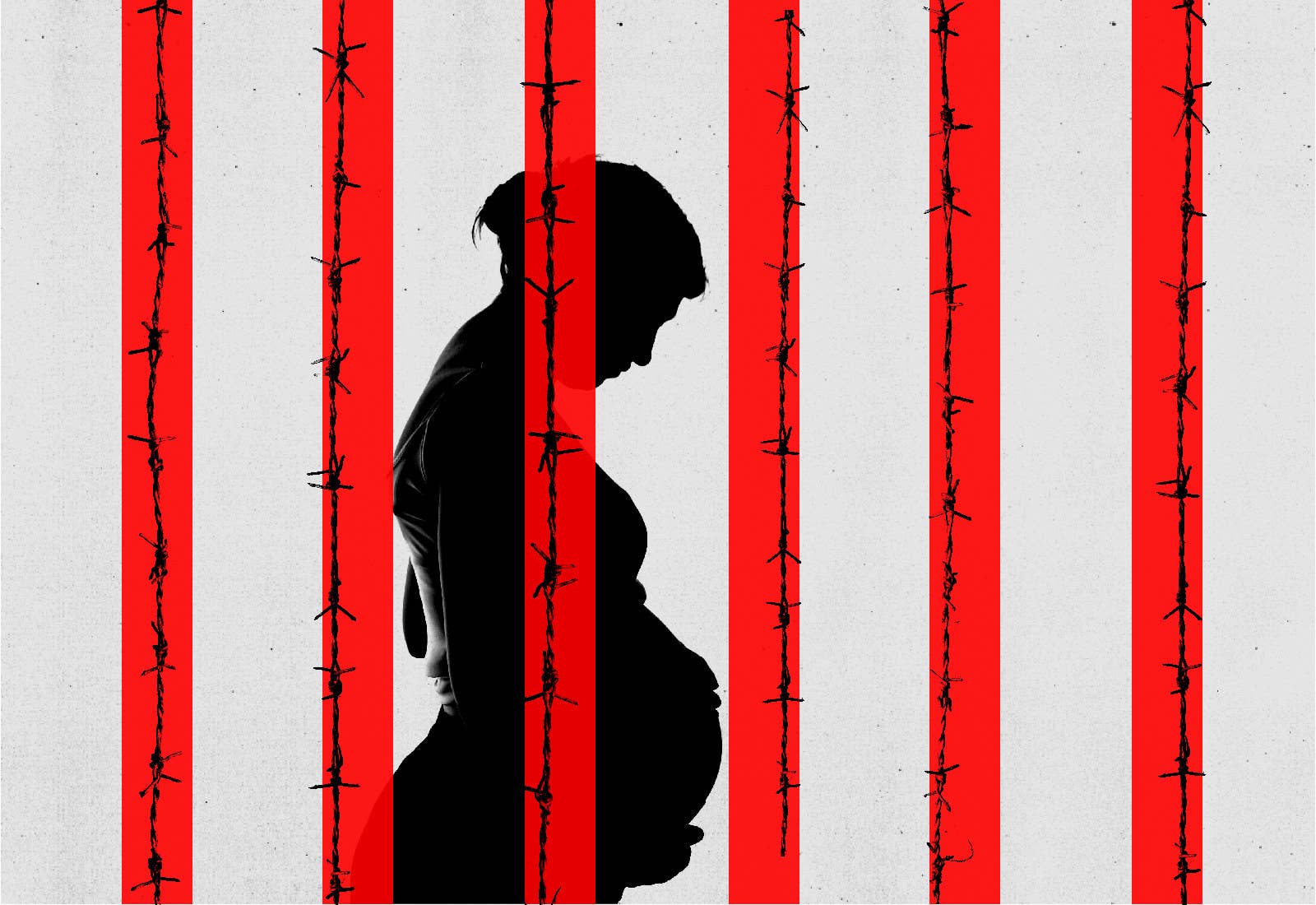 Two weeks after arriving in the US seeking asylum, E, 23, found herself in a detention cell in San Luis, Arizona, bleeding profusely and begging for help from staff at the facility. She was four months pregnant and felt like she was losing her baby. She had come to the US from El Salvador after finding out she was pregnant, in the hopes of raising her son in a safer home.
"An official arrived and they said it was not a hospital and they weren't doctors. They wouldn't look after me," she told BuzzFeed News, speaking by phone from another detention center, Otay Mesa in San Diego. "I realized I was losing my son. It was his life that I was bleeding out. I was staining everything. I spent about eight days just lying down. I couldn't eat, I couldn't do anything. I started crying and crying and crying."
Stuck in detention and having lost her baby, E says she wouldn't have come to the US seeking a safer life if she'd known what would happen. She asked that her full name not to be used out of fear of repercussions while in detention and for her family back home.
"My soul aches that there are many pregnant women coming who could lose their babies like I did and that they will do nothing to help them," she said.
About a week after speaking with BuzzFeed News, E gave up her fight for asylum, accepted voluntary departure, and was deported back to El Salvador.
In May, Attorney General Jeff Sessions publicly introduced the "zero tolerance" immigration policy that has led to children being separated from their parents at the border, sparked national outrage, and triggered an executive order from President Trump. While the national focus has been on family separations, another Department of Homeland Security policy quietly introduced by the Trump administration five months earlier has devastated women fleeing violence in their home countries: the detention of pregnant women not yet in their third trimester.
"My soul aches that there are many pregnant women coming who could lose their babies like I did."
Before that directive, which the Trump administration implemented in December before announcing it in March, ICE was under an Obama administration–era directive not to detain pregnant women except in extreme circumstances or in relatively rare cases of expedited deportation.
The new ICE directive states that women are not to be held into their third trimester and that ICE is responsible for "ensuring pregnant detainees receive appropriate medical care including effectuating transfers to facilities that are able to provide appropriate medical treatment."
But BuzzFeed News has found evidence that that directive is not being carried out. Instead, women in immigration detention are often denied adequate medical care, even when in dire need of it, are shackled around the stomach while being transported between facilities, and have been physically and psychologically mistreated.
In interviews and written affidavits, E and four other women who've been in ICE detention and Customs and Border Protection (CBP) custody while pregnant told of being ignored when they were obviously miscarrying, described their CBP and ICE-contracted jailers as unwilling or unable to respond to medical emergencies, and recounted an incident of physical abuse from CBP officers who knew they were dealing with a pregnant woman. Those descriptions were backed by interviews with five legal aid workers, four medical workers, and two advocates who work with ICE detainees.
The incidents were not limited to a single detention center. Three medical workers and five legal aid workers who spoke to BuzzFeed News all said they had seen — and some had documented — cases of pregnant women not receiving or being denied medical care in more than six different detention centers in California, Texas, New Mexico, and Arizona.
Manoj Govindaiah, the director of family detention services for the Refugee and Immigrant Center for Education and Legal Services (RAICES), said that the majority of the pregnant women they work with in the ICE-run Karnes family detention center in Texas have told RAICES that ICE staff promised to bring them to off-site medical professionals but never did. Lauren Connell, a pro-bono attorney who also does work at Karnes, confirmed that she has had to fight for some of her pregnant clients to receive the medical care they ask for.
Sera Bonds, the founder and executive director of Circle of Health International, and Leah Little, the group's chief operations officer, who keeps records of the women the group sees, said the pregnant women often say they did not receive medical care while in detention. Both women recounted caring for a woman in their clinic in McAllen, Texas, who, in her eighth month of pregnancy, fell directly onto her belly but still was not taken to a hospital.
In written testimonies — taken by RAICES for their records and provided to BuzzFeed News, and signed by the women under "penalty of perjury," with the names redacted — two pregnant women held at the Karnes center complained of not being provided with adequate medical care for their pregnancies. On top of this, one said she was given clothes that were so small for her pregnant belly they gave her welts and "pain in [her] uterus", while the other said she underwent repeated X-rays despite this being against the Food and Drug Administration's recommendations and against CBP (but not ICE's) policies for pregnant women. "I saw on the machine that [it said] pregnant women should not have an X-ray," she wrote.

In an email, ICE reiterated that it follows the policy on detaining pregnant women as written on its website, noting that ICE makes the decision to keep people in custody on a "case-by-case basis" based on criminal records, risk of flight, "any known medical conditions," and whether she or he "poses a potential threat to public safety." It added that private contractors that operate the facilities where pregnant women are housed also are required to adhere to those standards, but it declined to comment on specific facilities.
"All detainees, determined to be pregnant, are provided appropriate education, pre-natal care, and post-natal care," the statement said. "Such care includes referral to a physician specializing in high-risk pregnancies when high-risk pregnancy is indicated."
CBP referred BuzzFeed News to its national standards, and DHS did not individually respond to a request for comment.
Amanda Sluss Gilchrist, the director of public affairs for CoreCivic, the private prison group that owns the Otay Mesa detention facility where E was held, told BuzzFeed News in a statement that CoreCivic staff "do not make medical or mental health treatment determinations," and that ICE and their 500 officers assigned to the detention facility are "solely responsible for contracting, staffing and oversight of any medical and mental health services." Gilchrist added that detainees "have daily access to sign up for medical attention."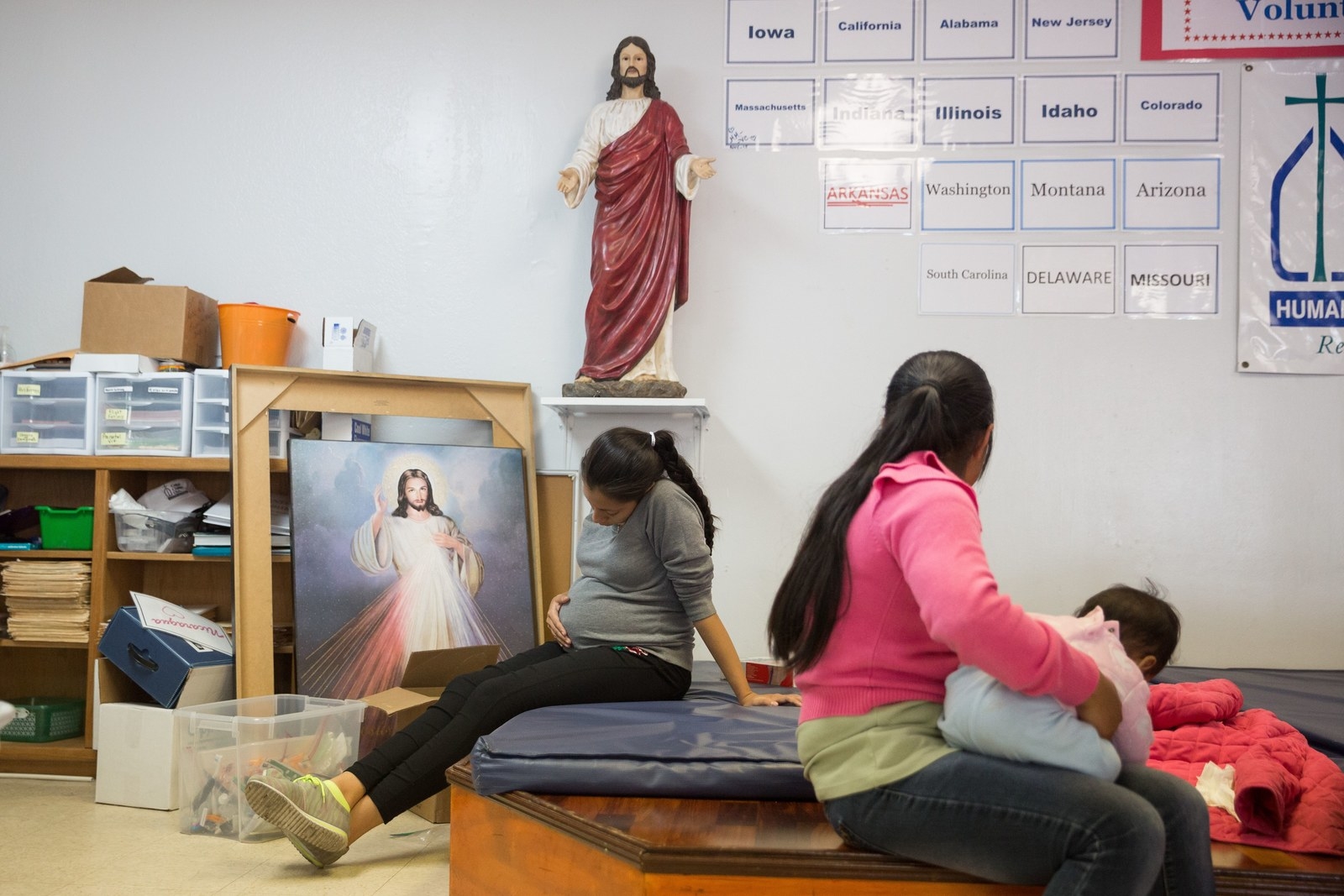 In a congressional hearing in May — just weeks before the news broke that immigration officials were separating immigrant families — Department of Homeland Security Secretary Kirstjen Nielsen told Congress about the care she said ICE provided to pregnant detainees.
"We provide them with prenatal care, we provide them separate housing, we provide them specialists, we will take them to appointments if they need to go somewhere else, we provide them counseling," Nielsen listed.
"They are not only given adequate care in facilities, but it is much better care than when they are living in the shadows."
When asked about the list of resources Nielsen said pregnant women in ICE custody were receiving, each of the three women BuzzFeed News spoke with said they had received none or only one or two of the services — often with significant delays while in dire situations.
"We provide them with prenatal care, we provide them separate housing, we provide them specialists."
"It's a lie. They didn't give me anything," said Rubia Mabel Morales Alfaro, 28, who was in ICE detention from around Dec. 23 to March 15 this year. E also said she had received none of the services. "If they had had that, I would not have lost my son. I don't understand why they won't take care of pregnant women," she said.
Three lawyers and two medical workers who work with detainees told BuzzFeed News that the treatment of pregnant women was substantially different before Trump took office. Pregnant women were often released from CBP centers faster than other detainees, particularly after August 2016, when ICE issued a policy limiting detention of pregnant women to only "extraordinary" circumstances or cases of mandatory detention. Often it took only a phone call to the center to get a pregnant woman released on parole, Linda Rivas, the executive director of Las Americas Immigrant Advocacy Center, told BuzzFeed News. After Trump entered the White House, these calls stopped working, she said. And after the new policy was announced, advocates stopped having a reason to think they would.
Still, five legal and health care advocates who work with women detained after crossing the border illegally or seeking asylum said ICE does provide women with a pregnancy test, prenatal vitamins (not always regularly, two advocates said), and, sometimes, a standard entrance exam by a nonspecialist medical worker.
One woman said that when her pregnancy test came back positive, ICE facility staff gave her a "diet for health" label to wear on her ID. An obstetrics-trained nurse in West Texas told BuzzFeed News that some detained pregnant women are transported to her clinic for one checkup during their time there, often in their second or third trimester. Some (but not all) detention centers also make sure pregnant women get the lower bunk bed. But according to the 17 people BuzzFeed News interviewed, the special treatment stops there.
Lawyers and medical workers said the treatment of pregnant women was substantially different before Trump took office.
Five legal aid workers who have worked with dozens of pregnant women inside the detention facilities told BuzzFeed News that they had never heard of pregnant detainees being provided with separate housing, despite what Nielsen told Congress.
"I can't say this doesn't happen anywhere, but separate housing doesn't seem like a realistic option to me at all," Govindaiah of RAICES told BuzzFeed News.
"There are so many horror stories of medical neglect that I've heard inside [detention centers] that I can't even remotely fathom a scenario where a pregnant woman would be better off in detention than being released," Luis Guerra, a legal advocate at Catholic Legal Immigration Network, Inc. (CLINIC), told BuzzFeed News.
From Dec. 14, 2017, to April 7, 2018, there have been a total of 590 pregnant women booked into custody, ICE told BuzzFeed News in July, saying that these were the most updated numbers. As of April 7, 2018, there were around 35 pregnant detainees in custody, they said.
Advocates told BuzzFeed News, however, that they first began to notice an increase in pregnant detainees last summer — even though DHS policy at the time prohibited their detention — and that that increase has continued every month, along with the general increase in ICE arrests and detentions seen across the country. As the number of detainees increases, the amount of attention afforded to each individual by officials decreases, advocates said.
Rivas, the director of Las Americas Immigrant Advocacy Center, said her organization had noticed the change in the detention of pregnant women long before the Trump administration issued its change in policy in December. She said the number of pregnant detainees being held in the three detention centers where her organization works — El Paso Processing Center, West Texas Detention Center, and Otero Processing Center in New Mexico — began rising in the summer of 2017.
"It was a real shock to us at first, but then we just started seeing it more and more," said Rivas. "It was an accurate reflection of what the Trump administration wanted to happen, they were just late to making it official."
Guerra and Govindaiah told BuzzFeed News that they also saw an increase in pregnant detainees in Texas and California before the new policy was issued, and immigration advocates, including RAICES, the American Civil Liberties Union and the American Immigration Council, filed a complaint with DHS in September. The complaint included allegations by 10 women detained while pregnant before the policy was in place in Texas, California, New Mexico, and Washington state, many of whom told similar stories to the ones shared with BuzzFeed News.
Several women quoted in the complaint said they were ignored by detention staff when requesting medical attention, even in obvious emergencies or during and after a miscarriage, and all of the women reported experiencing severe psychological and emotional damage in detention that they feared affected their pregnancies.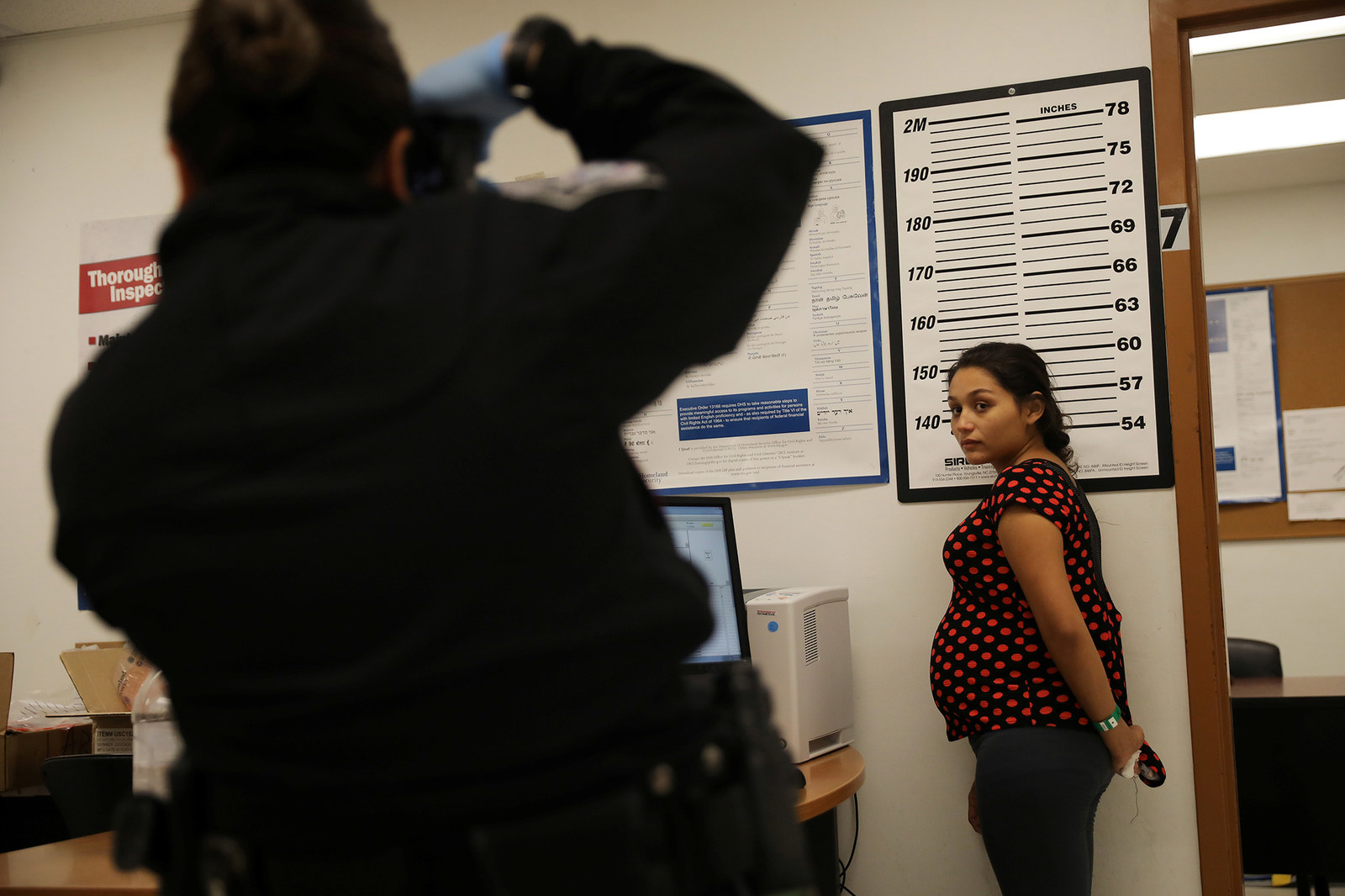 Women who are pregnant during their journeys to the border often arrive with high-risk pregnancies, three medical professionals told BuzzFeed News.
"They've been traveling for at least two and a half weeks, often without sufficient food, experiencing unimaginable stress, they haven't been able to urinate when they need to or drink the amount they need to while pregnant," said Virginia Sushila Schwerin, a midwife and nurse who has worked for two years as a volunteer at a Circle of Health International's clinic near the border in McAllen, Texas. The clinic serves hundreds of immigrants a day who were just released from short-term CBP custody, and roughly 20 pregnant women a week, the center estimates.
She and two other medical professionals who work with former ICE detainees told BuzzFeed News that women often experience emotionally traumatic incidents on the trip, like sexual assault or separation from their partners, which can also threaten their pregnancies.
"They're coming in at risk from that, and then a lot of them develop illnesses in detention because they are coming from a very warm climate into an extremely cold place filled with people and circulated air," Schwerin said. "Pregnant women have highly specialized needs and this is a high-risk group. I think it's inhumane to detain them."
All three of the women who spoke to BuzzFeed News were pregnant when they presented themselves to Border Patrol officers at the San Ysidro Port of Entry and requested asylum, as US law permits. Still, they said, they were shackled and placed in CBP facilities, where they were denied medical care during their first weeks in custody. All said they miscarried while in custody.
All the women said they'd been shackled around their hands, legs, and belly while they were in custody. Shackling of pregnant women in their second trimester is prohibited by ICE and CBP's most recent policies.
Each told similar stories: that they informed officials at the CBP facility shortly after being taken into custody that they were pregnant. Morales and another detainee, Jennye Mariel Pagoada Lopez, said they brought the results of their pregnancy tests and ultrasounds and showed them to the CBP officials, but, like E, both were told they couldn't receive any medical attention until they were moved to longer-term detention facilities.
Morales said when she was first taken into custody by the Border Patrol in December 2017, CBP officers pushed her to the ground and "threw [her] around." She told them again that she was pregnant, she said. "They didn't believe me, they said it wasn't important, that it wasn't their problem."
"They said I didn't have any rights there and I told them I was asking for asylum because it was dangerous in my country," Morales told BuzzFeed News, "but they said lies, lies, lies, that El Salvador was fine to live in."
After that, she started feeling sick, "vomiting horribly, like all day," and asked to see a doctor but was denied. She was held in the CBP facility for four days before she was transferred to Otay Mesa Detention Center in San Diego.
Pagoada, 24, was four months pregnant and already feeling dizzy and vomiting when she approached CBP agents at the port of entry on July 23, 2017, she told BuzzFeed News. In custody, she asked ICE officials for medical attention, she said, but they responded by saying they didn't speak Spanish. Late that night, she started feeling intense pains in her abdomen and was bleeding so heavily that one of her 15 fellow detainees in the room started shouting and waving for help at a security camera, she said, but when the officials arrived they still denied her care.
All of the women said they had been shackled around their hands, legs, and belly while they were in CBP custody, mainly while being transported from the holding centers at the border in California and Arizona (where E was moved to for more than a week after entering in California), and then to Otay Mesa, the privately run longer-term detention facility in San Diego.
Shackling in such a manner is standard practice for prisoners in the US while they are being transferred between facilities, but for pregnant women in their second trimester it could cause issues with the pregnancy, medical professionals say. ICE facilities are contracted under three different versions of detention standards of care, depending on when they signed their contracts. Shackling is prohibited by ICE and CBP's most recent standards-of-care policies as well as by a congressional directive.
"If a woman is jostled while wearing shackles around her belly, it can affect the child, as can any fall onto the belly, which is more likely to happen if the woman is chained," Dr. Anjani Kolahi, a family medicine and obstetrics physician with Physicians for Reproductive Health told BuzzFeed News.
Nevertheless, a nurse who works with pregnant detainees at clinics operated by Texas Tech University and the University Medical Center in El Paso said the women are "almost always" shackled around their hands and feet, and sometimes around their stomachs. In the past few months, staff at the center have seen at least two women shackled within a few hours of giving birth, she said.
"We were all really shocked because we hadn't seen that before … Women are most at risk of experiencing a hemorrhage within the first 24 to 48 hours [after birth]," she said, explaining that if there were complications, shackles would delay the medical team's response and put the woman's health at risk.
"This is not the US standard of care in any way," Kolahi said after being told of the various claims made by women and the people who work with them. "This is absolutely medical negligence. Overall [detaining pregnant women] is a cruel, inhumane practice. It's creating all sorts of unnecessary risk for the women" and their children, she said.
Gilchrist of CoreCivic said she "cannot speak to what occurs prior to a detainee coming into our custody," but that Morales was "classified as level one, or low-level detainees at Otay Mesa, and would not have been restrained."

During and after their miscarriages, the women still did not receive adequate care, they said. All of the women were transferred to the Otay Mesa Detention Center, run by the private prison group CoreCivic, which, as BuzzFeed News and other outlets have reported, has been accused of lax medical care previously. They were connected with BuzzFeed News through legal aid workers while in detention at Otay Mesa or after being released while their cases are pending. The interviews were conducted in Spanish.
E didn't see a medical professional until more than a month and a half after she first was taken into custody, and nearly two weeks after she had started miscarrying, she said. For Pagoada, it took five days after she started bleeding heavily for her to see an on-site medical professional at Otay Mesa, who performed physical exams without an ultrasound. Two days later, the medical professional told her she had lost her child.
After that, the bleeding didn't stop for several days, Pagoada said. "They were refusing to give me sanitary towels, I needed like 30 per day and we were given three per day. They told me I could buy more in the commissary." Pagoada is one of the 10 women who filed the complaint about their treatment with DHS in September.
"When the doctor examined me, he said there were many reasons for the miscarriage but it was likely because of the conditions they had me in." —Rubia Mabel Morales Alfaro.
Morales started bleeding soon after she got to Otay Mesa and saw an on-site doctor, but that doctor told her the bleeding was normal. The next day she fainted in the middle of the cafeteria and was finally taken to an OB-GYN at Sharp Chula Vista Medical Center hours later. The OB-GYN told her she had lost her baby.
"When the doctor examined me, he said there were many reasons for the miscarriage but it was likely because of the conditions they had me in," she told BuzzFeed News.
BuzzFeed News obtained a copy of Morales's discharge records from Sharp Chula Vista dated Jan. 10, 2018, showing that she had suffered a miscarriage. No cause was given. The records said that Morales should "follow-up" with her OB-GYN "within 1-2 days" of her hospital discharge, and "return to ER for any concern, if symptoms worsen, if you do not feel better." The hospital declined to comment.
Morales felt sick long after her miscarriage, she said, but was treated by detention staff as if nothing had happened. Symptoms of depression started affecting her ability to eat and take care of herself and she lost a lot of weight. She did not return to the doctor.
"I told them I am not well, I just lost a baby. And they said, 'That's not my fault, that's your fault.'"
Kolahi told BuzzFeed News that in the first trimester there is not a high risk for the woman following a natural miscarriage, but in the second or third trimesters or if the woman bleeds for several days, she should, "absolutely see a doctor, because it might not pass on its own," Kolahi said.
E and Pagoada were in the second trimesters during their miscarriages, and Morales was at the very end of her first.
The hospital discharge pamphlet given to Morales says that women who have recently had a miscarriage should "get help right away" if they "have more bleeding" or "get lightheaded, weak, or you pass out." All three women experienced these symptoms but said they were not given immediate help.
Months after their miscarriages, the women say they are still experiencing psychological and emotional repercussions.
Months after the physical repercussions of their miscarriages subsided, the women say they are still experiencing psychological and emotional repercussions of their treatment in the detention facilities.
"It's important that you know the trauma that they inflict on you … It's not a place for anybody much less for pregnant women," said Morales, who has been on antidepressants since getting out of detention in mid-March, while her case is pending. "It's something too traumatic. It's a punishment that I will never forget."
"There was no relief. I was dying every day. ... Psychologically and physically you are sick," she added. "I can't even say how painful it is to be there without help, without support, and with the pain of having lost something so precious."
"There are times that I laugh, times that I feel like another person entirely, I just can't believe what has happened," E said, only days before she agreed to return to El Salvador.
"For me, this is going to be a pain that I carry for a long time, that because of me, I lost my son. I had a dream to come to this place with my son and to be safe and make a life here. What's going to happen now? What was the point of this dream? It hurts." ●
CORRECTION
The name of the US Food and Drug Administration was misstated in an earlier version of this post.