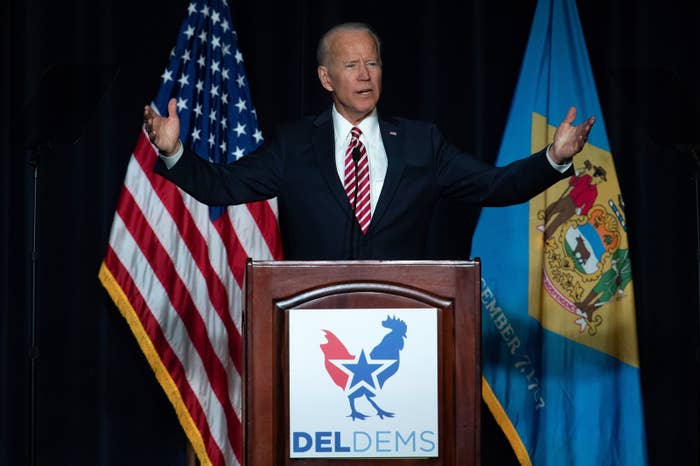 Joe Biden, in his first public comments since facing allegations of inappropriate physical contact, opened a speech Friday morning by cracking a joke about consent.
The former vice president, who is deliberating a presidential campaign, took the stage at the International Brotherhood of Electrical Workers' conference in Washington, DC, and hugged the union's president, Lonnie Stephenson.
"I just want you to know I had permission to hug Lonnie," he said, to applause and laughter from the mostly male audience.
A few moments later, Biden invited a group of kids on stage, shaking their hands as they came up — but then put his arm around one child's shoulder.
"By the way, he gave me permission to touch him," he said, again to applause and laughter from the crowd.

Biden told reporters after the speech that the comment about Stephenson wasn't a joke. "I wasn't joking, the president of the union put his arms around me, that's how it's always been," he said. "That's how people react."
Asked by reporters if he feels he owes a direct apology to any of the women who have said he made them uncomfortable, he said "I made it clear that if I made anyone feel uncomfortable, I feel badly about that. It was never my intention, ever, ever."
Pressed on whether that meant there should be a direct apology, he said, "I'm sorry I didn't understand more. I'm not sorry for any of my intentions, I'm not sorry for anything that I have ever done. I've never been disrespectful intentionally, to a man or a woman."
Biden was at the IBEW conference to talk about unions and labor as his possible presidential campaign gears up. Friday's speech was an appeal to this particular union that's been a strong backer of his through the years.
Stephenson, in his introduction for Biden, called him one of the group's "closest and most reliable friends."
"All you're looking for is to be treated fairly, with dignity, with some respect," Biden said in his speech, referring to workers.
On Wednesday, Biden released a video addressing the allegations of inappropriate contact, saying he would be "more mindful" of consent and personal space, but he did not explicitly apologize to the women.
"I've never thought of politics of cold and antiseptic — I've always thought it was about connecting with people like I've said: shaking hands, hands on the shoulder, a hug, encouragement. Now it's all about taking selfies together," Biden said in the minute-long video.
"Social norms have begun to change, they've shifted, and the boundaries of protecting personal space have been reset, and I get it. I hear what they're saying, I understand it, and I'll be more mindful. That's my responsibility and I'll meet it," he added.
The allegations, none of which are sexual in nature, began last week with an essay from Nevada Democrat Lucy Flores. Flores wrote that in 2014, when she was a candidate for lieutenant governor, Biden touched and kissed the back of her head prior to a campaign event. A Connecticut woman later made similar allegations about Biden's behavior at a 2009 fundraiser, and multiple women detailed similar allegations to The New York Times.
Biden's allies have defended the former vice president's behavior, with multiple women, including Stephanie Carter, the wife of former secretary of defense Ash Carter, writing about how Biden comforted them in trying or stressful moments. Former senator Jean Carnahan detailed on Twitter how Biden's physical contact and attention helped her after she lost her husband and son in a plane crash.