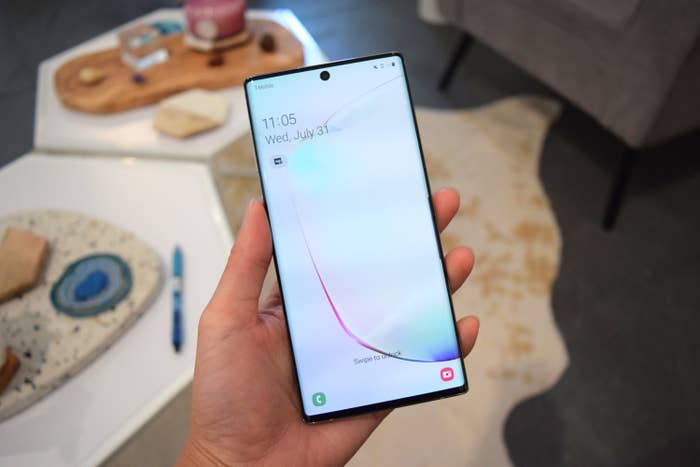 SAN FRANCISCO, CA — Smartphones are too big and getting bigger. But this year, Samsung is (incrementally) reversing that trend. The company appears to have acknowledged that at some point, as a phone's screen size increases, your ability to actually use the thing decreases. The company's new Galaxy Note 10 is slightly smaller than last year's version (by .1 of an inch!) and, more critically, thinner and lighter, too. A Samsung spokesperson told BuzzFeed News that the new phone's "minimalistic" software is designed with one-handed use in mind.

This reporter, a small-handed person, put the Galaxy Note 10 to the one-handed test. Surprisingly, the phone — one of the larger mobile devices on the market — was kind of, sort of usable with one hand. The 6.3-inch display's curved edges made it easy for my thumb to reach around to the other side of the screen. The phone is tall, but not bulky, so I was able to shimmy it up and down to reach the top and bottom edges.
The Galaxy Note 10 is not exactly a small phone — but it's something. Samsung's previous effort to make large screens small enough to hold in one hand — the Galaxy Fold — cost $2,000 and immediately broke. The company delayed the launch of the foldable phone to an unspecified date in September.
For those who really would prefer a Hella Big Phone, there is now a version of the Galaxy Note with a larger 6.8-inch screen, called the Galaxy Note10+.
Also new: the Note's mirrored, prismatic hardware, which comes in three colors — "Aura Glow," "Aura White," and "Aura Black."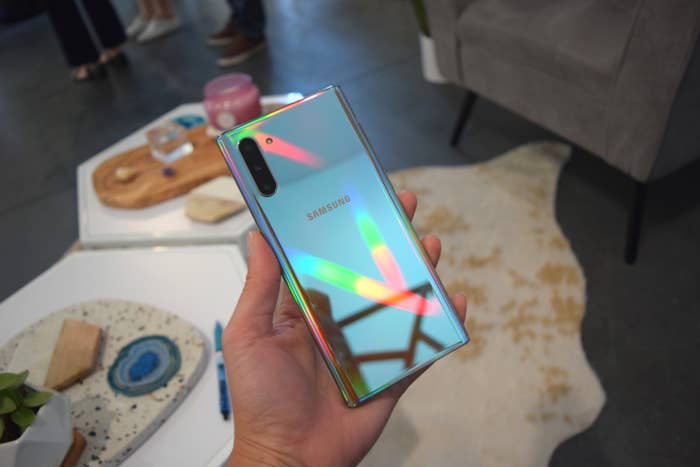 The Note line is less popular than Samsung's Galaxy devices, which are released in the spring. It's a quirky phone for a niche audience, aimed at business pros who spend a lot of time away from their desk. The device can be plugged into a monitor, and work with a keyboard and mouse. The Note's defining feature is a small pretzel stick–sized stylus that isn't actually that great for writing notes or drawing (the hand cramps!). But what makes the Note interesting is that it's where Samsung releases new features that eventually make their way to those more popular Galaxy phones.

In other words, the Note is essentially a preview of what's to come — and if that's the case, then Samsung is finally getting rid of the headphone jack. The Note 10 doesn't have an audio port and comes with USB-C earbuds instead. Until now, Samsung was the last holdout among its smartphone maker peers (Apple killed the iPhone's headphone jack in 2016, followed by Google in 2017).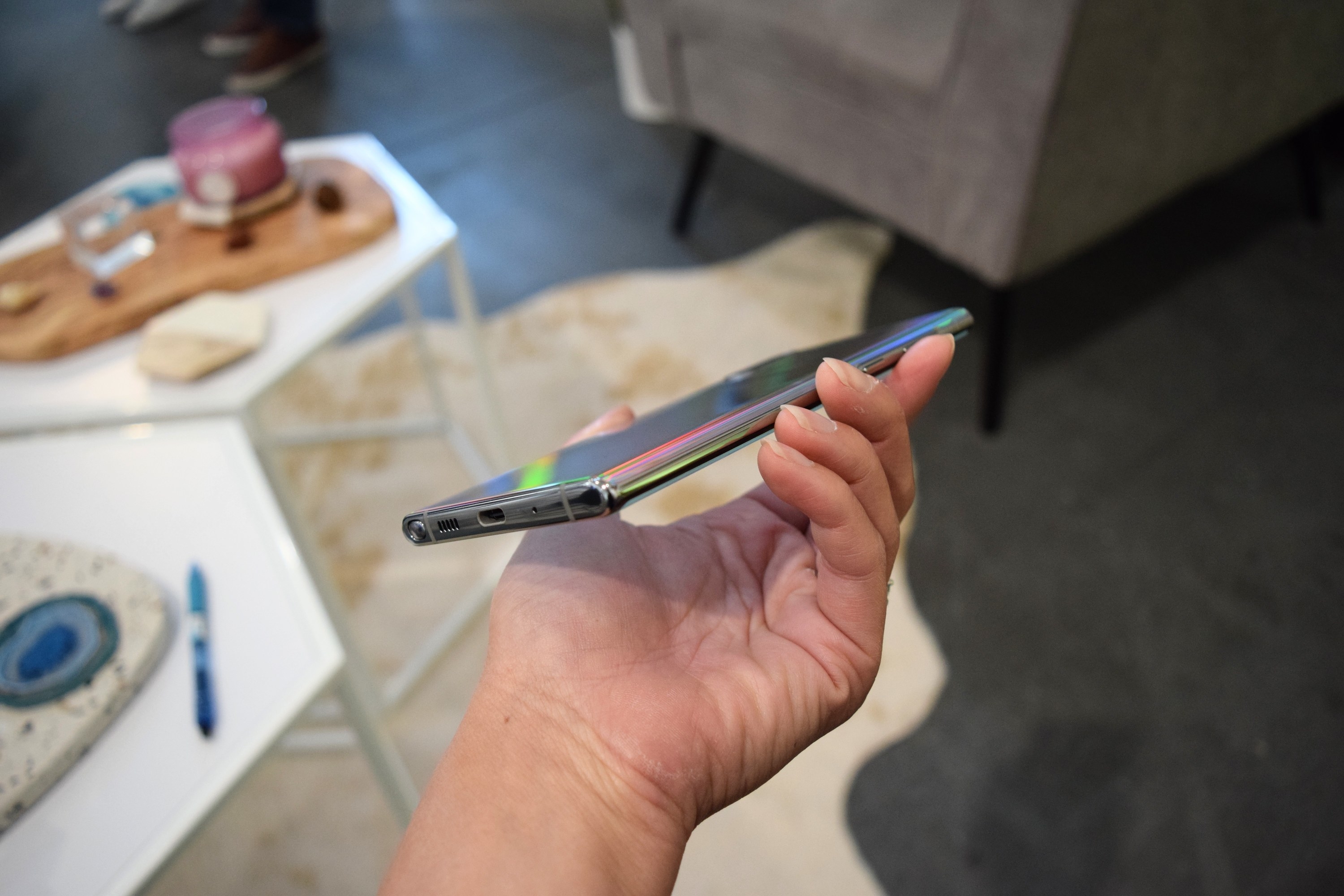 Most of the other new, notable features are camera-focused. "Live Focus Video" recognizes faces, and can blur the background behind those faces, like Portrait Mode for video. "Zoom-In Mic" turns down background noise and turns up the audio of the subject of your video recording. In addition, there's now a time-lapse recording option called "Hyperlapse."

It's worth mentioning that while Galaxy Note phones get some of the flashiest camera features in Samsung's lineup, the Note repeatedly underperforms in camera tests when compared to Google's Pixel, Apple's iPhone, and even Samsung's own Galaxy phones.
The Galaxy Note 10, like every flagship phone, is an improvement over its predecessor. It's faster. The Note 10+ model has the biggest battery in a Samsung device ever (4,300 mAh). It comes in new colors. It's thinner, lighter. But not by much.
The devices go on presale Aug. 8, and hit stores Aug. 23. The Galaxy Note 10 starts at $959 and the Galaxy Note 10+ starts at $1,100.
All of the technical details are below: