Today, Instagram is announcing a new feature: a pop-up that appears when users search drug- or substance-related hashtags, like #opioid or #uppers. It reads, "Can we help?" and is aimed at people who are dealing with opioid or substance abuse and their loved ones. Tapping "Get Support" leads to an information page, with numbers to the Substance Abuse and Mental Health Services Administration's national helpline (1-800-662-HELP) and Treatment Services Locator, as well as a hub for addiction resources.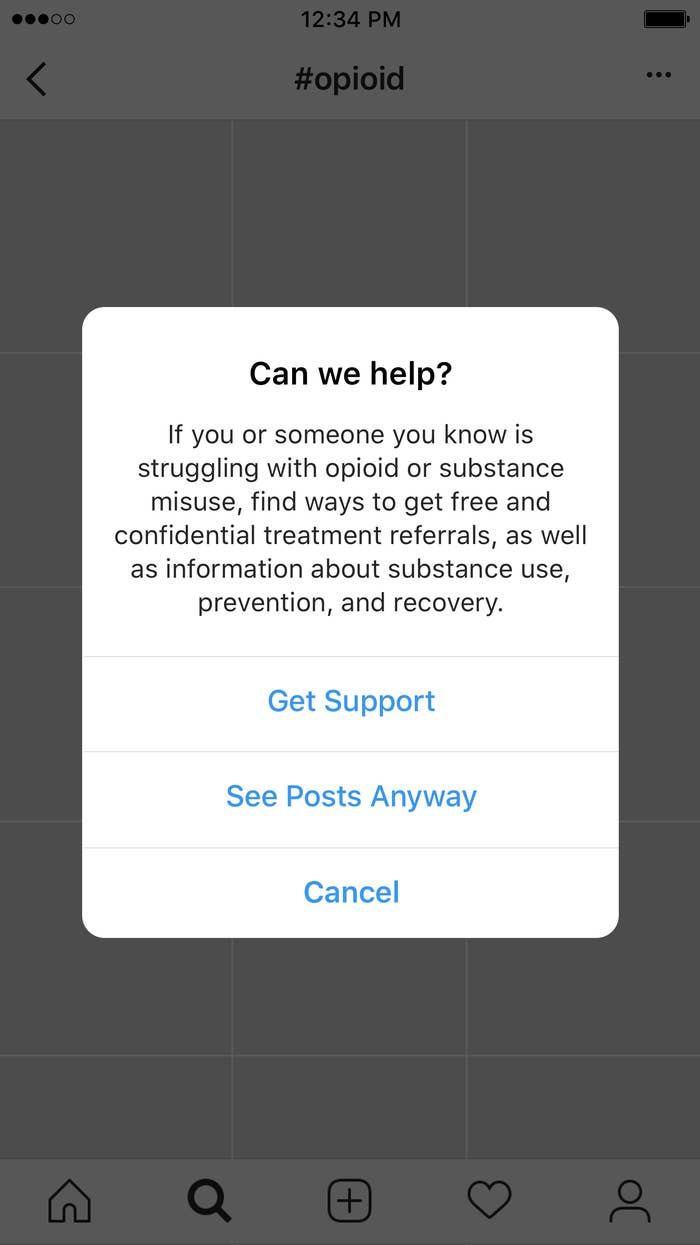 The feature rolls out in the US on Wednesday, and Instagram said it will launch globally soon.
The company said that while some people on Instagram use hashtags, like #opioids, to promote the sale of illegal drugs, which is banned on Instagram, the hashtags are also used for people who are struggling with substance misuse to find support within the community.
According to CDC data, nearly two-thirds of drug overdose–related deaths (over 41,000) in the US involved a prescription or illicit opioid in 2016. Last year, an estimated 25,000 people died from fentanyl and other synthetic opioids alone.
"The opioid epidemic is an issue that affects millions of people, and we want to use our platform to offer resources to those who need it — in the places where they are seeking help. This is an important step for us in our ongoing commitment to make Instagram the kindest, safest social network," said Karina Newton, Instagram's head of public policy. The pop-up message will be added to more hashtags related to opioid, prescription, or illegal drugs over time, according to Instagram.
Instagram has grappled with how to deal with problematic, potentially harmful content on its platform in the past.
In 2012, Instagram rendered hashtags related to eating disorders unsearchable, causing engagement on slightly misspelled pro–eating disorder hashtags to multiply. The company eventually added a content advisory over the posts, which showed users a link to information and support for people living with eating disorders.
Then, in 2015, Instagram blocked the hashtag #curvy, only to revive it a few weeks later after user outcry. At the time, the company told BuzzFeed, "In the case of #curvy, we don't like putting restrictions around a term that many people use in very positive ways, so we have decided to unblock the hashtag while taking steps to ensure that it's not used as a vehicle for bad content."