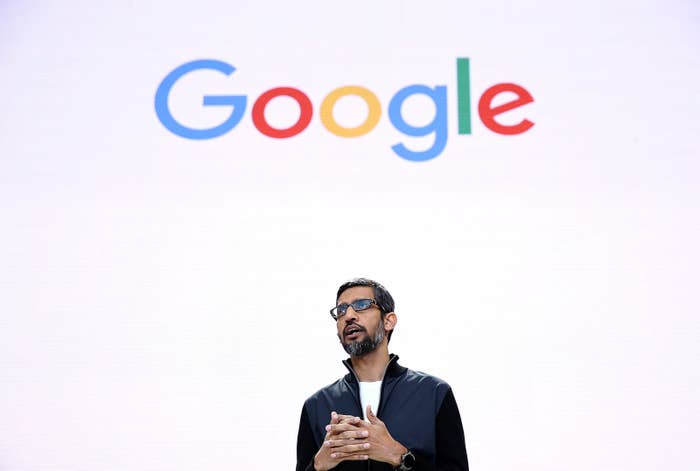 At today's Google I/O developer conference, CEO Sundar Pichai laid out the tech company's new goal: "building a more helpful Google for everyone." Pichai was positioning Google — which now spans far beyond search, email, and maps to phones, smart speakers, and so much more — as a friendly helping hand. His messaging stood in contrast with the growing public sentiment that tech platforms cause more harm than good.
During the nearly two-hour presentation, Google touted its artificial intelligence developments, with upcoming features like Duplex on the web that can, for example, reserve a rental car online on your behalf, and Lens, which uses your phone's camera to highlight popular menu items on physical menus. People can now ask Assistant to contact others based on their relationships like "mom" and pull restaurant reservations from your email to automatically navigate you to that destination when you get in the car. The company stressed tools centered on privacy and accessibility, and also announced a new mid-cost Pixel line as well as a smart, Assistant-powered video display device called the Google Nest Hub Max.
Ultimately, it appears that as Google is offering users more transparency and control over their data, it will also need more of that data to be "helpful" in the way it wants to be.
Google has two new phones, the Pixel 3a and 3a XL.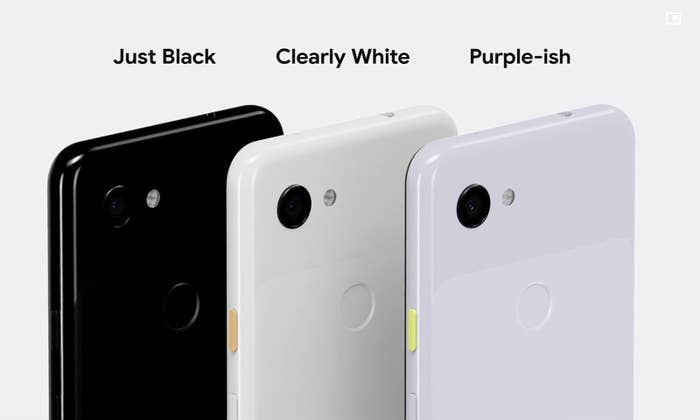 It wasn't exactly a well-kept secret, but Google announced a new line of mid-tier phones: the new Pixel 3a, which is $399, and the larger Pixel 3a XL, which clocks in at $479. Exciting news: Both have headphone jacks.
As Google's Rick Osterloh noted, "Everyone's high-end phones are getting more and more expensive." These phones are Google's attempt to bring a high-quality phone to a mid-level price. The company maxed out on the camera, and these new phones offer some of the same features (like Night Sight) as the more expensive Pixel 3. It has the same adaptive battery features as the Pixel 3, and Google claims it gets seven hours of battery life from a 15-minute charge.
You can read more about it here.
The phones come in three colors: Just Black, Clearly White, and Purple-ish. It will be on sale at Verizon, T-Mobile, Sprint, and US Cellular. It's in 13 markets starting today.
The Google Nest Hub Max is a video chat device, smart speaker, and security camera all-in-one.
Whew! "Google Nest Hub Max" is a mouthful! The new device features a 10-inch touchscreen with a camera and speaker. You can use voice commands (with the "Hey, Google" prompt), just like a Google Home. There are a slew of new camera-enabled features: video chatting with Duo with a lens that automatically pans and zooms as you move around the room; checking in on your living room by accessing a live feed from your phone; using built-in facial recognition to see personalized calendar events, reminders, and messages; and holding up your hand (a new "quick gesture") to pause or play video/audio without having to say anything.
Read more about it here.
Google emphasizes "Responsible Development of AI."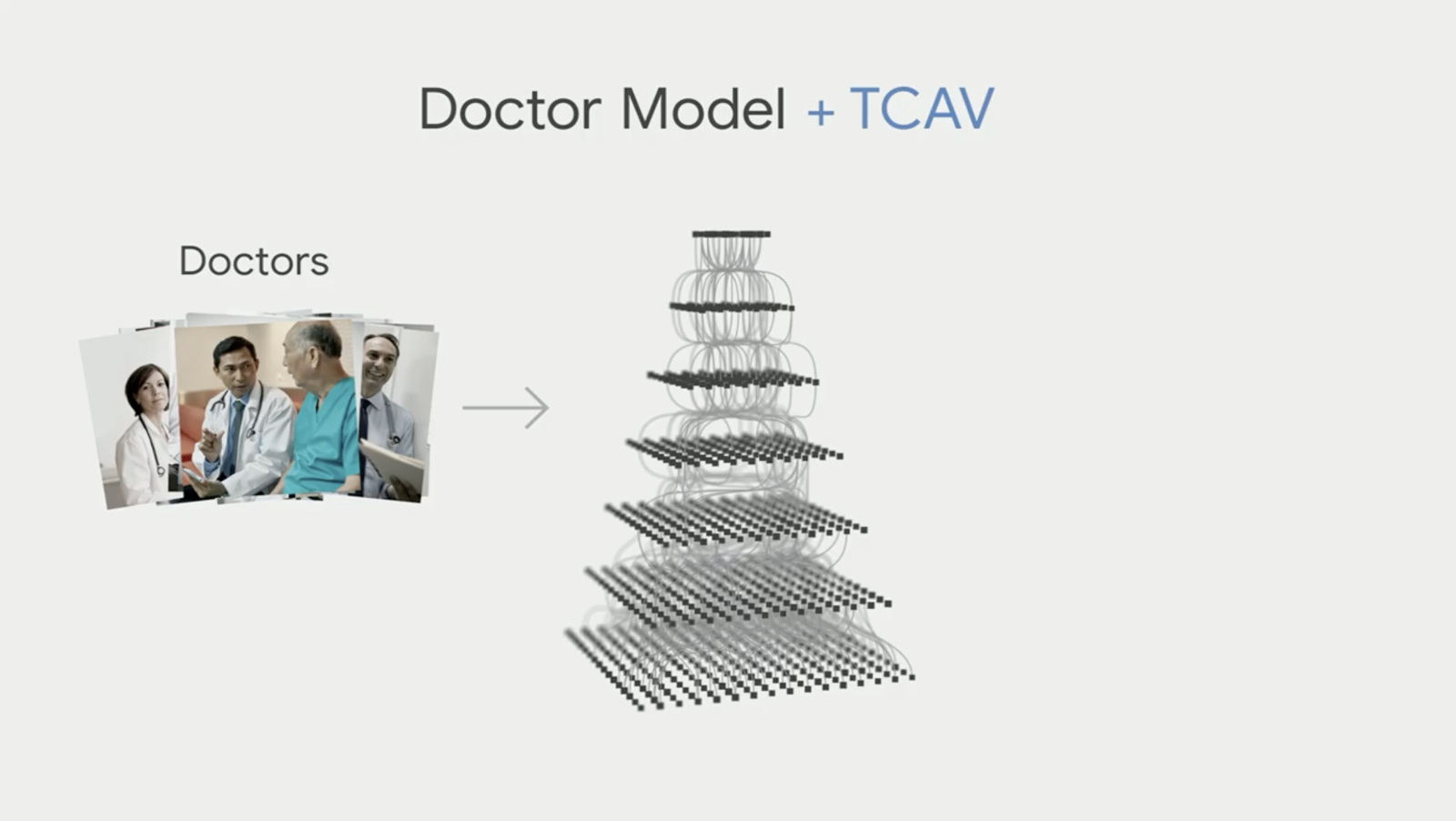 Google wants you to know that it thinks AI is for everyone. Onstage at the Google I/O developers conference, CEO Sundar Pichai noted that bias — racial, gender, etc. — has been a concern long before machine learning existed. Knowing how AI works, he explained, helps Google to avoid reinforcing human bias in the existing world.
Enter TCAV — short for "Testing with Concept Activation Vectors." (Not a mouthful at all!) The feature, developed in-house by Google's AI engineers, surfaces the qualities that seem to be predicting factors in something AI is analyzing. For instance, given photos of doctors in white lab coats, an AI model might think that being white and male was a predicting factor. TCAV would surface this, and try to flag it as a quality of inherent bias in the training data. Or, in the case of AI built to detect skin cancer, the algorithm must work on a variety of skin tones to be effective.
Google wants to make sure its AI is "fair and works for everyone," Pichai said. TCAV could be a great idea — but developers and the public will have to wait a little longer to test how well it works, until Google makes a demo of the tech available.
Oh, hey, it's a bunch of Android Q updates.
In case you'd forgotten by this point, Google has some Android news for you too. Android Q, the next version of its mobile operating system, got a preview.
Android Q will support the Live Captions Pichai showed off earlier, automatically adding text to video in real time over videos that wouldn't normally have captions. This happens entirely on the device, and doesn't require an internet connection. Smart Replies will work across all messaging apps in Android Q. All that also happens on device, so data isn't going back to Google's servers. Dark Theme is on the way too, which will not only give your phone a nighttime setting, but also reduces battery drain because it's not lighting up the entire screen with bright white light.
Android Q also has updates on security and privacy. The biggest news here is the way location-sharing is getting more granular. Q will give you reminders when an app accesses your location when you're not using it, with an option to stop sharing. You can also select an option to only share locations when you're using an app. There's also a new tool to let you see. Another nice feature: Q OS modules that update over the air, as soon as they're available.
There are some new tools to help you, uh, not use your phone too. To go with Wind Down and Digital Wellbeing, Android Q (and Android P) will have a new feature called Focus Mode, which will let you selectively turn off distracting apps like email.
For the kiddos: New parental controls will let an adult review any apps a child wants to install, set time limits on individual apps, and add device bedtimes (with bonus time).
Q beta 3 is available now on 21 devices.
Google develops AI to improve accessibility.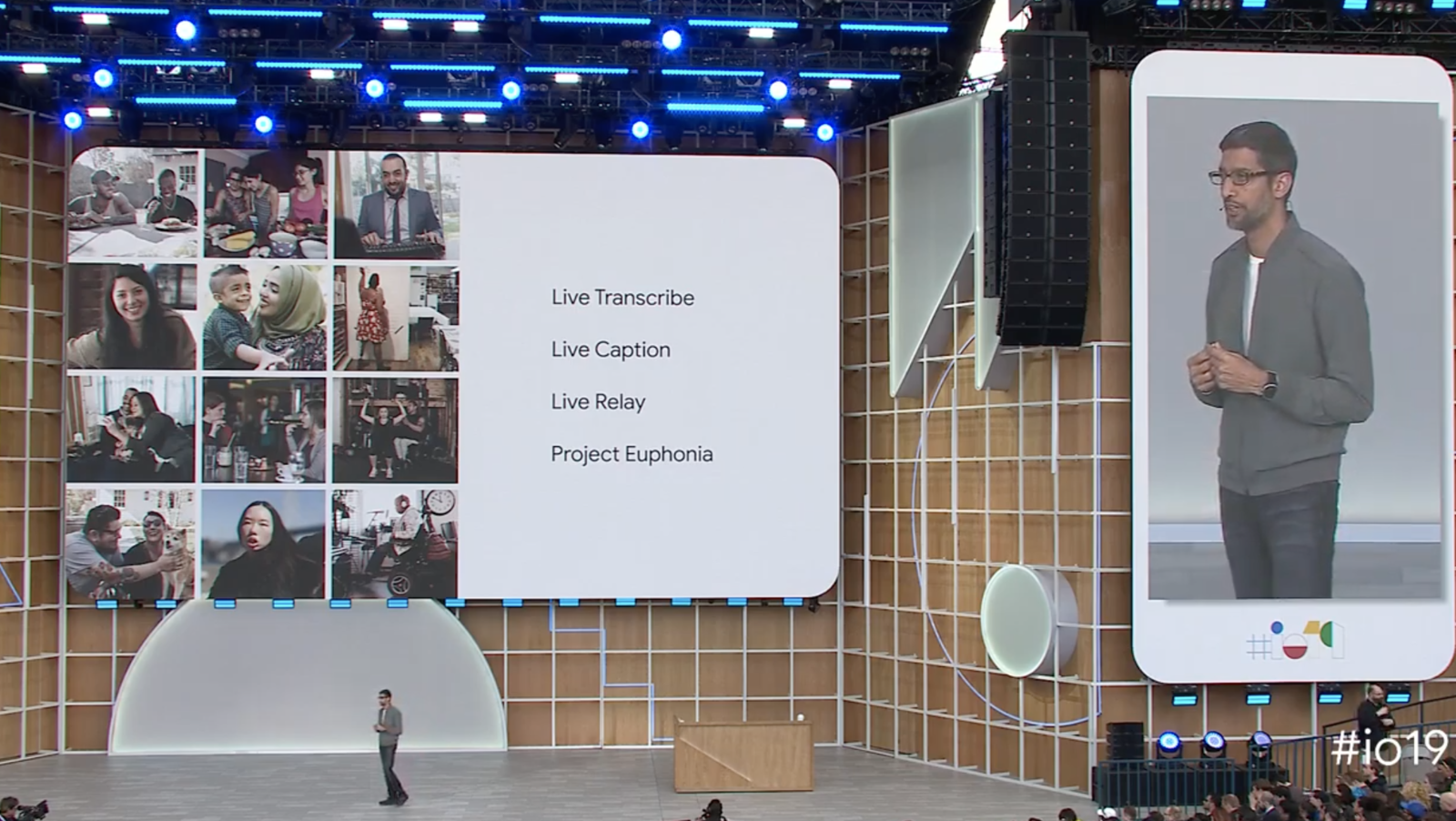 Pichai showed off several ways the company is using AI to make it easier to communicate.
Live Caption will add text captions to video, using automated speech recognition, on the fly. While the emphasis on the demo was web video, Pichai noted the company is exploring it on video chats.
Live Relay is a way for people to make audio phone calls without having to speak or hear. According to Google, Live Relay uses speech recognition and text-to-speech functions, as well as predictive writing suggestions, so people can carry on a live call, allowing their phone speak for them. All of that happens on the device itself.
Project Euphonia is meant to assist people with speech impairments be understood by machines. Google trained its AI on English speakers whose speech has been impaired by ALS. It is also training personalized AI algorithms to detect sounds and gestures, which it can translate into actions, such as triggering Google Home commands or sending text messages, according to Google.
Google Assistant will get faster and smarter.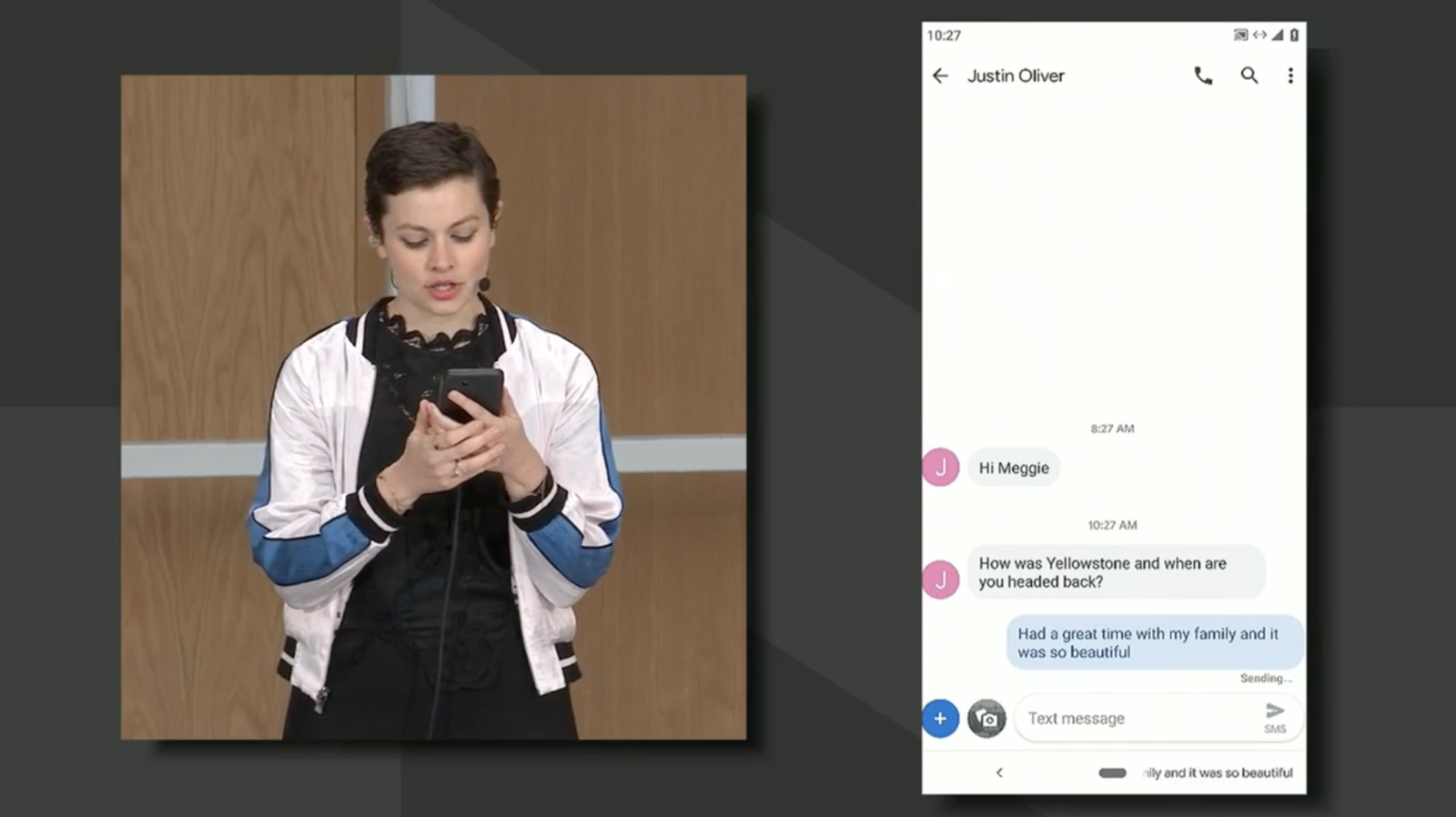 Google is making its Assistant up to 10 times faster by moving its computing onto the phone devices and letting you control it without saying "Hey, Google" every time you want it to do something. Onstage, the company showed how this new, faster assistant can help you navigate between apps like text messaging and photos in one interaction.
For example, you could, in a single conversation with the assistant, tell it to show you photos with animals from a recent trip and then have it send the photos to a friend. Neat!
The Assistant is also becoming more personalized with a new feature called "personalized preferences" that will recognize contacts in your phone. You'll be able to say something like "What's the weather at Mom's house this weekend?" and it will tell you based on its understanding of who your mother is. Huh.
Incognito mode is coming to Google Maps and YouTube.
In the Google Chrome web browser, "incognito mode" allows you to surf the web without linking the browsing activity to your Google account.
Now, the same feature is coming to Google Maps and YouTube. Soon, in the Maps and YouTube apps, you'll be able to click on your profile picture to enter incognito mode. You can watch videos or look up locations without associating that activity with your account.
(It should be noted, however, that incognito mode doesn't necessarily prevent your internet provider or employer from seeing your browsing history.)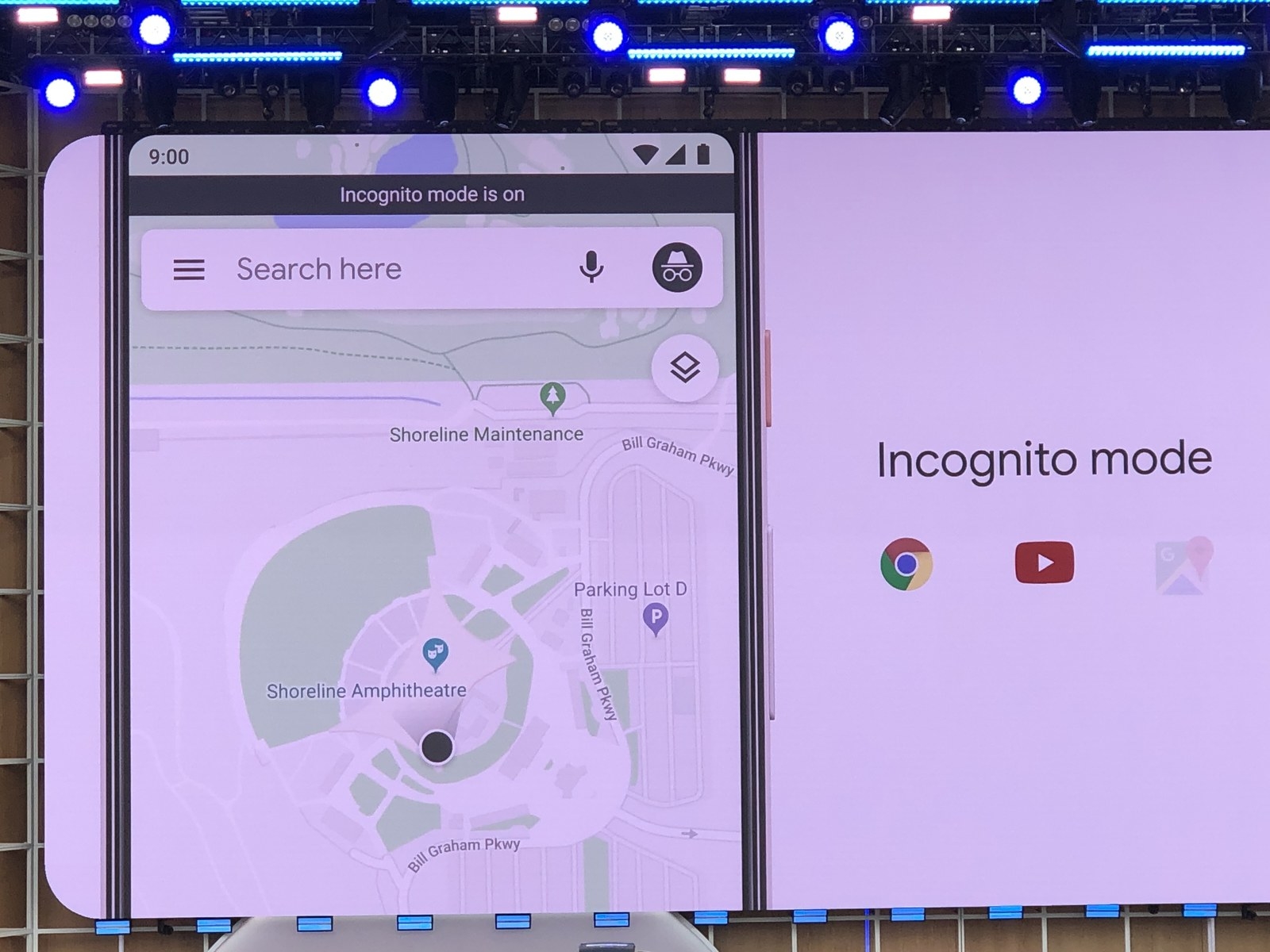 Google seems to be really interested in picking our food.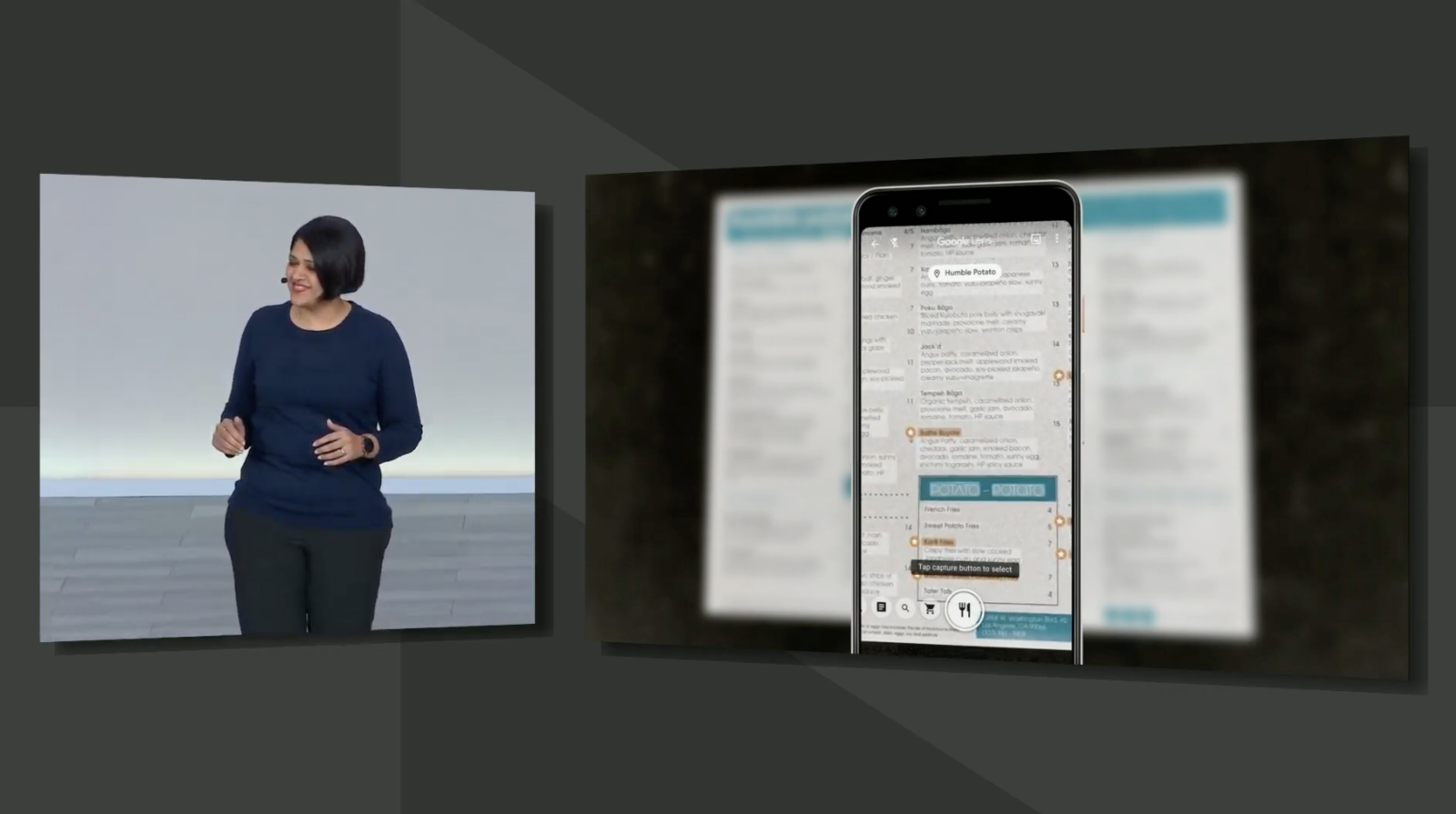 Demos included Google highlighting the most popular menu items when you capture an image of a paper menu in a restaurant, and also suggesting things for you to make for dinner. Google seems to be really interested in helping people pick their meals. Do people really need help with this? Questionable. But it does seem like another way for restaurants and food companies to advertise to Google users down the line.
"Duplex on the web" can reserve a rental car for you online, in another case of surrender-now-because-machines-can-do-everything.
It's an evolution of that creepy- and scary-good voice bot, Duplex, from last year, that sounds like a real human and can reserve a table at a restaurant or book an appointment at a salon.
Duplex on the web isn't a voice bot, but rather artificial intelligence, right on the phone, that can fill out forms for you. In a demo, CEO Sundar Pichai showed how Duplex can fill out a car rental reservation form online, using your personal information, and submit the request on your behalf.
More details on the technology will be shared "later this year," Pichai said.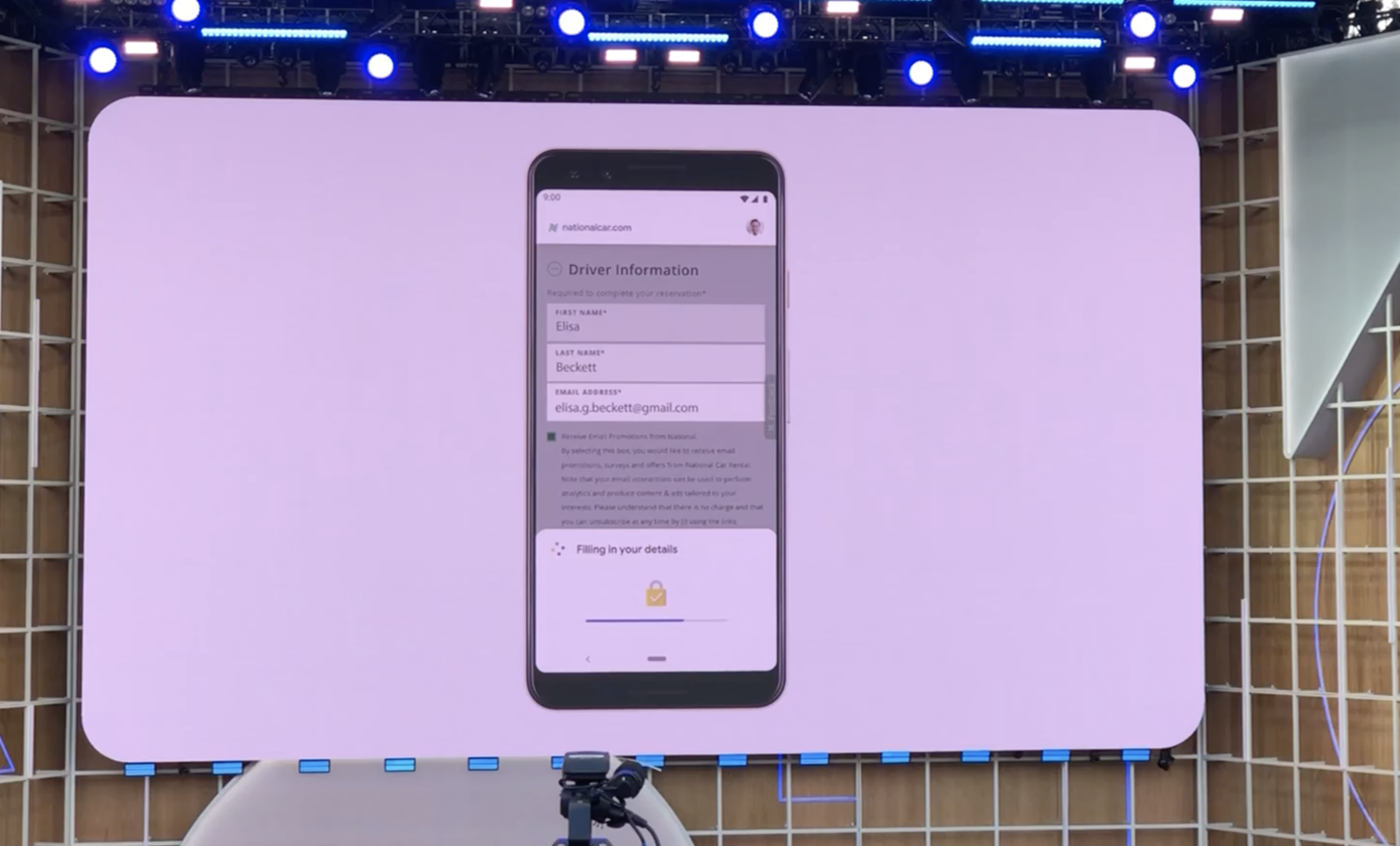 ...Meanwhile, on a banner in the sky, someone (who is not Google) wants to remind viewers: "Google control is not privacy #savelocalnews." Turns out it was an effort to promote this new initiative to "save journalism in the age of big tech."
Now podcasts will be added to Google search results.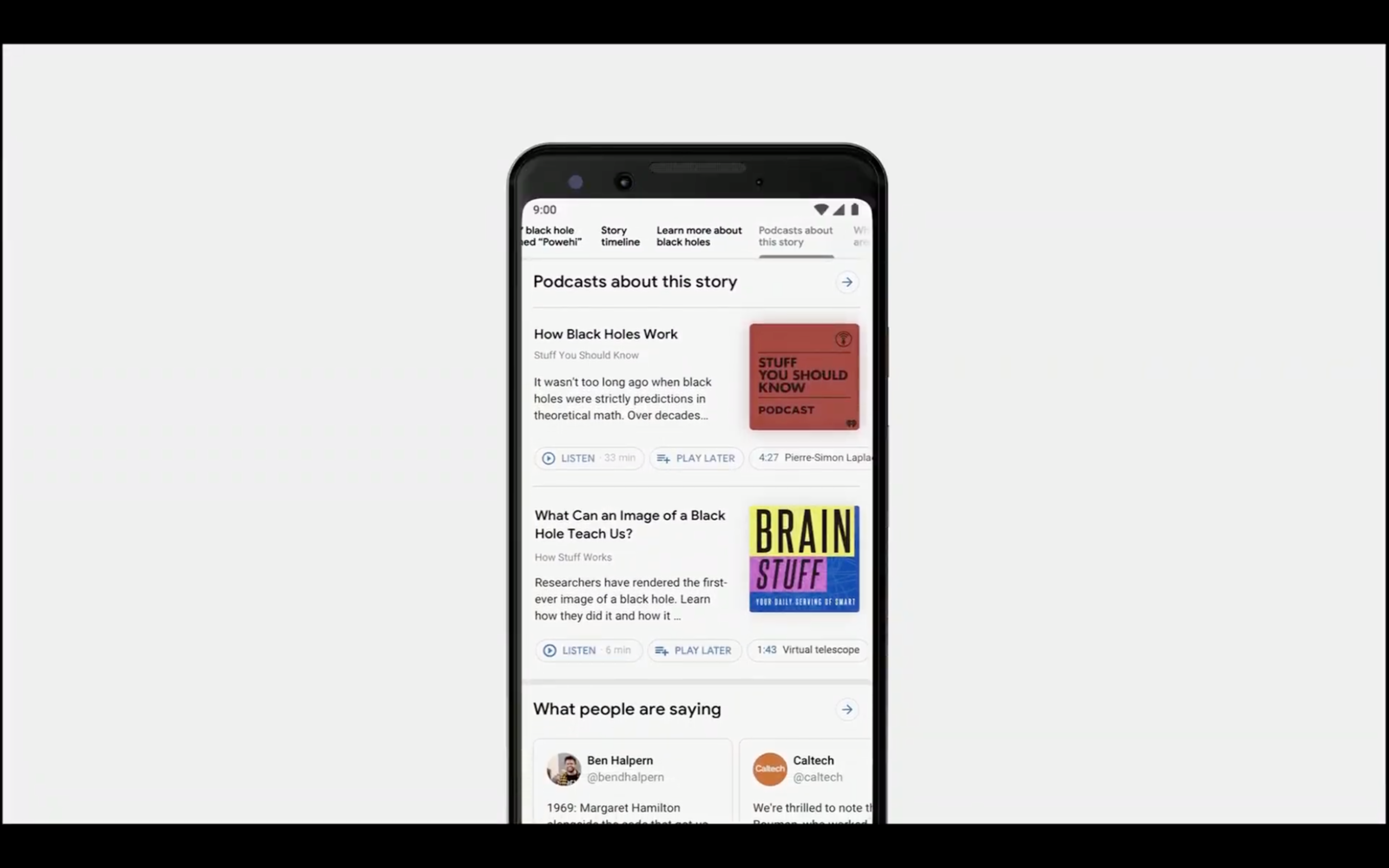 Google will now index podcasts in search results. Not just by the titles (podcasts often use jokey or obscure episode titles) but by the content. In Google's example, if you wanted to learn about black holes, it'll give you podcast episode results from a variety of places.
This new feature could be huge for how podcast creators find new listeners. As podcasts are notoriously hard to spread by online sharing, lots of people find new ones by traditional word of mouth. Search results on Google could mean good podcasts have a powerful new channel to find new listeners. Or, it could mean a horrible SEO race to create "what time is the Super Bowl" episodes.