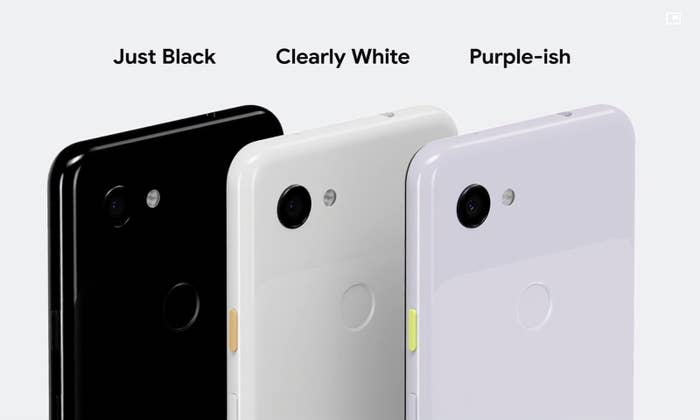 MOUNTAIN VIEW, California — Google announced a new line of mid-tier-priced phones with essentially the same camera systems found in its flagship models: The new Pixel 3a costs $399, while the larger Pixel 3a XL clocks in at $479. The phones come in three colors: Just Black, Clearly White, and Purple-ish. Also, it has a headphone jack. You can buy them now (but it would be smarter to wait a week or two).
The big idea with the Pixel 3a models is to bring high-end camera performance and the Pixel ~experience~ (i.e.: great hardware and design, and Android without any bells or whistles, for people who might find iPhones too basic and Samsung phones too garish/explode-y) to people who weren't going to spend upward of $800 on a smartphone. So Google lowered the price by about half, reducing costs by using cheaper hardware and materials — like a pokier processor and plastic housing — in other parts of the phone while sticking with the same camera hardware.
In a briefing ahead of the announcement, Google's VP of product management for Pixel, Brian Rakowski, said the phones are intended for people who would like to buy a Pixel, but are left behind by that phone's $800 (and up) price tag. (And based on the Pixel 3's disappointing sales numbers, there were a lot of people, for one reason or another, who may have been left behind!)
So how do they compare?
Our first impressions were largely positive — especially when it came to the camera, where frankly we were hard-pressed to tell the difference in photo performance. The only camera difference that immediately stood out is that the 3a models lack the wide-angle selfie feature that the Pixel 3 and 3 XL have — this may not sound like a huge deal, but it's something we have used a lot for taking photos with friends and family since last fall.
The camera launched quickly. Portrait mode looked great. Even processor-intensive features like Night Sight — which attempts to use software rather than a flash to show details in photos taken at night — worked well. In side-by-side tests in low light, we couldn't really tell a difference between photos taken with the less-expensive Pixel 3a XL and those from its full-priced, full-featured cousin. It's a good camera.

As for that slower processor, we didn't notice any huge slowdowns during our brief trial, even when playing a game or on a video chat. Having said that, if you're the kind of person who really cares about a phone's speed, you should probably get the higher-end device. If you're someone who just wants it to be fine, this one seems...fine.

The most noticeable difference in comparison to the Pixel 3, however, is that the 3a line is just not as well-made. The plastic back and buttons feel less sturdy. The display is also a bit more washed out — colors on it are neither as vivid nor as true to life as on the Pixel 3. And although wireless charging can be slow on the Pixel 3, it's also an addictive premium feature, and one we missed in the 3a.
What's New
There are also a few new features with this release. The AR walking directions on Google Maps announced last year at I/O have also finally made it in this release, which means that when you start walking down the block, you no longer have to panic wondering if you're going the right way — it'll tell you if you need to turn around.
There's a time-lapse feature for, I don't know, Lego enthusiasts, that lets you speed up the action when you play back a video you've shot. Photobooth, which could already automatically take a photo by smiling at the camera, will also take pictures if you make kissing or duck faces in its direction now. So, here are some photos of me doing that.
Bottom line: This phone's a good deal; as with most new hardware releases, wait a few weeks until it's in a number of people's hands before you run out and buy. And, of course, remember John Paczkowski's advice whenever you're buying a new phone: "Pick the ecosystem you like. Spend what you can afford. Buy the newest device."