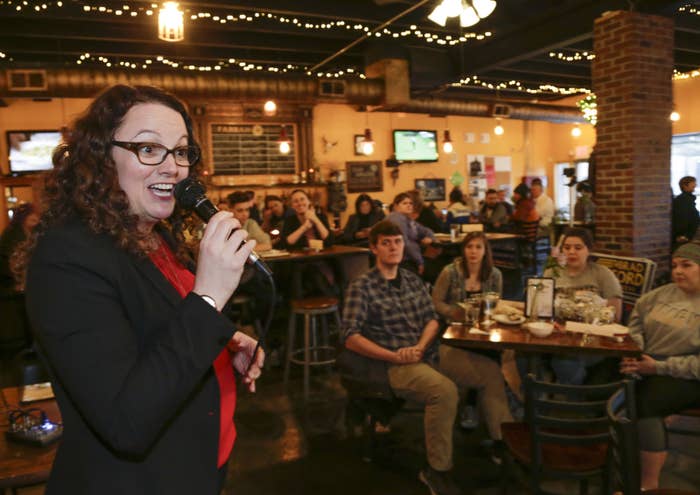 OMAHA, Nebraska — As more Democrats embrace single-payer health care, they will have to navigate a tricky gap between what voters think of when they hear "Medicare for All," and what politicians mean when they say it.
In Omaha, Nebraska, for instance, Bernie Sanders' plan for a single-payer health care system is the the main issue separating two Democratic candidates vying for a seat in one of the country's most competitive House districts: Kara Eastman, a progressive who has called the plan the solution to the country's health care crisis, and Brad Ashford, who has said he's dubious about its costs and implications.
Ahead of Tuesday's primary, conversations with more than two dozen Omaha voters reveal a dynamic that polling, too, has begun to capture: When some moderate and left-leaning voters say "Medicare for All" sounds like a pretty good idea, they aren't actually thinking about single-payer health care. Instead, they're thinking about simply expanding the program to include more seniors or children, or offering a public option that people can buy into.
Pressed on the details of Medicare for All, many voters in Omaha expressed skepticism — or outright distaste — about the single-payer plan that Sanders has championed.
Daily, as she knocks on doors throughout Omaha, Eastman finds voters looking to Democrats to fix the health care system. Like many Democratic candidates, she's begun to trade stories with voters of her own struggles with health care: Eastman's mother endured five different types of cancer and struggled to afford prescriptions, even on Medicare.
On one warm May day a week from the primary, Phil, a devout liberal, told Eastman the story of his wife's brain cancer — rejected by Medicaid, and still too young for Medicare, they've barely been able to afford pricey experimental treatments.
He likes the sound of Medicare for All, he said, but wouldn't want everyone to be part of a single-payer, government-run system. "I wouldn't want one system," he told BuzzFeed News. "I wouldn't want that."
For many Omaha voters with whom BuzzFeed News spoke, the distaste for single-payer health care is rooted in a distrust of the government — and a fear that such a system might disrupt care and interfere in personal health decisions. Others said they thought the government shouldn't give too much away for free.
"My gut feeling is basically like, I don't think we should allow people to come in unless they want to work. We shouldn't just give people everything," said Karen Fitzgibbons, an independent who said she often leans toward Democrats, of the idea of Medicare for All. To her, she said, it sounds like "a socialist system."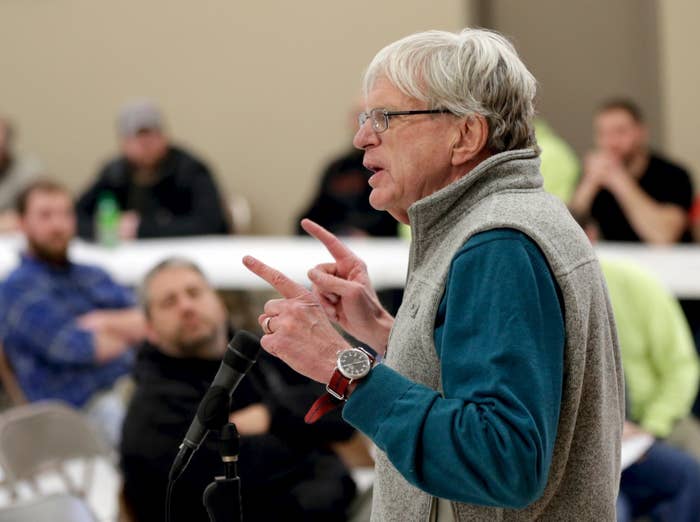 John Quitalig, an Omaha independent, found himself drawn to Eastman after watching a debate for the Democratic primary, which he planned to vote in. He thought Eastman was "fresh" and "smart"; of Ashford, a longtime politician, Quitalig said, "I've heard it all before."
But when it came to a single-payer health care system, Quitalig said he drew a line. "That's too socialist for me. I just don't think that would work."
As their children played in a park in Omaha's upscale Aksarben neighborhood, Quitalig's partner, Jennifer Christiansen, jumped in: Health care was important to her, and she thought Medicare for All sounded like a good idea for children.
"But adults, if they can work, they should work," Christiansen said. "You should be held liable for yourself."
Quitalig said he didn't realize Eastman's support for Medicare for All meant that she wanted a single-payer system. "Yeah, it might affect my vote," Quitalig said uneasily. "I don't know about that, in this district. People here might not like that."
"I don't really know about health care — I thought Obama had gone quite a ways to address it," said Vince Cheek, who said he planned to vote for a Democrat. "I don't know that I would want to tear things down and start over again."
Some are completely on board with Eastman. Watering her garden in her yard in North Central Omaha, Chris Shepherd, who said she had to go on disability after chronic illness left her unable to work and unable to afford Obamacare, thinks it's time to try a big change. "Why don't we do Medicare for All?" she said. "We have that system in place, why not utilize it? We should have one big system, just like other countries."
Over the past 18 months, many of the Democratic Party's most prominent figures have come out in support of Sanders' sweeping Medicare for All plan — including many Democrats expected to run for president in 2020, like Kamala Harris and Cory Booker. In some parts of Washington, Medicare for All is so popular that it has the potential to become a new litmus test for the Democratic Party.
But the debate is not yet settled in many of the country's most competitive swing districts, where Democrats running for office in purple states have been far more cautious about Sanders' bill, or are trying to run on those plans for the first time.
In competitive primaries across the country, some Democrats say they've seen Medicare for All energize voters and cross party lines. But others, including many backed by the party's establishment, are withholding support for and even criticizing parts of the plan for a single-payer system.
The candidates' stances reflect an uneasiness among some voters with the fundamental premise of Medicare for All — and a fear among Democrats running for office in purple districts that, subjected for the first time to serious attack from Republicans, supporting single-payer health care could become a vulnerability in 2018 and beyond.
Ann Kirkpatrick, a Democrat running for an open seat in Arizona that's considered one of Democrats' best opportunities to flip a Republican district, lost in 2010 after voting for the Affordable Care Act. "I'm not going to say it's not possible, but I do have concerns," she said. "I haven't seen any good information on how we pay for that. I think that's overlooked by other candidates in the race."
In an April debate in Omaha, Ashford, Eastman's opponent, criticized Medicare for All as far-reaching and impractical. "I don't think you're going to be able to, politically, move 150 million people off of their employer health care into a single-payer government policy — it's very, very expensive, it's at least $2 trillion a year, with taxes going up at a rate of about $18 trillion," Ashford said, adding that he favored letting Americans buy into Medicare instead.
Eastman responded passionately: "I'm running for Congress because my mother had such outrageous prescription drug costs — and that was with Medicare," she said. "I believe healthcare is a right and I will fight to make sure everyone in this country has healthcare. People are dying. People are suffering, and we need our policymakers to fight for them."
On the surface, Medicare for All is popular: A recent poll by the Kaiser Family Foundation found that 59% of Americans — including a third of Republicans — said they supported "a national health plan, or Medicare for All, in which all Americans would get their insurance from a single government plan."
But those opinions aren't yet "fully informed," said Liz Hamel, the director of public opinion research for Kaiser. As a relatively new piece of some Democrats' platform, Medicare for All hasn't yet been subjected to attacks from Republicans. Surveys have also found that people's positions can shift when they hear arguments against the plan, especially about single-payer health care leading to too much government control.
"Once you get into the debate, and a discussion of whether the government is going to 'take over' health care, you're never really sure where the public is going to go," Hamel said.
Surveys also reflect the fact that many people don't understand the complexities of health care, including the basics of Medicare for All, said Hamel. Half of the survey's respondents said they thought they'd be able to keep their current insurance under a Medicare for All plan, Hamel said.
"Initially [Medicare for All] sounds good to voters," said Kirkpatrick, the Arizona Democrat, of the polling. "But when you start talking about, how do you pay for it, what do you do for veterans, what happens to employees whose employers are paying for it — they haven't thought about those things. I think they're worthy of a conversation."
Cindy Axne, vying for a competitive seat in Iowa's 3rd District, has run a campaign that hinges in large part on health care, telling of her own personal struggle to find maternity coverage as a small business owner ahead of the birth of her son. "We had to sell personal items on eBay to pay for our baby in the hospital," Axne said.
But Axne said she's wary about throwing her support behind Medicare for All. "I often call myself a pragmatic progressive," she said in response to a question about why she didn't back the plan. "I want to move towards ideas that help people, but we have to be thoughtful about how we get there."
Axne describes her top priority as "shoring up the ACA," and advocates for a public option, which would allow individuals to buy into Medicare or Medicaid — something she calls "our fastest and least expensive option to get to universal health care."
It's an option that Kaiser's polling has found is even more popular, with 75% of Americans saying they support the idea of a Medicare buy-in that would let others keep their employer insurance.
But other candidates in those same swing districts say that frustrated and suffering Democratic voters — who bring up health care more than any other issue — want to hear concrete solutions like Medicare for All. They are willing, progressive Democrats say, to hear arguments that the plan will ultimately save money and provide the country with economic benefits.
As their primary opponents hedge their words, unwilling to either support or condemn single-payer plans, other Democrats have used their support for Medicare for All as a way to draw a stark contrast between themselves and more cautious opponents.
Tom Niermann, who is hoping to run against a vulnerable incumbent in Kansas's 3rd District, tells voters he wants to "work towards universal health care." But, he qualified, "There's a lot of different ways we can get there. It's important we put every option on the table."
Brent Welder, one of Niermann's primary opponents, calls Medicare for All an "economic and moral imperative." It's the single issue, he said, that has allowed him to connect most with voters: "I go out every day and meet people who agree we need a fundamental change to the system. We need candidates who are going to make bold changes — not just to tinker at the edge of the system."
"I bring it up at every single candidate forum we have," Welder said. "It's one of the clearest examples of the difference between what I'm trying to do and what my opponents are doing."

"I'm the only one clearly saying the answer, and the only answer, is [Medicare for All]," said Pete D'Alessandro, who is running against Axne in Iowa in large part by painting a profit motive in health care as a moral wrong. "There's no solution if we keep a for-profit piece in the system, like with a buy-in. I push back on these conversations about 'affordable,' because if we're talking about 'affordability,' we're having the wrong conversation."
In Omaha, supporting Medicare for All has allowed Eastman to separate herself clearly from Ashford, who won the seat in 2014, then lost it two years later, when his district voted for Trump by just 2%. Even voters who are cautious about Eastman's stance on health care and other more progressive issues say they're drawn to her "fresh" ideas and strong stances.
"Brad has been wishy-washy," said William Rotert, a Democratic voter who said he plans to vote for Eastman on Tuesday. "He's doing the politics thing, flip-flopping on issues. Kara doesn't do that."
"With Kara, I like her passion, her intelligence," said Willie Hamilton, a community leader in Northern Omaha, which has large numbers of black voters. Hamilton said he hasn't yet made up his mind about who he'll vote for. "I have a long history with Brad, but he could make his case for things better," Hamilton said.
And Eastman's willingness to actually run a progressive campaign is a sell for others.
"With Kara, she just wants to go there," Shepherd said. "It's like the Bernie and Hillary thing. Bernie was there, and Hillary came dragging her feet. I really believe, we should have a [health care] system in place. Brad is only part way there. Why not go all the way?"
CORRECTION
Aksarben, an Omaha neighborhood, was misspelled in an earlier version of this post.