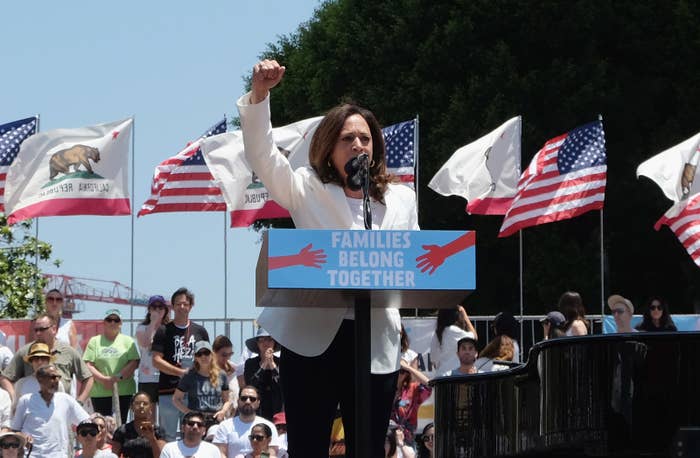 California Sen. Kamala Harris was one of the first prominent Democrats to come out against the US Immigration and Customs Enforcement agency, but she is distancing herself from the growing chorus of progressives who have called for "abolishing" ICE.
As calls to eliminate the enforcement agency grow among high-profile Democrats and split the Democratic Party, Harris's spokesperson said that rather than calling to abolish ICE, the senator is weighing "a complete overhaul of the agency, mission, culture, operations."
A week earlier, Harris said that she thought the country needed to "probably think about starting from scratch" when it came to ICE.
"I think there's no question that we've got to critically reexamine ICE and its role and the way that it is being administered and the work it is doing," she told MSNBC at the end of June. "And we need to probably think about starting from scratch because there is a lot that is wrong with the way that it's conducting itself, and we need to deal with that."
Harris, who is considered a likely presidential candidate in 2020, is walking a careful tightrope on the issue, a sign of the rapid and chaotic reaction to "abolish ICE" — a popular idea among young activists — from national Democrats. Sens. Kirsten Gillibrand, Elizabeth Warren, and most recently Bernie Sanders have scrambled to align themselves with what was, just weeks earlier, something of a fringe rallying cry among progressives.
Harris's office did not explain how completely overhauling ICE would differ from what Democrats who want to abolish the agency have proposed. Politicians, including Gillibrand and Warren, have generally suggested a reimagining of the agency, rather than an outright elimination of it without a replacement. Harris's spokesperson said that "others have gone a step further in calling for abolishing ICE."
Harris is working to build her national image while representing one of the country's most progressive states, especially when it comes to immigration issues. Her state is 40% Latino and shares a border with Mexico.
The calls for abolishing ICE took center stage after Alexandria Ocasio-Cortez, a young Democratic socialist, upset a powerful House Democrat in a New York primary last week on a platform that included calling for the agency's abolishment.
The movement has energized some Democrats who are unhappy with President Donald Trump's immigration policies after weeks of stories of chaos coming from the border. It reflects the long-brewing frustrations among young activists with the current immigration system and the way federal authorities enforce immigration policies — frustrations that started before Trump's presidency, but have been exacerbated by his rhetoric and intense focus on the border.
Calls to abolish ICE could be politically unpopular. On Monday, a HuffPost/YouGov poll showed that few Americans had heard of the movement, but that a plurality opposed disbanding the agency.
Democrats have yet to outline in detail what abolishing the massive federal agency might look like. Harris's office pointed to a series of reforms she had proposed as part of her oversight of the agency, including cutting its funding and stopping the expansion of ICE facilities. At least two House Democrats who support abolishing the agency are working on legislation that would "redesign and restructure" ICE.
In recent days, Trump has tweeted about the calls for abolishing ICE and tried incorrectly to associate the rallying call with all Democrats. However, even if Democrats uniformly supported abolishing the agency, they do not control either chamber of Congress and would almost certainly have to win back the House and Senate to pull off extensive reforms to ICE.
Gillibrand was the first prominent national Democrat to come out actively for abolishing ICE. She told CNN last week that she thought, "You should get rid of it, start over, reimagine it, and build something that actually works." Warren called for "replacing" ICE on Saturday. And on Tuesday, Sanders said that the US should "abolish" its current immigration system and restructure immigration enforcement agencies like ICE.