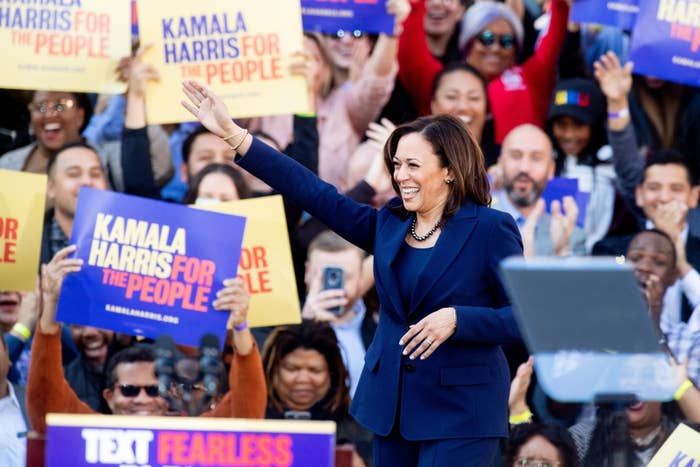 The day that Kamala Harris announced she was running for president, she faced a basic question. Most Democrats were running on their own signature issues: economic inequality, climate change, women's rights, millennials. "What," one reporter asked, "is the core issue of your campaign?"

"The core of my campaign is the people," Harris responded. "It's about people."
With a huge, flashy rollout on Sunday in Oakland, the California senator has quickly cemented herself as one of the frontrunners for the Democratic nomination. But instead of giving Democrats easy answers on how to define her candidacy, Harris's campaign has been broad, even vague. She leapfrogs between a host of progressive issues. She defies most neat ideological boxes.
But to many voters, according to conversations across Iowa and California, it's clear what Harris's campaign is about — and it isn't any particular policy. Those voters like Kamala Harris because, in every way, she is the antithesis of Donald Trump.
"She's the perfect contrast to the current administration," said Brittany Yu, an analyst in San Francisco who attended Harris's Oakland campaign launch rally this past weekend and says she plans to support her in the primary. "She's a woman of color, she supports reproductive rights, she knows the law, she speaks with eloquence."
In the midterm elections, Democrats won a landslide victory with a laser focus on health care — and almost no mention of Trump. So far, Democratic presidential candidates have followed that lesson, focusing their campaigns tightly around a single issue or set of issues. Some, like Sen. Elizabeth Warren, have steered away from talking about the president altogether.
But people close to Harris's campaign say she is deliberately not following that path. She's gambling that she doesn't need a single policy issue for voters to latch on to, and she is not shying away from talking about Trump. The goal is to build the case that Harris is the perfect candidate to go toe to toe, symbolically and literally, with the president — by virtue of her personal qualities and professional history as much as her policy.
Harris didn't mention Trump by name in Oakland, but voters at her rally often spoke about her in relation to him. Some described Harris as "the antithesis" of Trump. Another said she was his "opposite."
"I think she's exactly what we need right now," said Julia Gautreaux, a San Francisco fitness instructor at the rally who said she was "100% in" for Harris's campaign. "We need someone smart, educated — a female in office. She's experienced. She's in stark contrast to what we have at the moment."
For many, the image of Harris as a foil to Trump has been formed from her time on the Senate Judiciary Committee.
When she visited Iowa in October of last year, amid a fervor of speculation that she was planning to run for president, the throngs of eager Democrats that showed up for Harris's events had said they discovered the senator on MSNBC and social media, where they had seen clips of her grilling Trump administration officials and Brett Kavanaugh during his Supreme Court confirmation hearings.
Far more than her policies — like a large middle-class tax cut that she frequently mentions in her speeches — they said they were drawn to her personal qualities: intelligence, outspokenness, and most of all, strength.
"I think she's quite sharp, and really direct, and I appreciated that," said Mary Corsair, a retired school counselor in Indianola, who came to see Harris speak in October after watching her on MSNBC. "She tried to hold Kavanaugh's feet to the fire, and I was really impressed with that. That's what we need."
In Oakland, where many voters have followed Harris's career in law enforcement since her time as San Francisco's district attorney, voters spoke of Harris's "fairness," "integrity," and "justice" as their favorite parts of her candidacy.

Harris's slogan, "For the People," which appears on all of her campaign signs and merchandise, is an allusion to her past as a prosecutor. It's an implicit but obvious contrast with a president whose administration has been mired in a special counsel investigation since virtually the day it began.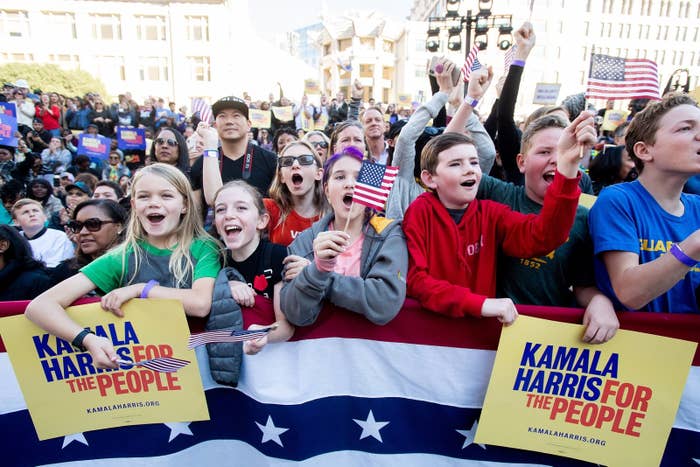 Even more than her prosecutorial talents, voters latched on to Harris's identity — especially as it contrasted to Trump's and his administration's policies. It mattered, they said, that she was a woman of color and the daughter of immigrants — a fierce rebuke, in and of itself, to a president who has demonized women, immigrants, and people of color.
Chris Johnigan, a substitute teacher in Oakland, said his favorite thing about Harris was her personal history. "Kind of like Barack Obama, but to have not one immigrant parent, but two," Johnigan said. "And her professional credentials are impeccable."
"Imagine that on a stage next to Donald Trump," said one Iowa voter of Harris in October. (The voter, a government worker in Des Moines, did not want her full name used because of her occupation.)
For decades, American voters have picked a president who contrasts strongly with his predecessor, said Jim Messina, an independent political adviser who worked for both of Barack Obama's campaigns. That's unlikely to change now.
"After a presidency marred by scandal and anger and base politics, the country will, in my opinion, be looking at a smart, scandal-free president who can focus on the future and take us past these days of rancor," Messina said. "At first glance, Harris seems like a candidate who can serve as the antithesis of Trump."
But, Messina said of Harris, "Her challenge will be to articulate a compelling economic vision in contrast to Trump."
Harris has tried to do that. In a CNN town hall Monday in Des Moines, she said her first action as president would be to pass her sweeping middle-class tax cut, a bill that would give $500 a month in tax credits to families making less than $100,000. She has embraced most of the positions of the progressive left, including Medicare for All, a single-payer health care plan, and she casually told the CNN town hall on Monday that she would have no problem getting rid of private insurance.
But Harris is competing with Democrats like Sen. Bernie Sanders, who has spent years pushing for a single-payer system, and Warren, for whom economic policy, particularly wealth inequality and regulation, is at the core of her campaign's every move. For some voters at Harris's Oakland rally, that was an issue.
"I want to hear specifics about what her agenda is. I think 'For the People' is kind of vague," Vonita Brown, a clerk in Contra Costa County, said of Harris's slogan. "It doesn't really speak to what I'm looking for. Elizabeth Warren is talking about income inequality."
Policy was by far the most important consideration for Jennifer Arbuckle, a fan of Sanders' and Warren's who showed up to Harris's rally Sunday to hear more about "what Harris actually supports." Harris's campaign launch video, she said, "Didn't really talk about that."
When it comes to the policy issues she does promote in her speeches and on the Senate floor, Harris has remained difficult to define. She says she is running on "economic populism," but has been criticized as cozy with Wall Street and Silicon Valley donors, and on Monday, she evaded a question on CNN about whether the existence of billionaires was morally defensible. She calls for criminal justice reform, but has not apologized for elements of her prosecutorial career the way many on the far left have demanded of her.
Some Democrats mulling presidential runs have shied away from criticizing Trump on the campaign trail. Harris, so far, has not. She's struck a careful balance — while she doesn't mention Trump by name, her speech at her campaign launch was not shy about confronting the president or his policies. She spoke of "leaders who lie and bully and attack a free press" and called Trump's wall "the president's medieval vanity project."

What Harris does do, more than anything, is talk about "truth" — a word she mentioned 21 times in her Oakland speech. It's the title of her campaign book, The Truths We Hold. Left unsaid is the other side of that coin: a president known for a pattern of lies and falsehoods numbering in the thousands.
Chris Johnigan, the Oakland substitute teacher, said he'd been won over by Harris's speech on Sunday. His favorite part, by far, was one of the "truths" Harris spoke to the audience: "We have foreign powers infecting the White House like malware."
"I expected her speech to be good," Johnigan said. "I didn't expect it to be that good. She was great."