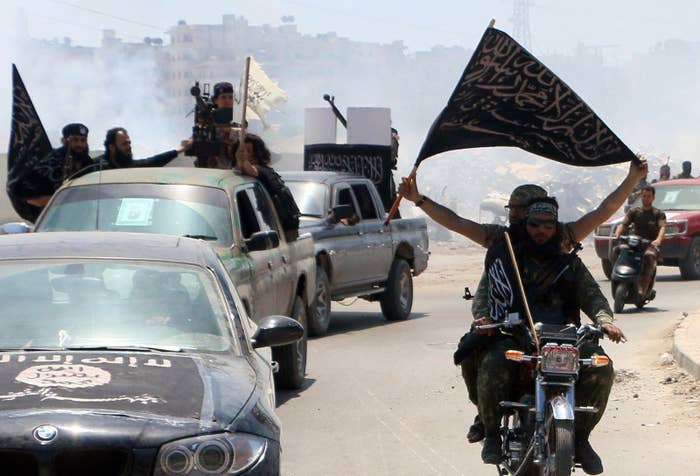 ISTANBUL — An official with a U.S.-backed rebel battalion in Syria has confirmed to BuzzFeed News that the group's top commander was kidnapped while inside the country.
The official, who goes by the nickname Abu Zaid, blamed Jabhat al-Nusra — the Syrian affiliate of al-Qaeda — for the abduction, saying the commander was targeted because of his U.S. ties.
The abducted commander — Col. Nadim al-Hassan — heads a battalion called Division 30, whose fighters have reportedly been part of a Pentagon program to train and equip moderate Syrian rebels. "Jabhat al-Nusra arrested him because they are against the U.S. program," Abu Zaid said.
He added that Hassan's assistant and a handful of Division 30 soldiers were abducted as well.
The beleaguered Pentagon program had, as of early July, reportedly trained just over 50 rebels as part of a program announced by the Obama administration more than a year ago to help fight ISIS.
Critics of the program say it demonstrates the shortcomings of U.S. policy in Syria, which has relied on airstrikes to fight ISIS but has few allies to coordinate with on the ground.
In fact, several rebel groups that have received U.S. support in the past were wiped out by Nusra and its allies after the U.S. began a bombing campaign in Syria last fall that targeted ISIS and Nusra alike. Relatively weak U.S.-backed groups have since had a target on their back.
That appears to be the case with the Pentagon program as well. The Syrian Observatory for Human Rights, a U.K.-based activist group that monitors the conflict, said that Hassan had been abducted shortly after crossing into Syria from Turkey, where the U.S. training efforts are based.
The U.S. announced a new plan earlier this week to work with Turkey to clear ISIS from a 65-mile stretch of the border, stretching some 25 miles deep into Syrian territory. The officials said the plan would rely on airstrikes plus moderate rebels on the ground — but with America's rebel allies currently outmatched against their better-armed and -funded extremist enemies, it is unclear who will make up that ground force.
Jabhat al-Nusra has not claimed responsibility for the attack. U.S. officials did not immediately return requests for comment.