Prisoners Describe What It Was Like Being Detained Inside An ISIS Jail
A phone number scratched on a prison wall leads to a meeting with a man who was held prisoner by ISIS. He tells BuzzFeed News about the horrific treatment he endured.
TEL ABYAD, Syria — The jihadis had scrawled a warning above the stairs that descended to their underground prison: Forbidden to enter.
At the bottom, a dusty chair sat in darkness behind a heavy desk. An ISIS guard once kept watch there, but now the prison was empty. The only sound was dripping water, and the only relics of the terror inflicted on the captives were the messages on the walls. One had met new arrivals at the desk: Death comes to you. God is great.
The prisoners once held there were a stone's throw from safety, in the basement of an old administrative building in the northern town of Tel Abyad, near a border crossing into Turkey. ISIS took Tel Abyad in June 2014 and held it for a year before being driven away by rival militants. The prison's proximity to the border made it hard for the Syrian government to target it with airstrikes, as well as a natural place to hold the smugglers, refugees, and fighters who passed by. As the prisoners faced the darkest abuses of ISIS's extremist caliphate, they were within shouting distance of the Turkish border guards and life in a NATO-allied democracy.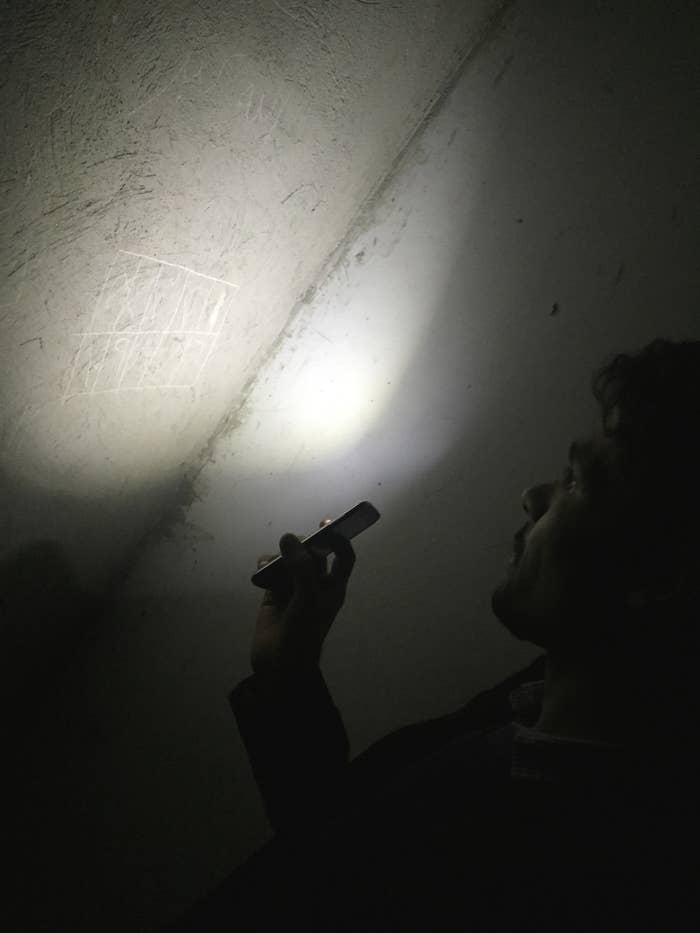 The largest room in the basement was reserved for those who were sentenced to be beheaded. Qur'ans were stacked atop a radiator — prisoners were told to read them as they awaited their fates. There was another directive graffitied outside the door: Do not approach.
The prisoners were kept in small rooms down the hall. They scratched and penciled cryptic phrases onto the concrete walls. Ask forgiveness from God, read one. Said another: God also has mercy.
Some had written their names. A few kept tallies of their time there — one stopped at 46 days. Others left only phone numbers. The digits appeared on wall after wall.
Now most of the lines are dead. But on a recent night, a soft-voiced man answered one. "How did you get this number?" he asked.
The man, 26, said he had been brought to the prison with his father last spring. They had worked together as vegetable vendors in Tel Abyad before the war but turned, in their desperation, to smuggling cigarettes. ISIS militants caught them and put them in one of the concrete rooms. It remained vivid in his mind. "I can never forget it," he said.
The man agreed to meet in southern Turkey, where he lives today as a refugee. He sipped his tea anxiously. He remembered thinking he would die in the prison as he added his own number to those already on the walls. Another prisoner told him, "If they kill you, maybe someone can tell your family you were here."
His hands trembled as he spoke. Though he had escaped the prison and ISIS was gone from Tel Abyad, he worried the jihadis were monitoring him and was afraid to discuss them. He pressed his face into his hands as memories from the prison returned.
"If they kill you, maybe someone can tell your family you were here."
Each day in the prison began when the jihadis stirred the dozen or so men in his small room awake. Often they beat the prisoners, and then they made them pray. There were courses on ISIS's fanatical version of Islam. The prisoners were fed just once a day, a small meal in the evenings. They knew there were other men in different rooms suffering the same fate. "When we were being beaten, they heard us, and when they were being beaten, we heard them," he said.
They thought about life across the border in Turkey. "Freedom was so close to us," he said.
The prisoners were rebel fighters, amateur smugglers desperate to feed their families, men who had violated ISIS's draconian codes. They worried to each other about the room with the Qur'ans. "Every day they woke me up, and I thought maybe it would be my last," he said.
Three other men who had put their numbers on the walls also answered their phones.
One had been imprisoned by the ethnic Kurdish militants who drove ISIS from Tel Abyad in June, known as the People's Protection Units, or YPG. They freed ISIS's prisoners from the basement, but then, for a time, filled it with their own, before moving them to the main prison in town. Reached by phone in Tel Abyad, the man, who, like the others, requested anonymity to protect his safety, said he'd spent several weeks in the basement this fall. His YPG jailors had beaten him, he said, but he knew it could be worse: "I was praying every day that ISIS wouldn't take back the prison before I left."
Another man in his thirties, stocky and clean-shaven, described himself as a loyal ISIS member and said the jihadis had imprisoned him in the basement "because I was a bad person." He refused to reveal more during a short conversation in the Turkish town on the other side of Tel Abyad's border gate, though he said he was trying to return to ISIS territory: "I am waiting for a chance to join them again."
Still another prisoner, a 33-year-old former farmer, had been imprisoned by ISIS after they caught him secretly selling cigarettes to support his family through the war. "I thought they would kill me," he said. He recalled the fear he felt each time a masked guard appeared to call a prisoner from the cell. None returned, and no word was given of their fates. He was sure most were killed. "We were crying and praying all the time," he said.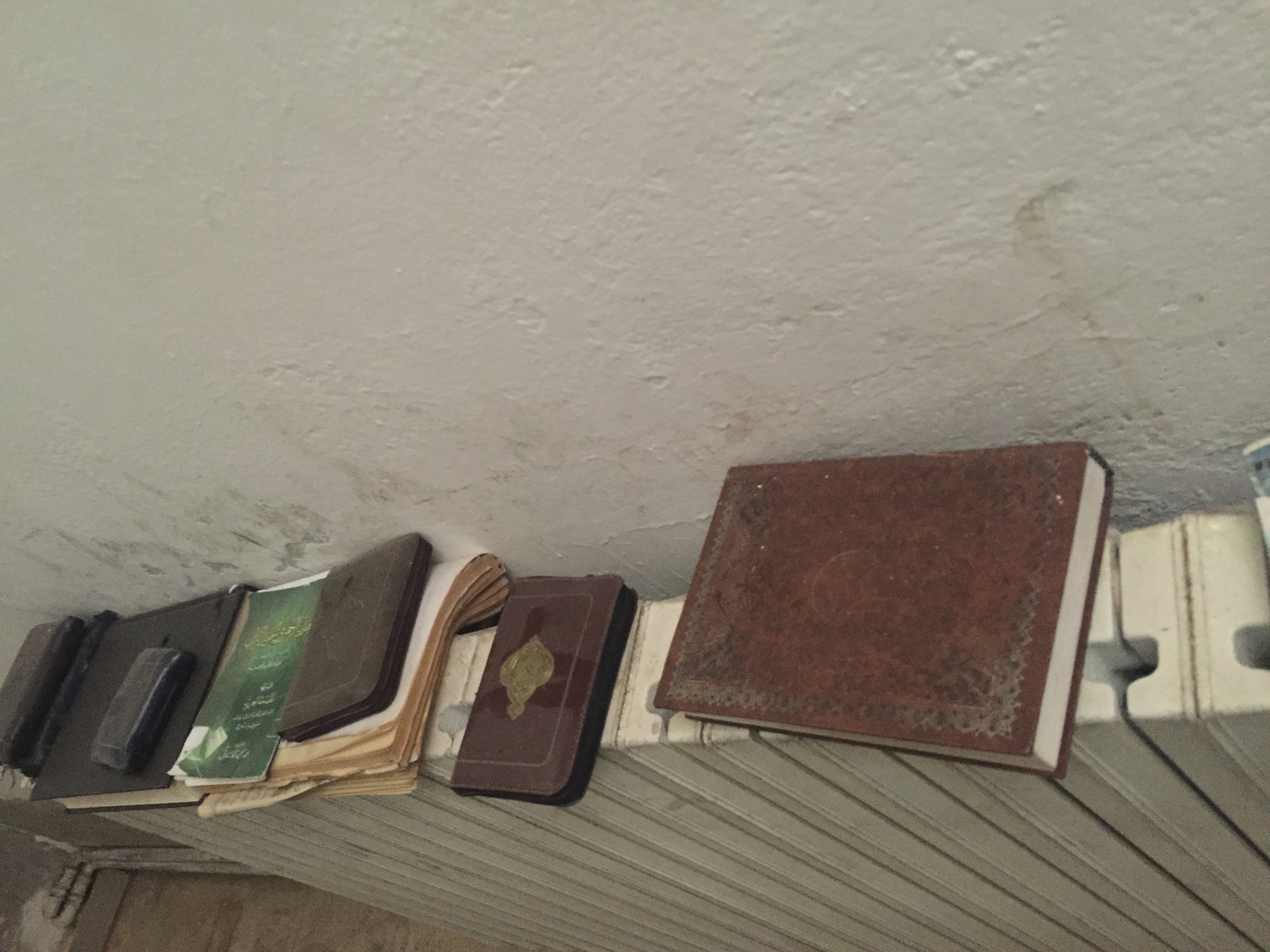 Finishing his tea in Turkey, the former vegetable vendor remembered that it was about a month into his time at the prison when his father's name was called, leaving him to worry in the cell, hoping in vain that his father would return.
Days later, a jihadi pulled him out too. The jihadi said that his father had been told to work with ISIS and refused. He was led into the room the prisoners feared, given a Qur'an to read, and killed.
Terrified, the son pledged allegiance to the militants, promised to stop his smuggling, and was released.
Soon after, he fled to Turkey, where he now pieces together menial work as a refugee, still haunted by the prison and his father's fate. "I feel guilty," he said, "because they killed my father but released me."