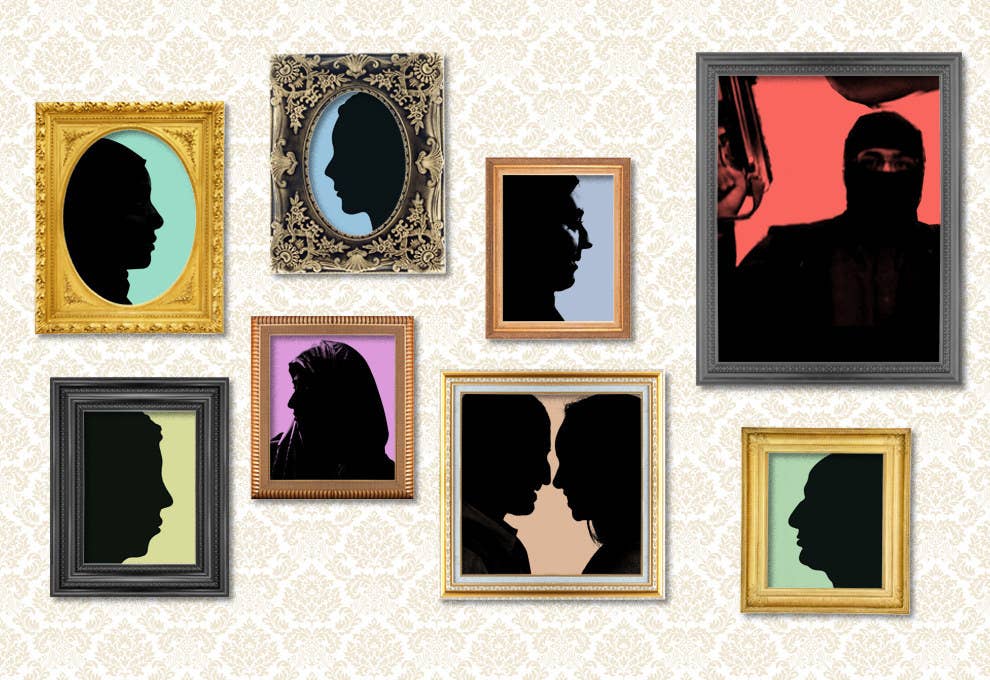 ISTANBUL, Turkey — "Fuck."

Mohamed had just learned that his cousin had joined ISIS.
"So the worst-case scenario," he said, "came true."
The cousin, a 27-year-old Canadian, had been the subject of a missing persons report since the summer of 2014, when he told his family he was taking a vacation to Turkey, emailed his mother a selfie from some ruins there, and then disappeared.
Mohamed, 25, who lives in Toronto, was suspicious from the start. He'd watched as his older cousin — who used to pull him away from family gatherings to listen to hip-hop and drink beer, and who took him to his first strip club — gradually transformed into a devotee of radical Islam. And he knew his cousin had gone missing from Turkey at a time when would-be jihadis from around the world were crossing its border into the black hole of Syria's war.
But Canadian police turned up no answers about his fate. When his cousin's father traveled from Canada to the Turkish border that fall, in a desperate search for clues, he found nothing.
So the family — like those of many of the men and women suspected of joining ISIS — was left to worry and wait.
The past two years have seen a growing concern over foreign ISIS fighters, particularly since the group has begun carrying out terror attacks abroad — in Turkey, Tunisia, Belgium, France — with the help of jihadis who returned home, leaving governments scrambling to track citizens who have joined its ranks. U.S. officials estimate that ISIS has attracted 38,000 foreign recruits over the last three years, although they say the flow of fighters to Iraq and Syria has dropped dramatically in recent months, alongside an increase in desertion rates.
The families of those recruits are often left to suffer silently on the sidelines, jumping when the phone rings, bracing for the worst when news breaks.
Small windows into their struggle are contained within a cache of bureaucratic forms that were leaked from ISIS and obtained by BuzzFeed News in March. Foreign recruits filled out the forms when they joined the group in Syria, putting down details like their names, work histories, and blood types. It was the last trace many of them left before vanishing into the conflict.
On the forms, they also were asked to note a point of contact back at home — and they listed friends and siblings, moms and dads. BuzzFeed News contacted dozens of them; those who agreed to speak did so on condition of anonymity. They feared repercussions from ISIS or local authorities as well as public shame over what their loved ones have done.
Mohamed's case was unique: He reached out to BuzzFeed News on his own last month in search of answers.
After reading the BuzzFeed News report about the documents, he contacted its authors with a request to search the cache for his cousin's name.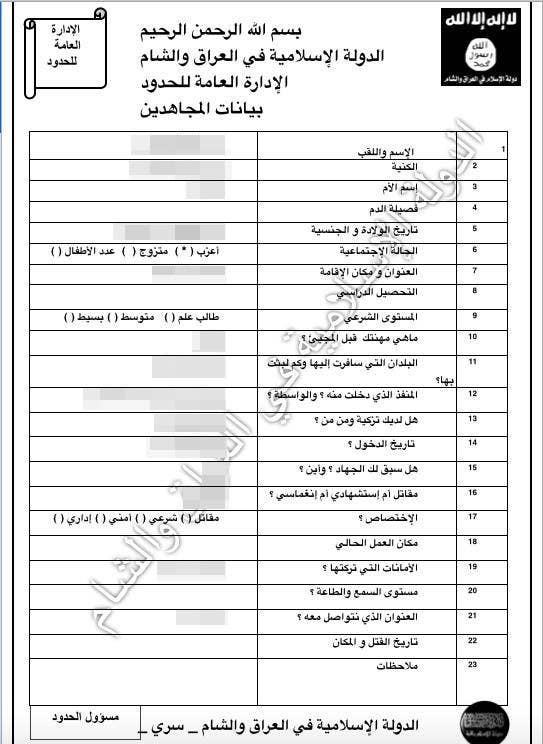 It was there on a form, confirming Mohamed's worst fears. The document showed that his cousin joined ISIS shortly after he last contacted his parents and crossed the Turkish border into Jarabulus, Syria.
Mohamed was deeply unsettled by the news — and he said it would be even harder for his cousin's parents and siblings to take. He asked that the family remain anonymous, and that he be cited by his middle name, to spare them the additional pain of publicity. "It would break his mother's heart," he said.
Yet he resolved to tell them what he'd learned, despite the suffering it would cause. "Even a hard truth is better than an uncertainty," he said.
Armed with the new information about his cousin, meanwhile, he began to search online for more.
Like Mohamed's family, many of those listed in the documents had been seeking closure about their loved ones — and each had received it in different degrees.

The mother of a Saudi man who was 26 when he joined ISIS in 2013 recounted a long battle to save him from the pull of extremism. Speaking by phone from Saudi Arabia, she sounded tired and sad as she talked about her son. He had been studying computer engineering, with a wife and baby daughter at home, before abruptly deciding to go to Syria alone, where he told his parents he was volunteering at a hospital. When he later admitted that he had joined ISIS, his father cut off contact. But his mother kept trying to convince him to come home, speaking to him by phone when she could. ISIS members can communicate with their families by picking up cell signals from Syria, Iraq, or Turkey and with apps like IMO and Viber. "I tried to stop him many times," the mother said, "but I couldn't."
She last heard from him in early 2015, she said, when he called to say he had remarried, and asked for her prayers. "We haven't heard anything about him since," she said.
The older brother of an unemployed baker from Tunisia who went to Syria in November 2013 had resigned himself to having a sibling in ISIS.
He said he remains in touch with his younger brother, who has reported doing well for himself with ISIS and having multiple wives. He sends home $500 a month and promised to buy the family a house if he's still alive next year. The man said his younger brother was never religious and had joined ISIS because it seemed like a good chance to make a living. "He didn't go to college [in Tunisia], and he tried to get a visa to move to Europe, but he didn't have any luck. He was just smoking weed and doing drugs," the older brother said by phone from Tunisia. "We refused this idea [of joining ISIS] at the beginning, but now we don't ask him to come back. We just say to take care and send us photos of your kids."
"I wish I had wings to fly to Turkey and stop him from going to Syria."
An aging mother in Sudan was desperate for any news at all about her son.
She thought, at first, that it was him calling when she heard the voice of a BuzzFeed News reporter on the phone. "I miss you; I always pray for you. Please take care, my dear — why didn't you call me for two years and four months?" she said, the words pouring out. "I love you."
She then recounted, after the reporter corrected the mistake, how her son had left for Syria without saying goodbye. He had called from Turkey only to tell her he was joining ISIS, and she hadn't heard from him since. "I wish I had wings to fly to Turkey and stop him from going to Syria," she said.
She called the reporter back three times in the days that followed, begging for updates about her son. At one point she convinced herself that she was speaking to an ISIS member who was only posing as a journalist. "Please give him back to me," she said, weeping. "I don't believe you — I think you were with him, and I think something bad happened to him. Tell me if he is still alive or not."
Mohamed's cousin had intended to keep his family in the dark about his fate.

His form says he is a first-time jihadi who wants to be a fighter. It adds that he is single and was a student before coming to Syria. It lists his date of birth, his hometown, and his mother's first name. In the notes section, it says that he left his passport and cell phone at the arrivals desk.
When he came to the section for a contact at home, however, he left it blank.
When Mohamed visited Istanbul recently, he read through his cousin's form and remembered that they had been close once. His cousin was a funny and freewheeling high schooler, popular with girls, the person who took over the dance floor at weddings. "He was the guy who, when he starts dancing, everyone watches him. My dad would tell me, you need to dance like him," Mohamed said. "So he was a party animal until he started becoming conservative."
"To me, if he joined ISIS, he's a murderer, a committer of genocide. He's the closest thing we have today to a Nazi."
Mohamed said that when his cousin began college, he had first become interested in Middle East politics, and then religious, and then increasingly hardline. Eventually Mohamed unfriended him on Facebook in response to his radical-leaning posts. Meanwhile Mohamed went in the opposite direction, moving away from religion as he pursued a writing career, and the two had lost touch by the time his cousin made the trip to Turkey. "But there was a time when we converged," he said.
"To me, if he joined ISIS, he's a murderer, a committer of genocide. He's the closest thing we have today to a Nazi," he said, drinking a glass of whiskey in Istanbul. "And he put that he wanted to be a fighter. He said that he wants to kill people. He didn't say he wants to be a fucking teacher or something."
He paused to reflect on his brewing anger. "If he was sitting here in front of me, I'm not saying I would shoot him. I would probably feel sympathy for him again," he said. "But two years have passed, and on a conceptual level, I wish he was dead."
Some families said they had received calls with the grim news they had been dreading — that their loved ones have been killed.
ISIS asks its fighters for their contacts so it can send home word of their deaths.
The group considers it to be good news.
A former trader from Saudi Arabia left the number of a close friend when he registered with ISIS as a suicide bomber in February 2013. Reached by phone in Saudi Arabia, the friend said he had learned that the ex-trader detonated a suicide bomb that fall.
"He told me, 'Congratulations, your son has won.'... I asked, 'What did he win?' He said, 'He gained martyrdom for God.'"
He recalled their last conversation, as his friend was preparing for the attack. "He asked me to say hi to his parents and friends, and he asked me to tell all the people who know him that he is happy, because he is going to heaven in a couple of days, and he cannot wait for that moment," the friend said. "I don't want to talk more about him, because he's in God's hands now. But I just want to say that it's a big mistake that people are coming from across the world to fight and die in Syria."
A Saudi man who had been studying abroad in the U.S. joined ISIS in October 2013, listing his contacts as his mom and dad. About a year and a half later, his mother said, she received a call from a man she didn't know. "The caller was strange — he was happy, and he thought he was giving us beautiful news," she recalled.
"He told me, 'Congratulations, your son has won,'" she said. "I asked, 'What did he win?' He said, 'He gained martyrdom for God.'"
The caller said her son had died fighting "infidels" in Syria near the border with Turkey, not far from where he'd first entered the country and filled out his form.
"I have been depressed since he left us for Syria," the mother said. "I haven't had the taste of sleep for a long time."
After his cousin first went missing, as the family scrambled for answers, Mohamed had tried to find him on Facebook again — but his cousin had deleted his account.
When he read his form from the cache of documents, though, Mohamed realized that his cousin, like many fighters, had given himself a nom de guerre.
He plugged that nickname into Facebook and searched again. This time he found a profile that showed glimpses of his cousin's ISIS life.
In the profile photo, he poses proudly with a machine gun, wearing a Salafi-style beard and aviator sunglasses, bullet belts hanging down from his neck.
In another photo, a young girl dressed in black wears a grenade on her waist and holds a handgun in the air.
In a post, his cousin vows to punish all of ISIS's enemies: "We come to slaughter you — I swear to God we will show you hell. There is no solution except jihad. May Allah help us get to your necks."
"We come to slaughter you — I swear to God we will show you hell."
Many of ISIS's foreign fighters joined the group because they were unhappy with their lives and drawn to its promise to create a new world order that obliterates the old. Their families are a link to the past that some are eager to cut. Mohamed's discovery of the profile left him debating whether it was better to leave those ties severed.
The account had last been updated in March 2014, months before his cousin's disappearance, making Mohamed wonder if his cousin had made prior trips to Syria and if his ties to ISIS stretched back further than Mohamed had thought.
A former Syrian rebel who speaks often to ISIS members, meanwhile, said that as far as he could gather, Mohamed's cousin was alive and well with ISIS as recently as the winter. But Mohamed wasn't sure how much more he wanted to know. "My mind is racing," he said.