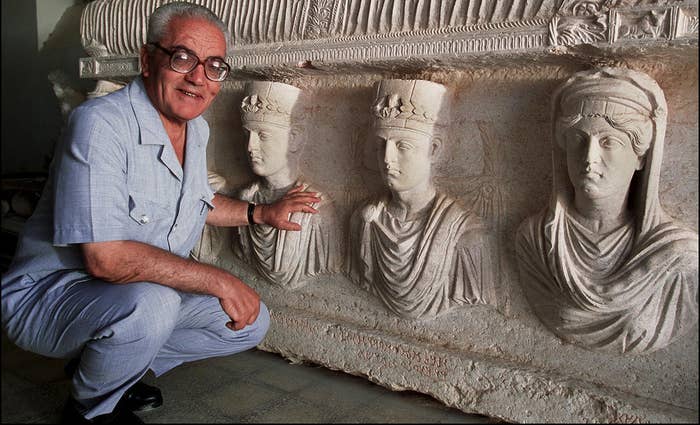 ISTANBUL — ISIS has already looted Syria's historical sites for profit and smashed them for propaganda. But the grisly murder of one of the country's top antiquities scholars on Tuesday took the group's destruction of Syrian heritage to a dark new height.
Khaled al-Asaad, 81, was an institution in Palmyra, the ancient central city considered one of the crown jewels of Syria's myriad archaeological sites. Asaad was instrumental in the excavation and restoration of the city's vast ruins — and he also oversaw the effort to rescue precious artifacts this spring, as they were shipped from the museum to safety just before ISIS took Palmyra in May.
Yet Asaad stayed behind, and soon after he was arrested by ISIS. Syrian state media and activists monitoring the conflict said on Tuesday that Asaad had been beheaded in a square outside the city museum by the militants, who then hung his body from the ancient Roman columns that helped to bring Palmyra its global fame.
Amr al-Azm, a former official in the Syrian department of antiquities, remembered Asaad as a dominating figure in Palmyra. "He was very heavily involved in everything to do with Palmyran antiquities and cultural heritage, and you couldn't do anything [related to that] in the city without going through him," he said. "He was a fixture."
Azm, now a college professor in Ohio who monitors the destruction of Syrian heritage, said that Asaad may have been punished for his role in ensuring that so many of Palmyra's artifacts escaped ISIS fighters' grasp. His fate was likely sealed as soon as the militants took the city, he added. "The only question that remains is why he didn't leave with the artifacts," he said. "My only guess, just knowing how closely associated he was with the place and its monuments, is that maybe he decided that as he lived all his life among this great treasure of a city, he was going to die there. And he did."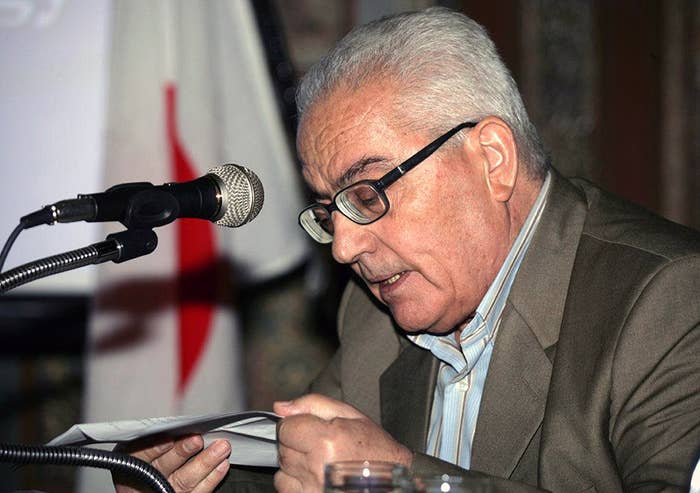 Asaad worked as Palmyra's head of antiquities for more than half a century, until retiring in 2003 and passing the position to his son. He then worked as an expert with the Antiquities and Museums Department, government media said.
Asaad was held and interrogated by ISIS for more than a month. Sources in the booming black market for Syrian antiquities say that ISIS regularly targets local archaeological experts when new territories come under its control — sometimes demanding help in uncovering antiquities that it hopes to loot.
"They follow a policy that you're either with us or against us," said a former museum official from the ISIS-controlled city of Deir ez-Zor, who was forced to work with the militants for two months before he managed to escape. "If you choose to be with them just to save your life, you will be a traitor to your country. And if you choose to be against them, they will kill you. For them killing a man is easy, like smoking a cigarette."
Asaad was reportedly charged by ISIS with being loyal to the Syrian regime as well as remaining in contact with intelligence officials. The militants also condemned him for overseeing the care of artifacts that their extremist interpretation of Islam considers a form of idolatry.
BuzzFeed News reached one ISIS militant by telephone, who admitted that there was propaganda value in killing Asaad. "We know that we will shock the world when they wake up and hear the news," he said.
"He was a national treasure for tourism in Palmyra," said one native of the city who is a friend of the family, speaking on condition of anonymity to protect his safety. "It's a big mistake to behead him. But you can't change ISIS's minds."