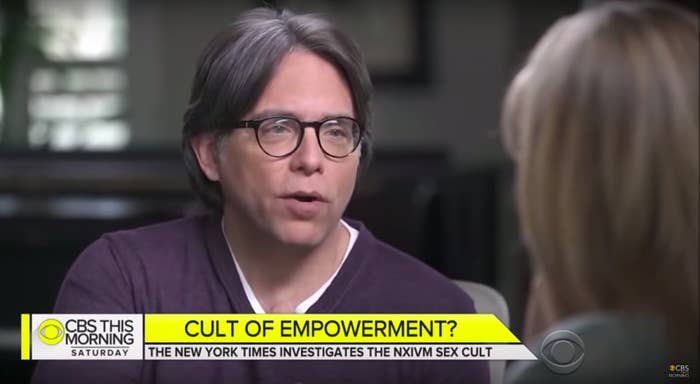 BROOKLYN — A member of an alleged cult burst into tears Wednesday while testifying in the federal trial of Keith Raniere as she recounted how she was forced to spend up to two years in a room with very little human interaction at the orders of the NXIVM leader.
Daniela, who has only been identified by her first name since she first took the stand last Thursday here in a Brooklyn court, said she lived in the room in Albany in upstate New York for a period of 18–24 months beginning in 2010.
"I think there would be entire days when I would just sit against the wall," said Daniela, 33. There were times when she'd lie on the ground in the room, scratching her arm and wanting to scream, but she said she refrained from doing so because she believed it would only make matters worse.
"I would lose control of myself," she said.
Raniere is facing charges of sex trafficking, sex trafficking conspiracy, racketeering, and conspiracy to commit forced labor in relation to his self-help group, which authorities say functioned as a cult.
Daniela, a Mexican-born woman who was living in the US undocumented and who had first joined the NXIVM (pronounced "nex-ee-um") mentoring group as a 16-year-old, had testified Tuesday that both she and her two sisters were impregnated by Raniere and then led to get abortions.
On Wednesday, she testified that Raniere eventually became mad at her for what was described as an "ethical breach" when she developed feelings and became intimate with another man in the group, Ben Myers.
Daniela spent years trying to convince Raniere via email that she wasn't a bad person. Other leaders within the group, including Raniere girlfriend Karen Unterreiner and high-ranking member Lauren Salzman, tried to convince her to apologize to him, but she declined.
"I just could not apologize," Daniela said. "I just had nothing to apologize about."

Instead, Daniela said that Salzman proposed, on Raniere's orders, locking her in a room as a form of punishment. The witness, whose identification documents had been confiscated by the group, said her parents went along with the plan because of an incident years earlier when she stole $6,000 from the organization, even though it was promptly returned.
With all her possessions confiscated because she refused to apologize to Raniere, she tried urgently to call Myers on a pay phone, but he didn't pick up.
"I had no choice," she said of being forced into the room.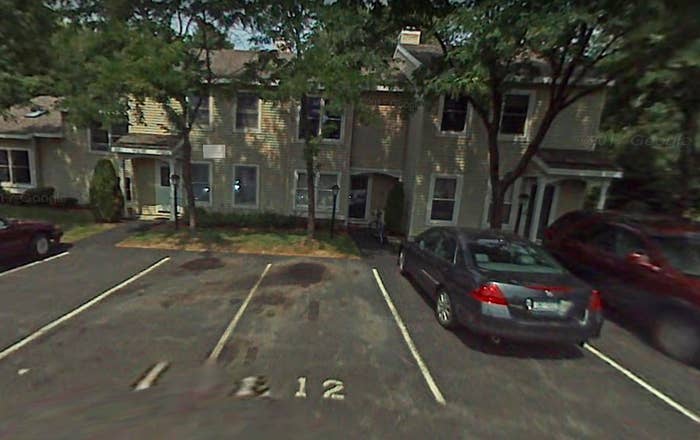 Daniela said the room at 12 Wilton Court in Clifton Park contained a shared bathroom and had a window that was "blacked out." While she suspected measures were put in place to keep her stuck in the room, like cameras being installed in the home, she said the door was not locked.
She wasn't given a change of clothes and said she wore the same thing for weeks at a time.
Daniela recalled "counting days" and said she became obsessed with mealtimes, which she said happened three times a day "at pretty consistent times." Food was brought to the room by her family, she said, and they would knock on the door to let her know the food was there and then disappear without saying a word to her.
"I would never see anyone," she said.
Instead, she would occupy herself by writing letters to Raniere and apologizing, hoping this would change her situation. But it didn't.
She said she'd also "fantasize" about going outside to places like Walmart.
"I would try to construct something in my head so I didn't go crazy," she said, and that she would "trace every memory" in her brain as a way of entertaining herself.
At one point, Daniela said she attempted to write a newsletter called "The Wilton Times" as an activity to pass the time, but was forbidden from doing it because it was considered a "huge indulgence," and therefore not allowed.
After reaching what she described as "a breaking point," she decided to cut her hair with a pair of scissors that had been left in the shared bathroom. Daniela said that Salzman, who she said was always "mean" to her, then told her she wouldn't be allowed to leave the room until hair grew back to its original length. Daniela said this "enraged" her because she knew it would take years for it to grow back.
"I went crazy," she said. "I couldn't believe it."
Daniela said she snuck out of the house a "handful" of times "to get some reality," and would come right back so that no one suspected anything. During one of those instances, she said she went downstairs while no one was home and fixed the internet connection so that she could connect to a PSP device and see what was happening with the outside world. Daniela said that when she checked her email there was only a single message from Myers wishing her a happy birthday from the year before. "I was gone from the world and nobody noticed," she said. "It's very hard to see that the world can go on without you."
She sobbed as she delivered her emotional testimony, prompting several people in the courtroom audience to themselves fight back tears.
Daniela said she remembered having a difficult time keeping "the darkness at bay," and began to contemplate suicide.
But Daniela said she decided against this after spotting a cardinal in a tree, witnessing the bird have chicks, and realizing that life goes on.
From there, she launched into a "fuck everybody" mentality and concluded that she could be a "drug addict" or a "prostitute" but that she still had a desire to live.
Her testimony is set to continue Thursday.
CORRECTION
Ben Myers' name was misspelled in a previous version of this article.