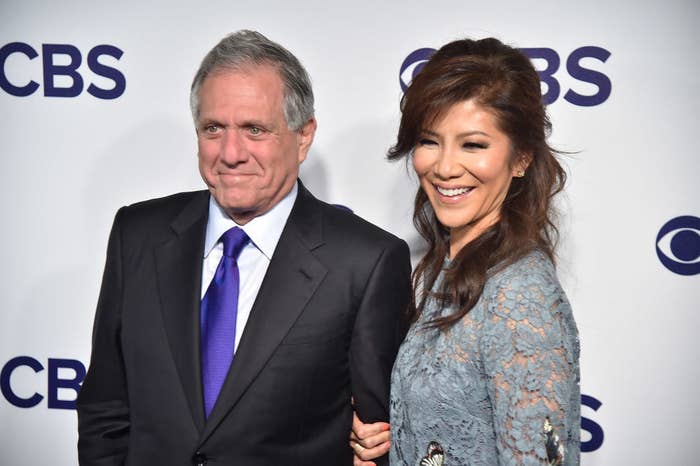 Julie Chen, cohost of CBS's The Talk, confirmed Tuesday that she would be leaving the daytime talk show.
The news comes just a week after Chen's husband, Les Moonves, exited the network after allegations of sexual harassment came to light. Moonves, who served as the chair and CEO of CBS, has denied the claims, which he called "untrue" after stepping down.
In a video statement from the set of Big Brother, Chen said she needed to spend time at home with her husband and their son.

"I will always, always cherish the memories we shared," Chen said. The longtime host called her experience on The Talk "a privilege [she] will forever be grateful for."

Chen served as cohost on the series for nine years.
Since Moonves was accused of sexual harassment and assault by six women in a Ronan Farrow New Yorker report in late July, Chen has made her allegiance to her husband known.
"Leslie is a good man and a loving father, devoted husband and inspiring corporate leader," Chen said in a statement issued earlier this summer.
"He has always been a kind, decent and moral human being. I fully support my husband and stand behind him and his statement."
In the initial New Yorker report, some women accused Moonves of forcible kissing and touching, while others alleged that the executive would practice intimidation, threatening to ruin their careers.
Farrow published a follow-up in the New Yorker in early September, when six additional women came forward with accusations of sexual harassment.
More women said Moonves "used physical violence and intimidation against them," in addition to allegations that he had women colleagues perform coercive oral sex.
BuzzFeed News has reached out to CBS for additional information, but the network did not immediately respond.
In a statement after Moonves' allegations came to light, CBS said that as the nation has a conversation about sexual harassment in the workplace, the network "is committed to being part of the solution to those important issues."

The company also said it "does its best to treat its tens of thousands of employees with dignity and respect."