On Thursday, Justin Timberlake took to Twitter to ask an innocuous question about a commonly known phrase, but things swiftly took a turn when Dylan Farrow responded to his tweet.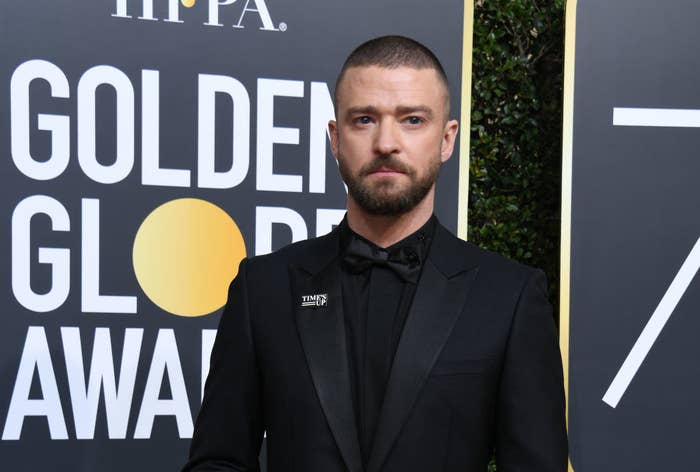 Farrow is director Woody Allen's daughter and for years has alleged that the filmmaker molested her as a child.
In 2017, Timberlake starred in Allen's film, Wonder Wheel, alongside Kate Winslet.
Since the reckoning of sexual harassment and assault happened last year, there's been a growing chorus of people denouncing Allen.
Many celebrities issued statements saying they regretted working with the director, and some have offered their salaries from his films to charity organizations for survivors of sexual abuse.
"Can someone please explain the saying, 'You just want your cake and to eat it too,'" Timberlake wrote. "What else am I about to do with a cake?"
Though Timberlake received a ton of silly and fun responses from fans, Farrow had a more direct response. "The saying means, for example, you can't support Time's Up and praise a sexual predators at the same time."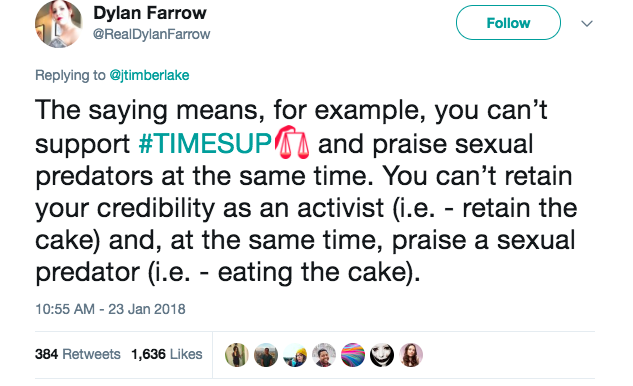 Support for Farrow's tweet immediately began to come in.
"I want to retweet this 100 times," a Twitter user said. "You go, Dylan!!"
Others rallied behind Farrow, calling for Timberlake speak out against the famed director.
One person tweeted photos of Timberlake with his Time's Up pin next to an image of him working on the set of Wonder Wheel.
"Drag him," another demanded.
But overall, many were just impressed by Farrow's bold response.