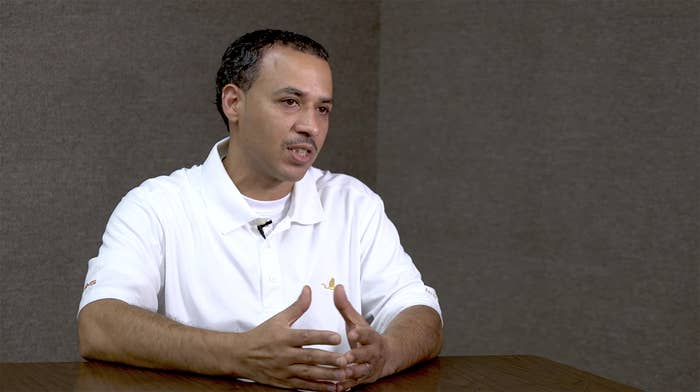 The journalists at BuzzFeed News are proud to bring you trustworthy and relevant reporting about the coronavirus. To help keep this news free, become a member and sign up for our newsletter, Outbreak Today.
Over the course of a seven-day quarantine for COVID-19, David Sell, an inmate in Wende Correctional Facility, says he received no medicine, no care, not even a change of clothes. He said he had to plead with prison staff to clean the thermometer before taking his temperature. "I asked the doctor how am I going to be treated," he said, "and she was basically just like 'ride it out.'"

Sell, who is serving 43 years to life at the prison 20 miles outside of Buffalo, New York, gave a harrowing account of how the coronavirus is spreading behind bars — and how little care is available to prisoners who fall ill.
"You have one guy spitting up blood," he said. "And they still was hesitant about taking him to the hospital."
Law students from the City University of New York, along with video students at Bard College, first recorded Sell last fall, to showcase his plea for clemency. The students caught up with him again last Monday and recorded his experience with COVID-19.
Sell, who was convicted of murder 24 years ago, is one of approximately 400 prisoners and corrections workers in the state who have been diagnosed with COVID-19. Former movie producer Harvey Weinstein, convicted on rape charges earlier this year, also had the disease at Wende. Prison health experts have repeatedly warned state officials that prisons and jails, like Wende, could be a "tinderbox" for the virus to spread.
The New York State Department of Corrections and Community Supervision declined to comment on Sell's treatment, but said inmates who have tested positive or are showing symptoms of the virus are isolated up to 14 days and provided with standard medical care. Inmates with more acute needs are taken to hospitals for treatment.
If you're someone who is seeing the impact of the coronavirus firsthand, we'd like to hear from you. Reach out to us via one of our tip line channels.
Some governors have used their clemency powers since the outbreak. Kentucky's Andy Beshear announced plans to release nearly 1,000 inmates. New York's Andrew Cuomo released 1,100 people who were being held in jail for parole violations. He has not released inmates from state prisons.

While behind bars, Sell started a fatherhood program and designed a gang prevention program. He also worked as a porter in the prison's mental health unit, where late last month he asked for, but was denied, protective gear as the virus spread, his wife, Lakisha Santana Sell, said.
Sell said he is recovering and expects to be moved back to the main prison early next week. His clemency application is still pending.
The students' full video, including Sell's appeal for clemency, can be viewed here.