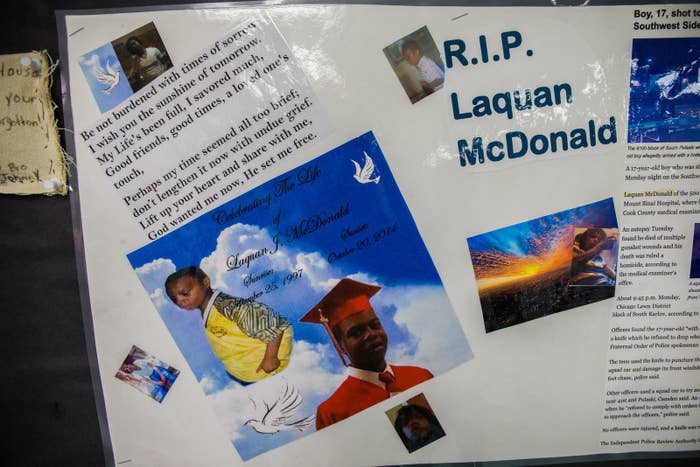 When Chicago police officer Jason Van Dyke was convicted of murder last month for shooting the black teenager Laquan McDonald 16 times and then falsely claiming the boy had attacked him, many civil rights advocates hailed it as a small step toward police accountability in the fractured city.
The reaction on a notable Facebook page in support of Chicago police officers was quite different: "Very sad...give the keys to the city to the thugs," said one person.
Chicago Code Blue, where scores of current and former Chicago police officers are followers and occasional commenters, was created two years ago to defend the police force from criticism over McDonald's shooting. But posts on the page, which has more than 53,000 followers, quickly went far beyond boosterism. Many comments spew racist hate and encourage police to abuse suspects.
An exhortation to "Shoot the rhino" appeared on the Facebook page of current Chicago police Officer Sofia Terrones in response to a video of a Philadelphia police officer beating a large black woman. Other posts disparaged victims of police shootings. "Every Thug Deserves a Slug," wrote one commenter next to a picture of a 16-year-old boy who was shot and killed by Chicago police in 2016 as he was climbing a fence to get away from them.

Some of the posts by officers appear to be in violation of the Chicago Police Department's social media policy, which prohibits the posting, displaying, or transmitting of "content that is disparaging to a person or group based on race, religion, sexual orientation, or any other protected class."
The page illustrates the deep rifts that divide Chicago's law enforcement from many of the communities that it is charged with serving and protecting. Such pages, which showcase extreme viewpoints, have become an issue of increasing concern in national politics because of their role in spreading fake news, amplifying tensions, and inciting people who go on to commit violence.

Chicago Code Blue is an example of the phenomenon at the local level. But it has a direct connection to the larger national issues.
Its founder, Gary Snow, figured — apparently unwittingly — in alleged Russian attempts to interfere with the 2016 election. In an indictment unsealed in February, special counsel Robert Mueller alleged that Russian trolls tried to use Snow, who was not mentioned by name, to get a flatbed truck that could carry a caged Hillary Clinton stand-in at a 2016 rally for then-candidate Donald Trump.
Snow, 41, did not provide the truck, and he was not charged or accused of knowing that he was interacting with Russians. Though Chicago Code Blue has posted video that features footage from the Russian government–backed news agency RT, with mostly white protestors yelling "Fuck the police," there is no indication of Russian involvement in the Chicago site. But the page is full of the kind of content that Russian operatives have been accused of trying to spread across the internet in recent years: racist, hate-filled, and conspiracy-laden posts meant to sow discord.
Code Blue's administrators claim that Facebook has at times instituted temporary bans on posts on the page. Facebook declined to comment on what, if any, action it has taken against the page.
Not all of the comments on the page are derisive or racist. Some users expressed support for Van Dyke's conviction, and others said it's up to residents to stem the violence that plagues some of Chicago's neighborhoods. The most inflammatory comments do not generally come from current officers.
A police union spokesperson did not respond to a request for comment. In response to questions from BuzzFeed, Terrones, whose page featured the "shoot the rhino" comment, claimed her account was hacked.
Snow said in an interview that he launched the page to counter a "wave of negative criticism towards our police officers" and "try to boost the morale, and say, 'hey, we do support you.'"
One of the page's earliest targets was McDonald himself. Mainstream news outlets frequently flashed a photo of the teen in his red graduation cap and gown. The symbolism was clear: a young life cut down. But on Chicago Code Blue, the photo quickly morphed into a meme with which to mock young black men killed by police. Some Chicago Code Blue users refer to such graduation pictures as "Dindu Nuffin starter kits."
Following the Van Dyke verdict, Chicago Code Blue displayed images of demonstrators in the street with a caption: "When will we take back control of our city?" Other posts called the demonstrators hypocrites for ignoring the murder rate in predominantly black neighborhoods. Yet when activists staged a demonstration to draw attention to precisely that topic, Chicago Code Blue moderators dubbed the protest "anti-police." Commenters posted calls for the arrest of marchers and memes of drivers plowing through the crowds.
In Snow's reading of the McDonald shooting, Van Dyke and McDonald "were both in the wrong," he said. "Laquan McDonald wasn't complying. When the call went out, when they went to confront him, he started to run from police."
Snow said he has some experience on that front: In 2008, he pleaded guilty for resisting arrest in Indiana. He didn't get shot, but he did get blasted with a Taser.
"I was drunk," Snow said. "Since I do have that resisting arrest on my record, maybe I really understand the situation."
Another video on Chicago Code Blue shows a Chicago police officer kicking a young black man in the head as another officer pins the man to the ground. In response, Chicago police Officer David Solski wrote: "Getto lottery strikes again," implying the beaten man was lucky because of the settlement that the department would likely have to pay him. Solski patrols an overwhelmingly black district on the city's South Side. While Solski has received 56 honorable mentions from the department, data from the Invisible Institute, a nonprofit police accountability group, shows that he has racked up 43 complaints from citizens. Only 3% of officers have more complaints. Solski did not reply to voicemails or a letter sent to his home.
The messages on Chicago Code Blue were provided to BuzzFeed News by Shiller Preyar, a civil rights law firm in Chicago that collected years of comments from the Facebook group. The content attributed to individual officers in this story was independently verified by BuzzFeed News.
"Everybody has a First Amendment right but there are repercussions for those First Amendment rights," said Brendan Shiller, one of the partners in the firm. "Everyone who is commenting on Code Blue who is a sworn officer really shouldn't be a sworn officer because they don't have respect for our city and our community."
The number of users who could be identified as police officers appears to have dipped in the last few months. Meanwhile, there's been an uptick in community members challenging inflammatory content. One recent poster wrote earlier last month: "Chicago Code Blue is trying to insight violence against minority neighborhoods and it's people." Another officer criticized the page for endorsing political candidates: "Police should be non partisan, stop posting this partisan crap and go back to posting funny memes us police enjoy."
Snow denies that he or the page is racist and claims he's blocked certain racist terms from appearing on the page, although the n-word has gotten through. He said he believes that because officers can't publicly express political views, "it's the citizen's obligation to show support for these police officers that put their lives on the line day in and day out. A simple thank you could mean so much."
Snow also downplayed his involvement with Russian operatives. He told BuzzFeed News that a Facebook user purporting to be Matt Skiber — who prosecutors claim was a persona invented by the Kremlin-linked Internet Research Agency — contacted him, first via Facebook's private messaging feature, and then via phone. Snow said the man called from either a North or South Carolina area code and spoke with an Eastern European accent. Snow said he didn't have access to a flatbed truck and that Skiber found another Trump supporter to build the mock prison cell for the rally.
"I never thought anything suspicious," Snow said of the interaction. "At that time, no one knew anything about Russians trying to interfere, especially people that are just regular Joe-Blow, blue collar workers."
Snow explained that he previously worked for someone from Bulgaria and alongside Croatians in Chicago's meat houses. "So an accent like that," he said, "it wasn't something that was off to me."
Marshall Hatch is the pastor of New Mount Pilgrim Missionary Baptist Church in the West Garfield neighborhood, one of Chicago's poorest and bloodiest. He said hearing about Chicago Code Blue's users calling his neighbors "hood rats" helps explain a deeper problem: Chicago's high rate of unsolved murders. Chicago police name a suspect in about 17% of cases, compared to Los Angeles, which cleared about 77% of its murders, and New York, a department that cleared more than 70%.