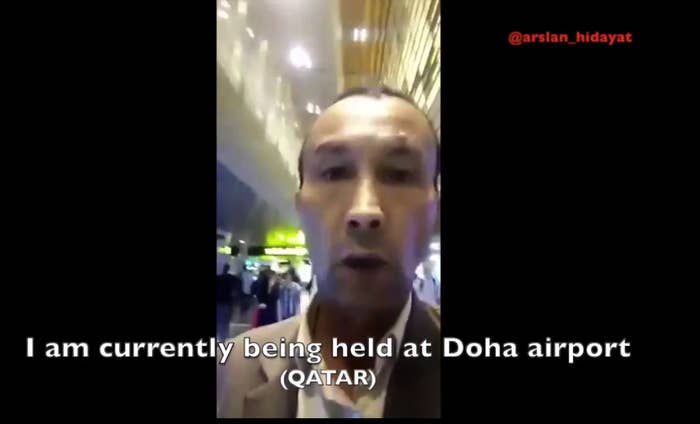 Activists are pushing back against the looming deportation of a Uighur man in Qatar, fearing he could be jailed upon entry or sent to an internment camp in western China.
The man, Ablikim Yusuf, 53, is stuck at the airport in Doha and was originally set to be put on a flight to Beijing on Saturday. Instead, according to a lawyer and activists who have been in touch with him, authorities in Qatar have granted him 24 hours to find another country willing to accept him.
The situation is particularly dire because of the arbitrary internment of hundreds of thousands to more than a million Uighurs and other Turkic Muslims in Xinjiang, a region in western China. Uighurs — particularly those who have traveled or lived in Muslim countries — have been particular targets for detention, and there are many reports of Uighurs being detained as soon as they arrive at airports in China from overseas.
The internment program has drawn widespread international condemnation. Chinese officials said last week the government has released a majority of detainees but has produced scant evidence to back up this claim.
Yusuf's case gained attention after he posted a cellphone video pleading for assistance.
Yusuf previously lived in Pakistan. Like many Uighurs, he was traveling using a Chinese travel document rather than a passport. Unlike a passport, the document Yusuf had would have allowed him only to travel directly back to China. The Chinese government frequently issues these documents to Uighurs in lieu of renewing their passports as a way to compel them to return home, where they often face detention. Yusuf was trying to reach Bosnia and Herzegovina, but it's unclear why he was stopped during his journey there.
"Instead of openly knowing about concentration camps and doing nothing, it would be good for Qatar to come to the rescue," said Arslan Hidayat, a Uighur Australian human rights activist who has been in contact with Yusuf.

Qatar was among the signatories to a letter in July praising China's human rights track record and its treatment of Muslims in Xinjiang, according to Chinese state media.

Yusuf could not be reached for comment at the time of publication. Activists in contact with him said he could not be reached for several hours Saturday.
Tahir Imin, a Uighur activist in the United States and a former political prisoner, said Uighur American groups are working to raise money for Yusuf's case.
"We are sure he will face years of imprisonment or a concentration camp," he said. "We hope the international community makes sure that he or any other Uighurs will not be forced back to China without their consent."
European countries including Germany and Sweden have publicly said they will refrain from sending Uighurs back to China in light of the situation in Xinjiang.