SEOUL — As the impeachment trial of South Korea's first female president unfolds, women in business and politics in the country say the scandal is giving ammunition to their opponents who say they are not fit for high-powered jobs.
President Park Geun-hye did not rise to power on promises of gender equality, and feminist groups say she hasn't done enough to improve the standing of women in the deeply conservative country. But now that she has been engulfed by scandal, many worry her example will be a major setback to other women who aspire to top positions in the male-dominated world of South Korean politics.
"Because she is our first female president, I'm concerned it may be remembered as a female failure. She should have tried her best, but she failed utterly," said Jung-mi Lee, deputy representative of the Justice Party in the General Assembly. "She committed a crime to the people of our country, and made it even more difficult for women and women in politics."
The issue is a particularly contentious one in South Korea, a country that has achieved rapid modernization but lags behind almost every developed country in many metrics of gender equality. The society's conservatism, underpinned by Confucian notions that a woman's rightful place is in the home, has proved a barrier to a generation of increasingly educated and ambitious women who are seeking success in male-dominated workplaces.
The National Assembly voted to impeach Park on Dec. 9, and the Constitutional Court is set to decide within six months to pass or block the motion. The Assembly's decision came after a lengthy scandal over allegations that one of Park's close friends used her relationship with the president to seek bribes and other favors, prompting a national outcry, with hundreds of thousands taking to the streets outside the president's Blue House for weeks.
Park's road to the Blue House may have been groundbreaking, but it was also far from typical, leading many in the country to question whether she really broke the glass ceiling. Her father, military dictator Park Chung-hee, is widely admired in South Korea for presiding over nearly two decades of rapid economic development, and the younger Park has been in the public eye for much of her life. Her father's popularity helped pave the way for her success.
"People see her as an extension of her father — she looks like her mother, and she has a political aura around her because her father is so popular with conservatives. It's an interesting combination," said Se-woong Koo, managing editor of a Seoul-based media startup called Korea Expose. "So we cannot really say that her election represented a watershed moment for women in South Korea."
Any blowback against Park is compounded by the country's existing problems with sexism. The World Economic Forum ranked South Korea 115 out of 145 on its Global Gender Gap index in 2015, below many less developed countries including India, Burkina Faso, and Nepal. Its male-female pay disparity is the worst among developed countries.
Women's rights groups in South Korea also cite a cultural perception that women should do most of the work in child-rearing and household tasks. Polls show that women there spend an average of three more hours on household chores than men do, and that many Koreans believe men are promoted faster and given choice jobs. Men are expected to be breadwinners.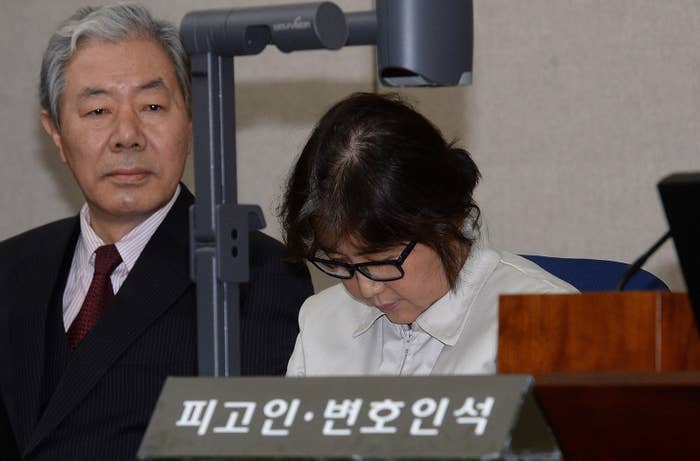 Park had never styled herself as an advocate for women's rights, and in fact, feminist groups have expressed disappointment that she did not do more to address issues like the wage gap or appoint more female ministers.
"We thought having a female president was going to make our work easier in terms of gender equality, or having more women in leadership positions, but now it's been proven that it's not going to be easier," said Sohn Jie-ae, the former CEO of public broadcaster Arirang TV. "If anything, in order to lessen the damage, we will really have to work harder than we've ever worked before."
Sohn, who also served as the secretary for overseas public affairs under Park's predecessor Lee Myung-bak, said she and her friends had joked recently about Park being the first woman leader in about a millennium in South Korea — the last female ruler was Queen Jinseong of Silla in the 9th century.
"We were saying because of what she's done, we won't see another female leader for another thousand years," she said. "That's the running joke at this point."
Those interviewed by BuzzFeed News for this article criticized Park's actions. But they also noted that there had often been a misogynistic tone to much of the criticism of her. For example, critics have often invoked a Korean proverb — "When a hen crows, the home falls apart" — meaning that women ought to remain silent.
"The important question to ask is whether this kind of language will recur or become more common in the next several years," Koo said.
To be sure, women in politics have made strides even in Seoul's male-dominated political culture. Two of the four parties in the national assembly are led by women, though the overall percentage of women serving as elected representatives remains low.
Magdalena Seol, a former assistant secretary to the president and the founder of a strategic advisory firm, said she was optimistic that generational change is what is needed to shift public opinion. Views on the impacts of Park's scandal were split among women executives she knows, she said.
"Everyone has a different opinion about whether this is going to affect other women leaders in the country. Some people say yes, it's definitely going to have an impact," she said. "Others say it's not."
Younger women are represented in South Korean workplaces in greater numbers than the generation before, researchers say. Seol, who is a mid-career professional, said she hoped her generation would bring with it a fresh take on female leadership.
"I'm really not satisfied with the existing public leadership role played by women in the country," Seol said. "I don't see many role models in the current generation."