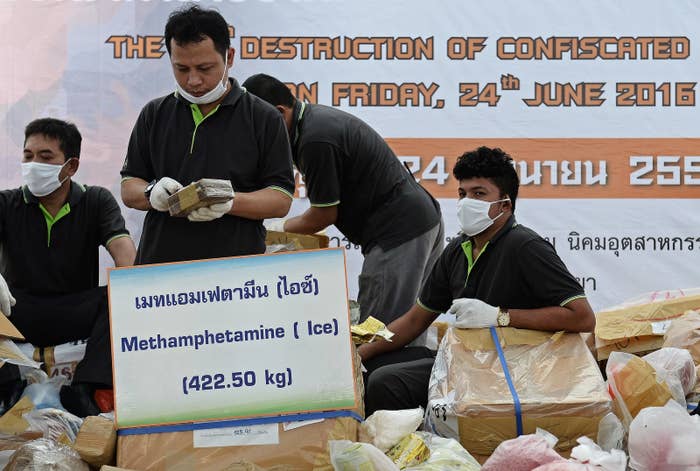 BANGKOK —Thailand, long famous for imposing some of the world's harshest drug laws, is taking its first steps toward a more humane counter-narcotics policy.
The shift comes in sharp contrast to a brutal anti-drug campaign raging in the Philippines, where bands of vigilantes and police have killed more than 2400 suspected drug users over the past few months, spurred on by newly elected President Rodrigo Duterte. The situation in the Philippines today looks like a mirror image of the early days of Thailand's efforts to stop the flow of drugs.
"It's a copy-paste of [former Thai Prime Minister] Thaksin's playbook from A-to-Z. It's virtually identical," Pascal Tanguay, a longtime drug policy reform advocate in Thailand who has recently worked on treatment programs for drug users in the Philippines, told BuzzFeed News. "The same war on drugs happened here 13 years ago, and now the Ministry of Justice is saying the war on drugs failed – not just in Thailand, but everywhere."
Duterte compared himself favorably to Adolf Hitler this week, saying he'd be "happy to slaughter" three million drug users in the Philippines.
But in Thailand, an increasingly vocal group of officials, advocates and academics is saying they aim to change course more than a decade after Thailand's own drug war. The new rhetoric on narcotics policy underscores an acknowledgement that hardline drug laws have led to overflowing prisons and humanitarian abuses even as methamphetamine use is on the rise and social stigma remains a barrier to drug users seeking treatment.
"It now appears Thailand is moving towards a more humane, people-centered drug policy with the Ministry of Public Health taking a central role in drug treatment delivery through community health clinics," Jeremy Douglas, regional representative for Southeast Asia and the Pacific for the United Nations Office on Drugs and Crime, told BuzzFeed News, though he added only time would tell whether calls for reform would translate to substantial legislative changes.
Among the most vocal high-level advocates for drug policy reform is Minister of Justice Paiboon Koomchaya, an army general.
"The world has lost the war on drugs, not only Thailand," Paiboon told Reuters in July, adding that drug use had increased in the country over the past three years. That mirrors a broader trend in southeast Asia, where countries are struggling to combat the rising production and trafficking of meth.
More than 56% of the country's prisoners were convicted of violating the narcotics law, according to figures from Thailand's Department of Corrections – far more than any other type of offense. Drug trafficking is a death penalty-eligible crime.
Thailand's war on drugs began in 2003, when then-Prime Minister Thaksin Shinawatra rolled out a severe crackdown that led to some 2,275 suspected users being killed in the span of three months, according to Human Rights Watch.
"Drug users have just gone underground so it's more difficult to find them," Paisan Suwannawong, cofounder of the Thai Drug Users' Network, told BuzzFeed News. "[The anti-drug campaign] has not been very successful. It's not a scientific policy."
Douglas said quotas for arrests have led to low-level dealers and users being jailed instead of leaders of organized crime rings.
"The result is a justice system full of drug cases and prisons overcapacity, almost warehousing people," he said.
Advocates for drug policy reform in Thailand say the Philippines could face similar problems if it continues on its course.
"Now Thailand is considering an evidence-based drug policy that is in line with human rights," Tanguay said. "I don't understand why Duterte is using Thaksin's playbook from 13 years ago when Thailand is clearly changing gears and shifting directions."
"Duterte's strategy comes point by point from Thailand," he added.