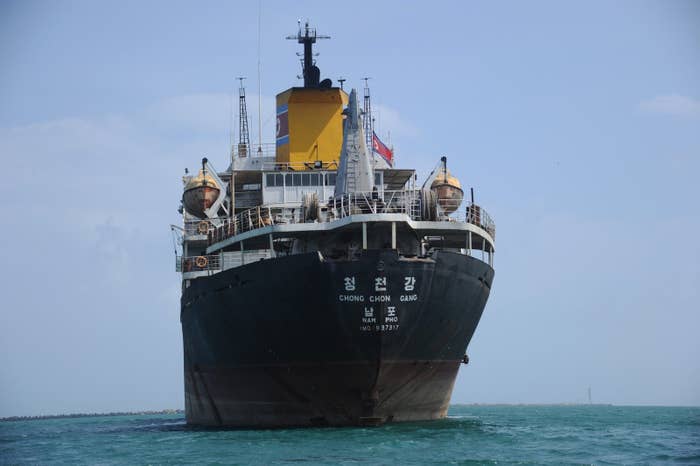 BEIJING — The Orion Star has lived at least three lives.
From 2009 to 2013, it was called the Rich Ocean and flew the flag of Tuvalu, a tiny Polynesian nation. In its next incarnation the following year, it switched flags, first to Kiribati — another Pacific island nation — and then to Mongolia, and took on the name the Orion Star.
It was then that the container ship's activities caught the eye of international regulators. In 2014, the UN and the US Treasury Department blacklisted the ship for its ties to a Pyongyang-based company that arranged an arms shipment between Cuba and North Korea.
As with most ships that face international sanctions, the Orion Star just disappeared for a while after that. But then the ship made it off the UN blacklist in December 2016 after its sanctions committee said it was no longer controlled by a sanctioned North Korean company, though it remains blacklisted by the US. By this March, it was well into its third life — as a Fijian ship named the Ji Xing, which was spotted by satellite trackers bouncing between Chinese, Russian, and North Korean ports.
The curious path of the Orion Star is far from exceptional — it was among dozens of foreign ships docked at Nampo, North Korea's main west coast port, over the past year that bore flags of countries with open or poorly regulated shipping registries. Because ships flying the North Korean flag are subject to a high level of scrutiny and unwelcome in many international ports, North Korea regularly pays other countries to use their flags in a practice dubbed "flags of convenience." Despite years of US efforts to crack down, a select group of countries continue to look the other way as North Korean ships use their flags.
The practice underscores a key challenge the Trump administration will face in its fight to curb North Korea's nuclear weapons program, a task President Donald Trump has said is as easy as convincing China, Pyongyang's biggest trading partner and only major ally, to cooperate.
BuzzFeed News examined a year's worth of shipping calls to Nampo, provided by open-source maritime data provider MarineTraffic, as well other shipping and corporate records. Nearly every foreign ship that docked at Nampo bore the flag of a country with an open shipping registry, and most of them had swapped flags between those countries at least once. Despite China's close economic ties with North Korea, not a single ship listed in the dataset examined by BuzzFeed News flew a Chinese flag.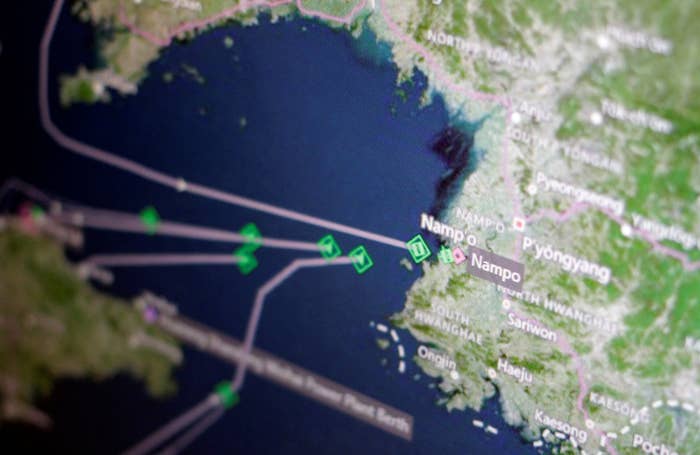 Because cargo manifests are not public, and ships frequently turn off their transponders when they're near North Korea to hide from satellites, it's impossible to tell whether the ships are engaged in illicit commerce, and the list of ships known to have docked at Nampo may be incomplete. Last summer, the UN Panel of Experts noted that a Cambodian-flagged ship called the Jie Shun, which had a North Korean captain and crew, was discovered carrying 30,000 rocket grenades tucked away in wooden crates beneath thousands of tons of iron ore. Cambodia apologized, and a month later it said it had temporarily shuttered its shipping registry. On an official record, the ship's cargo was described as underwater pump parts.
But the data shows the extent to which North Korea relies on so-called flags of convenience to continue economic engagement with the outside world, which the US hopes to stifle as a way to pressure the country to give up its nuclear weapons.
"It's much harder for North Korea to gain freedom of movement with its own vessels overseas given how much attention there is to North Korean activity," said Andrea Berger, an expert on the North Korean nuclear program at the Middlebury Institute of International Studies. "It will continue to use foreign flags."
BuzzFeed News compared the data provided by MarineTraffic to information from another maritime information service called FleetMon, which lists vessels' flag histories.
The Trump administration has looked on the development of North Korea's nuclear weapons and ballistic missiles programs with increasing urgency. Both as a candidate and as president, Trump has repeatedly signaled that getting the country to cooperate is as simple as convincing the Chinese to sign on to US policy on North Korea.
After North Korea fired off a ballistic missile in waters between Korea and Japan last week, for instance, Trump tweeted that it was an act of disrespect toward China. He has also repeatedly linked US trade ties with China to Beijing's cooperation with his approach to North Korea.
In April, China sent almost a dozen North Korean cargo ships back to Nampo after a national ban on imports of North Korean coal, Reuters reported. China is North Korea's only significant diplomatic ally and biggest source of foreign aid, but Beijing's official position is that it thoroughly complies with UN sanctions on North Korea's illicit activities.
But over years of advancing its nuclear program in the face of increasingly onerous international sanctions, Pyongyang has devised myriad ways to engage in international commerce, both legitimate and illicit, analysts say.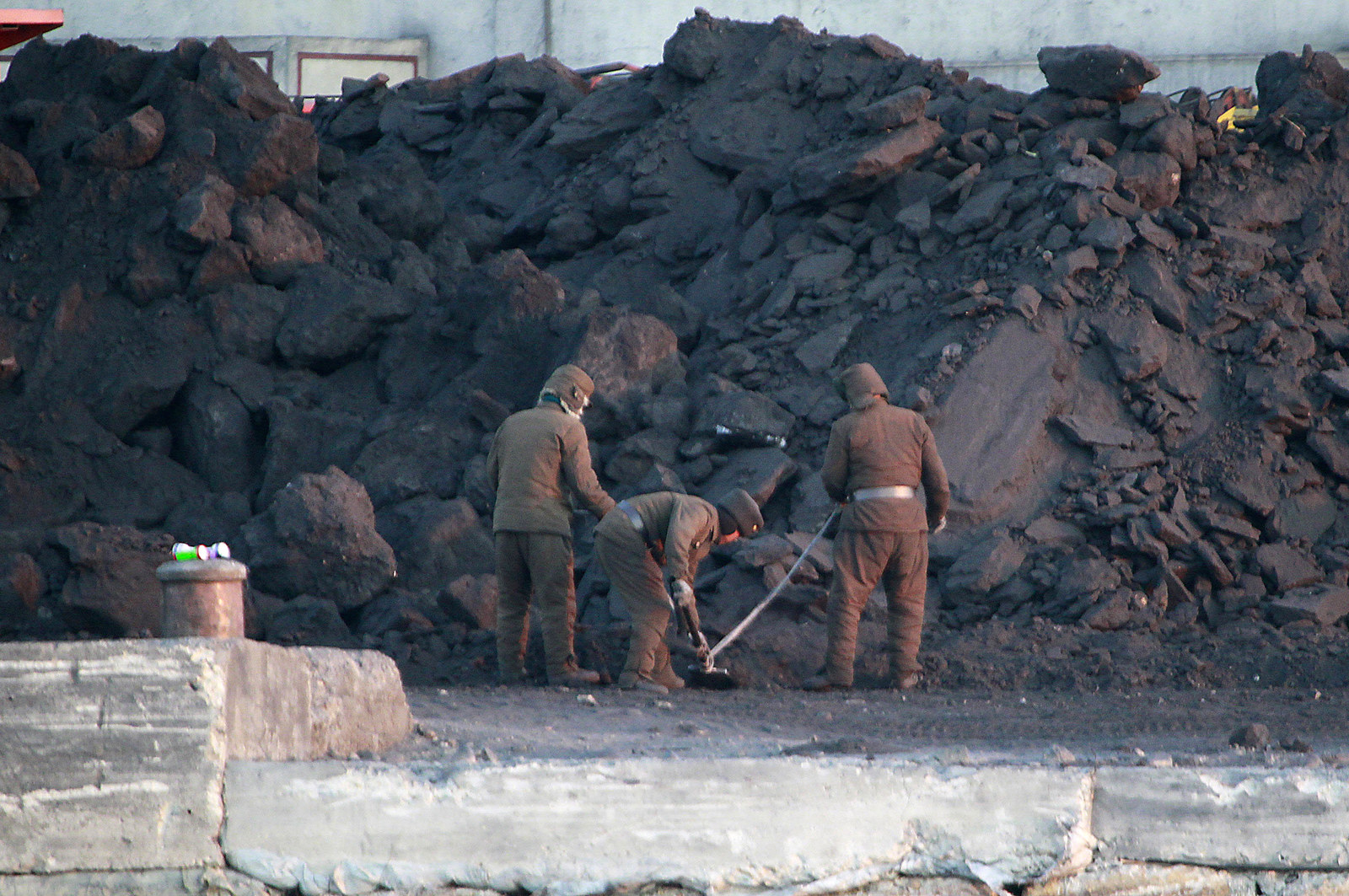 The US has been embroiled in a game of international whack-a-mole over flags of convenience with North Korea and other rogue states for more than a decade. Shipping registries in Cambodia and Mongolia, both longtime favorites of North Korean vessels, promised to reform over the past year amid intense pressure from the US and the international community.
But BuzzFeed News found that Cambodian- and Mongolian-flagged ships still visited Nampo over the past year, and many ships that docked at Nampo that once flew flags from those two countries had simply switched to others.
The majority of the foreign ships that visited Nampo flew flags from countries with shipping registries that are blacklisted by the Paris Memorandum of Understanding on Port State Control, an international agreement on ship inspection, for failing to satisfactorily implement international standards, including Comoros, Sierra Leone, Tanzania, Togo, and St. Kitts and Nevis.
Nearly two dozen foreign-flagged vessels made port calls at Nampo over the past year, the MarineTraffic data shows. A representative for MarineTraffic pointed out that the data set was likely incomplete because of the difficulty of using satellites to track ships in North Korean waters, and because ships with ties to North Korea are known to turn off their transponders.
The 1958 Geneva Convention on the High Seas requires a genuine link between a ship and the flag it carries. But there are dozens of middlemen agencies from Singapore to Dubai that say they can facilitate flags of convenience at bargain-basement prices.
For example, Korasia, the parent company of a Singaporean firm called Sovereign Ventures, has set up shipping registries for the small island nations of Kiribati, Tuvalu, and Niue.
The owners and operators of ships with ties to North Korea also change frequently, and are often shell companies whose real origins and national affiliations are tough to trace, analysts say.
Law enforcement officials in Fiji have said the shipping registry is not, in fact, open, and that they are investigating ships that may be breaking the rules.
Cambodia's shipping registry, a longtime favorite of Pyongyang, has now promised to reform twice. When it opened in 1994, it was run by Sovereign Ventures. After the Singaporean company got the boot in 2002, Cambodia promised to clean up its act — but regulators and researchers continued to find North Korea-linked ships flying the Cambodian flag.
"They [the North Koreans] quite cannily moved into the running of the Cambodian register to provide a cut-price cloak of concealment," said Jacqueline Smith, maritime coordinator of the International Transport Workers' Federation, in an email to BuzzFeed News. "However a combination of investigation and ship inspections (and seizures) made this explicit, and their involvement dragged the reputation of the Cambodian flag even lower than it already was."
Smith said ITF remained skeptical about Cambodia's latest promise to reform, though she added it would be welcomed if it is genuine.
It's clear, though, that North Korea is likely to keep exploiting the flags of convenience system to obscure the origins of its ships and conduct both illicit and legitimate commerce.
"It is virtually impossible for us to know which vessels are really owned by North Korean entities," Smith said. "The flag of convenience system allows for a veil of secrecy to protect or disguise the real owners."