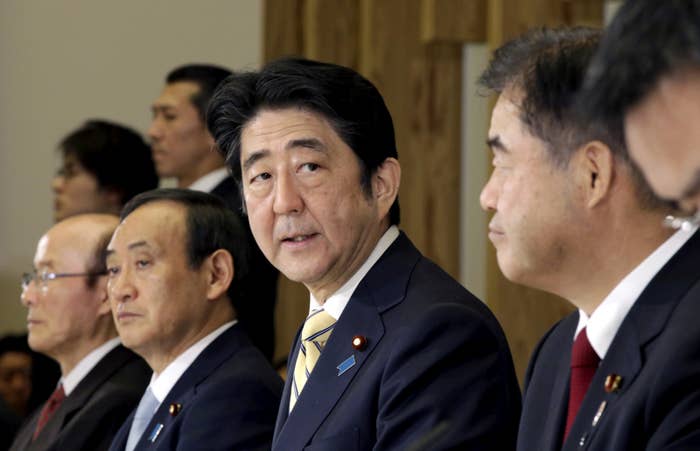 NEW YORK — Japan wants the international community to think about curbing trade and money flows, as well as the movement of people, to further halt North Korea's nuclear program, a spokesman for the prime minister told BuzzFeed News.
In the wake of North Korea's fifth nuclear test, Yasuhisa Kawamura, spokesman for Japanese Prime Minister Shinzo Abe, said "strong pressure" is necessary on top of several rounds of previous international sanctions.
It has been a challenge for the international community to deter North Korea's banned nuclear program. Several sets of increasingly restrictive multilateral sanctions — targeting the North's ability to do everything from sell coal to engage with the international banking system — have failed to stop a series of nuclear tests over the past few years.
"When it comes to Japan, we are seeing three areas — human exchanges, goods and trade, and money flow — and how to effectively control those," Kawamura told BuzzFeed News in an interview. "We are now examining how to enhance and expand those restrictions."
His remarks come on the heels of a meeting between leaders of the US, Japan, and South Korea ahead of the start of the UN General Assembly this week. Abe is also set to meet Hillary Clinton, the Democratic nominee for president, on Monday in New York.

The leaders in their meeting discussed new ways to prevent North Korea from seeking revenue to fund its nuclear and ballistic missile programs. Pyongyang has few connections left to the global economy, but it still raises capital by exporting labour and through the sale of natural resources like coal and iron ore.

Many experts say a fresh round of sanctions will need to target overseas North Korean workers, who generate a growing portion of revenue for the country as other sources of funds dry up.
Japan and its allies are also contemplating slapping their own unilateral sanctions on Pyongyang in the wake of the test, Kawamura added, though Tokyo already banned all North Korean ships from its ports and restricted travel between the two countries earlier this year.
Many international experts say part of the problem is that China — the last major international lifeline for the North Korean economy — has not done enough to enforce restrictions on its neighbor. China, which is a permanent member of the UN Security Council and can veto new multilateral sanctions on North Korea, denies this.

Asked whether he had confidence that China would do its part to implement sanctions, Kawamura said Chinese and Japanese officials had spoken several times about the North Korea issue, adding that he hoped China would be "responsible" as a Security Council member.