Romney Thought Clint Eastwood's Speech Was Funny
A campaign official laughs off controversy surrounding the movie star's convention speech. Says the chair was a surprise, though.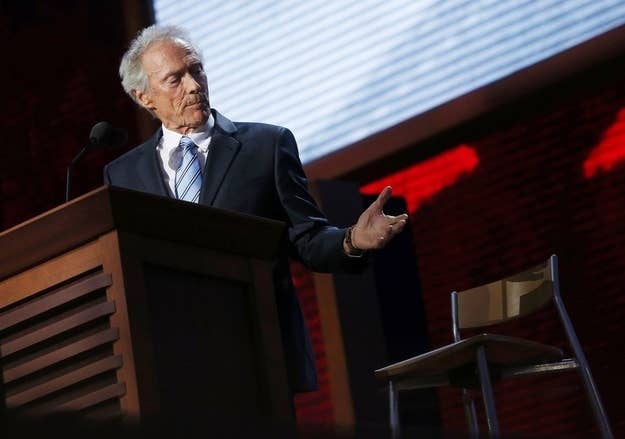 NEW ORLEANS, Louisiana — A senior Romney campaign adviser laughed off questions about whether Clint Eastwood's bizarre Republican convention speech distracted from their message, calling him "an American treasure" — and contending that, if anything, it helped.
"Listen, the guy went out and did what actors do something, he did a little improv," Stuart Stevens told reporters Friday. "If someone wants to say this wasn't Clint Eastwood's greatest performance, have at it... Some people didn't like Dirty Harry, some people didn't like Gran Torino. That's okay."
Stevens said Eastwood never had prepared remarks for the speech, and only planned to hit on themes he'd successfully communicated at two Romney fundraisers earlier this summer in Sun Valley, Idaho. The idea to bring out an empty chair and talk to it as though it represented President Obama was one that came to Eastwood shortly before going on stage, and a prop aide fetched him the chair without asking questions. The aide assumed Eastwood was planning to sit down.
While the format may have been a surprise to the campaign, Stevens said Mitt Romney himself didn't seem to mind.
"I was backstage with him and he was laughing, and he enjoyed it," Stevens said, adding that the candidate thanked him for coming.
He went on to say that, despite the pundits' hand-wringing, Eastwood's performance would likely only serve to help Romney.
"The guy's an American treasure," Stevens said, adding that the "post-Oscar critique" misses the point. "The message of it and the idea [was] that this person cared enough to fly across the country to do this."
And Stevens also mocked the Obama campaign for engaging the media frenzy that followed Eastwood's speech. Shortly following the performance, the official Barack Obama Twitter account tweeted, "This seat's taken," accompanied by a picture of the president sitting in a chair.
"If the president of the United States wants to attack an American icon like Clint Eastwood, and his campaign wants to attack an American icon like Clint Eastwood, good luck," Stevens said.