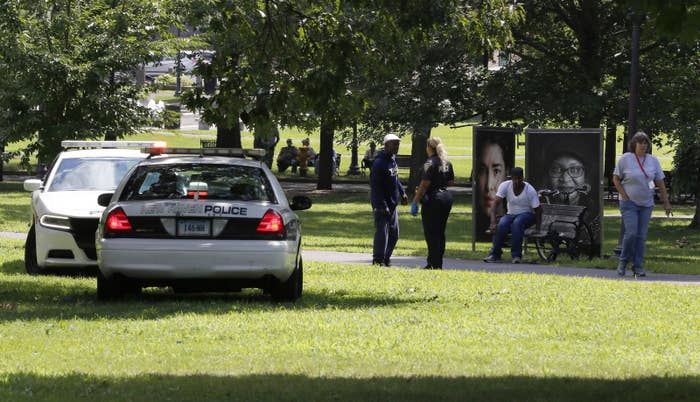 More than 100 overdoses have now been reported in a rash of cases that started Tuesday night in New Haven, Connecticut, and three people have been arrested in connection with the epidemic, officials said Friday.

No deaths have been reported as a result of the mass overdoses.
The overdoses are believed to have happened after people used a drug commonly known as synthetic marijuana, or by the brand names K2 and Spice. The drug contains an artificial chemical that is sprayed on dried plants so that it can be smoked, or is sold as a liquid so that it can be used in a vaporizer. The chemicals are called synthetic cannabinoids because they mimic chemicals found in marijuana, but do not actually have much in common with the plant cannabis.
AB-FUBINACA was believed to be the specific chemical in the drug that was causing the overdoses, New Haven Police Chief Anthony Campbell said. The Drug Enforcement Administration said that the chemical was originally patented in Pfizer in 2009, but has no commercial or medical uses.
BuzzFeed News has reached out to the DEA for more information, but did not immediately receive a response.

All three men arrested in connection with the overdoses had already been known to officers as people who distribute drugs, Campbell said.

Campbell identified two of the suspects as 53-year-old John Parker and 37-year-old Felix Melendez, but did not identify the third suspect. Police said Parker and Melendez were arrested separately. Parker was charged with possession of narcotics, the sale of hallucinogens and intent to sell and distribute. Melendez was charged with possession of narcotics with the intent to sell and distribute. Police said this was the 38th time that Melendez had been arrested.
Campbell said several of the victims had told officers that at least one of the suspects was not charging money for the drug and "was simply handing it out."

"We have the belief that this individual may have had the intent of getting people addicted to this product, and thereby starting a chain of clients for themselves," Campbell said. It was not clear which of the two named suspects the police chief was referencing.
New Haven's EMS medical director, Sandy Bogucki, said that the product in question was "short-acting, but also a rapid-acting version of the drug, so people who smoked or ingested it in some way tended to go down very fast — almost right in their tracks."
Bogucki also said that many of the patients had respiratory problems and needed to be resuscitated, but that because the effects did not last long some people were released from the hospital and went back to the park to "seek another high."
Campbell said Friday that some people overdosed up to five times.
New Haven Police Lt. Karl Jacobson said that 47 people were treated at least once for overdoses, according to the New Haven Register. He said some people overdosed multiple times, resulting in 120 ambulance calls.
This is not the first outbreak of overdoses related to synthetic cannabinoids. An incident earlier this year left three people dead in Chicago.
CORRECTION
Lt. Karl Jacobson's name was misspelled in an earlier version of this post.