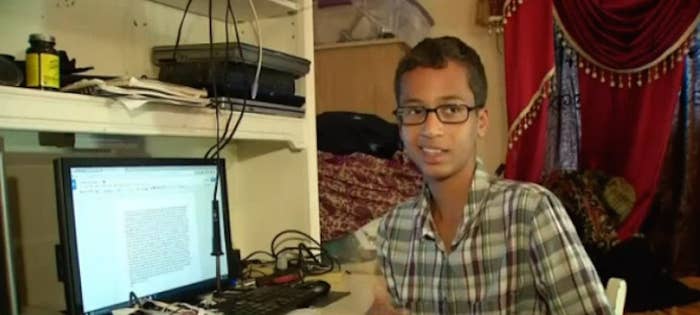 A 14-year-old student in Irving, Texas, was arrested and suspended last Tuesday from school after bringing a homemade clock to his high school that teachers suspected could be a "hoax bomb."
Ahmed Mohamed, a ninth-grader at MacArthur High School, said he loves inventing things and hoped the clock he made over the weekend would impress his teachers.
The incident caused an uproar nationwide, with President Obama, Hillary Clinton, and Facebook CEO Mark Zuckerberg publicly supporting Ahmed. Many people have shown solidarity with the hashtag #istandwithahmed and posting photos of themselves with clocks and watches.
"I'm the person who built a clock and got in a lot of trouble for it," Ahmed said at a news conference last Wednesday with his family, saying he planned to transfer from his high school.
"Don't let people change who you are," he said.
When asked if he was overwhelmed with the support he received on social media, he said, "I felt pretty down that no one would know about this...it made me seem really happy."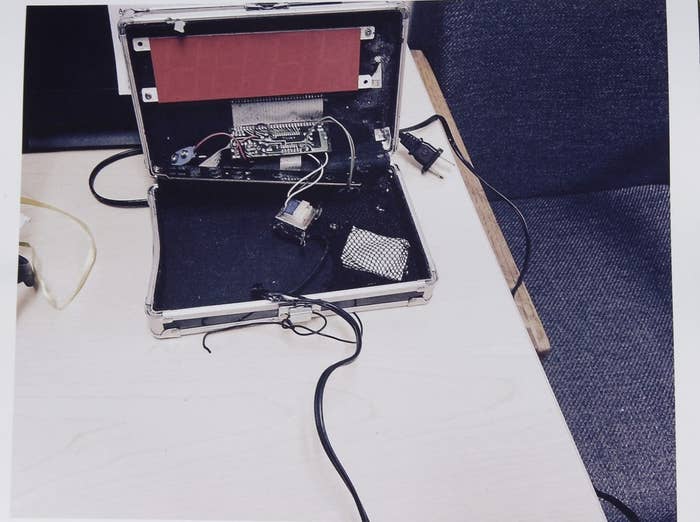 At least three teachers last Monday were suspicious enough of the electronic device to report it, according to police.
"Police determined on-site the package was not a bomb and did not evacuate the school," said Chief Larry Boyd with the Irving Police Department at a press conference last Wednesday. "But an investigation needed to be conducted relative to a hoax bomb with the intent to cause alarm."
The department ended its investigation last Wednesday and found Mohamed "did not have the intent to cause alarm and, therefore, will not be pressing any charges."
Mohamed told The Dallas Morning News last Tuesday he first showed the clock to his engineering teacher Monday morning. The teacher advised him "not to show any other teachers," so he decided to keep it in his bag.
Later, an English teacher heard the clock's alarm beep during a lesson. After class Mohamed showed it to the teacher.
"She was like, 'It looks like a bomb,'" he said. "I told her, 'It doesn't look like a bomb to me.'"
The school then called police, and the principal and an officer pulled Mohamed out of class. He was then questioned and taken away in handcuffs to juvenile detention to be fingerprinted.
In an interview on All in with Chris Hayes on MSNBC, Mohamed said that when he asked police if he could call his parents, "They said, 'No, you can't call your parents. You're in the middle of an interrogation at the moment.'"
The 14-year-old said he was questioned for nearly an hour and a half.
Mohamed also recalled during the interview, which aired last Wednesday night, that one of the officers sat down in what he called "the interrogation room" at the school, looked at him and said, "That's who I thought it was."
"It made me feel like I wasn't human," he said to The Dallas Morning News. "It made me feel like a criminal."
The school's principal suspended Mohamed for three days over the "hoax bomb," which his father, Elhassan Mohamed, told The Dallas Morning News was an example of Islamophobia. The Irving Independent School District declined to comment on the suspension citing student privacy laws.
Mohamed was allowed to return to school last Friday but he said last Wednesday that he's looking to transfer schools. The school district confirmed to the Dallas Morning News that his father met with the superintendent on Monday to pull him out of the district entirely.
The Dallas branch of the Council on American-Islamic Relations said it is investigating the incident.
"This all raises a red flag for us: how Irving's government entities are operating in the current climate," Alia Salem, executive director of the chapter told the paper.
Irving police told NBC DFW school officials were suspicious of the clock and acted out of caution.
"The student had only said it was a clock and was not forthcoming at that time about any other details," said Chief Boyd last Wednesday. "Having no other information to go on, the student was taken into custody for possession of a hoax bomb."
Texas law considers a person guilty of possessing a hoax bomb if the device is intended to cause public alarm or "a reaction of any type by law enforcement officers," according to a statement from the Irving Police Department. The department says Mohamed was handcuffed as standard procedure for his own safety and the safety of the officers.
"The Irving Police Department has always experienced an outstanding relationship with the Muslim community," said Chief Boyd at last Wednesday's press conference. "We recognize situations like this present challenges, but we are committed to continuing to build a positive relationship."
Chief Boyd planned to meet with Mohamed's father last Wednesday to discuss the arrest.
In a letter addressed to parents last Tuesday, principal Daniel Cummings wrote that the police "responded to a suspicious-looking item on campus yesterday." He assured parents that even though the item did "not post a threat to your child's safety," the school "will always take necessary steps" to keep their children safe. He did not mention that the item was a homemade digital clock.
Irving City Mayor Beth Van Duyne originally said in a statement posted to Facebook last Wednesday that the school was following the required protocols when there is "a possible threat or criminal act."
"We have all seen terrible and violent acts committed in schools, the workplace, and in public venues," she said. "Perhaps some of those could have been prevented and lives could have been spared if people were more vigilant. I hope this incident does not serve as a deterrent against our police and school personnel from maintaining the safety and security of our schools."
The Mayor then edited the post about an hour later. "As a parent, I agree that if this happened to my child I would be very upset," she said. "It is my sincere desire that Irving ISD students are encouraged to use their creativity, develop innovations and explore their interests in a manner that fosters higher learning. Hopefully, we can all learn from this week's events and the student, who has obvious gifts, will not feel at all discouraged from pursuing his talent in electronics and engineering."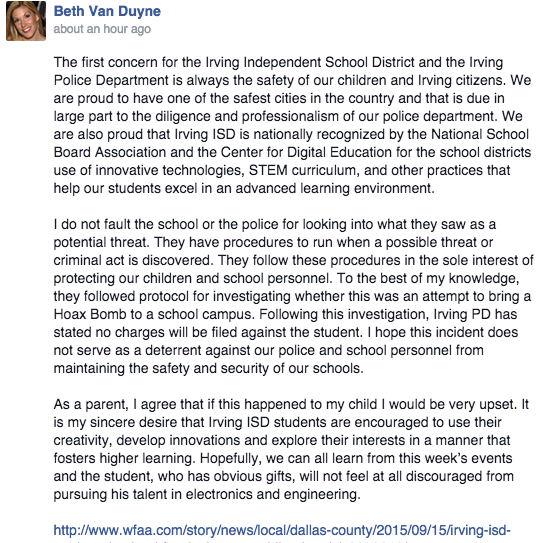 Irving City Councilman David Palmer said last Tuesday he was taken aback by the school's reaction to Mohamed's invention.
"I'm just surprised that it got to the point of someone being taken to jail over this," he told BuzzFeed News.
Mohamed's arrest and suspension has caught national attention as the family began to tweet last Wednesday under the handle @IStandWithAhmed. President Obama and US Presidential Candidate Hillary Clinton have both responded to news about Mohamed's arrest and suspension.
Facebook CEO Mark Zuckerberg also stood by Ahmed, and invited him to visit the company.
At the end of the MSNBC interview last Wednesday night, Hayes brought on Massachusetts Institute of Technology astrophysicist Chanda Prescod-Weinstein. According to Hayes, MIT is Mohamed's dream school.
Prescod-Weinstein told Mohamed she considered him an "ideal student."
"A creative, independent thinker like you is the kind of person who should be becoming a physicist," she said, before inviting him for a tour of the institute.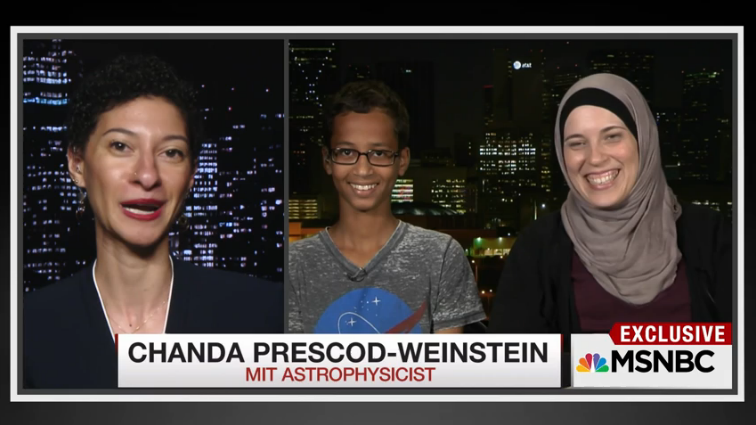 Irving Independent School District spokesperson Lesley Weaver would not discuss details of the case to media last Wednesday but defended the school explaining that it took necessary safety protocols.
"If something is out of the ordinary, the information should be reported immediately to a school administrator and/or the police so it can be addressed right away," she said. "We will always take necessary precautions to protect our students and keep our school community as safe as possible."