Texas Sen. Ted Cruz said Wednesday he did not like a pornographic video from his official Twitter account, instead blaming an unidentified staffer for the action and calling it "a screw up."
Cruz told CNN's Dana Bash he had no intention of publicly identifying the staffer who liked the porn tweet, saying his office was dealing with it internally.
"I'm not going to out the fella," Cruz said. "We have dealt with it internally, but I'm not going to throw anybody under the bus."
Asked if he could say outright that it was not Cruz himself that liked the tweet, the senator said: "It was not me, and it's not going to happen again."
His response came after people on Twitter noticed Monday night that the most recent like on Cruz's feed was of a pornographic video.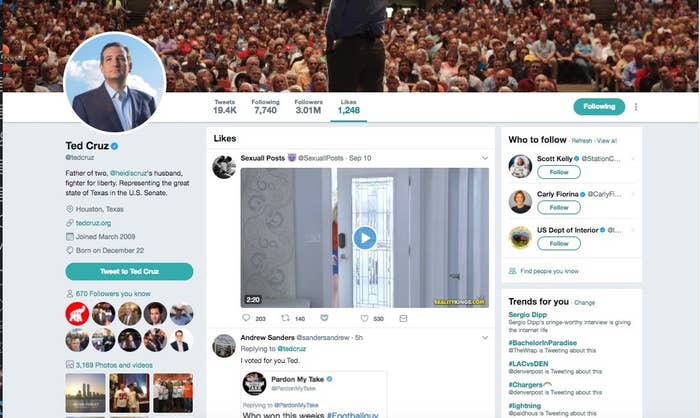 Within a few hours, the Sexuall Posts tweet had been unliked. Early Tuesday morning, Cruz's senior communications adviser, Catherine Frazier, posted that "the offensive tweet posted on @tedcruz account earlier has been removed by staff and reported to Twitter."
He went on to say it was a "staffing issue" and that his team is "dealing with it internally."
The internet quickly took notice, and expressed shock that the conservative Republican from Texas — or someone with access to his official campaign Twitter account — had apparently been watching, and liking, porn.
Some people speculated that Cruz had forgotten which account he was using.
Others suggested the account may have been hacked.
Or that it was the work of a soon-to-be-fired intern.
Zach Braff chimed in that he'd blame a "rogue staffer."
"Please don't make me think about Ted Cruz's taste in porn."
Some people thought it was super gross.
Other people thought it was cool...
And said they'd be voting for him in 2020.
The porn quickly became its own meme.
Even Cruz's former college roommate chimed in.
And there were lots and lots of jokes...
Hey, at least the "Sexuall Posts" account was having a good night.