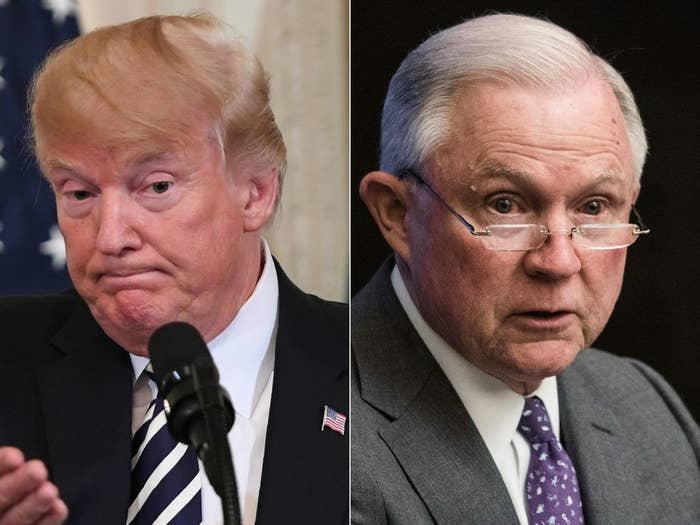 President Donald Trump accused Bob Woodward of "making up stories" in a tweet Wednesday morning, in his latest attack on the Washington Post journalist's upcoming book about the Trump White House.

It follows a tweet posted late Tuesday night in which he denied calling Attorney General Jeff Sessions "mentally retarded" and "a dumb southerner", pushing back against reported excerpts from the book.

"The already discredited Woodward book, so many lies and phony sources, has me calling Jeff Sessions 'mentally retarded' and 'a dumb southerner,'" the president tweeted. "I said NEITHER, never used those terms on anyone, including Jeff, and being a southerner is a GREAT thing. He made this up to divide!"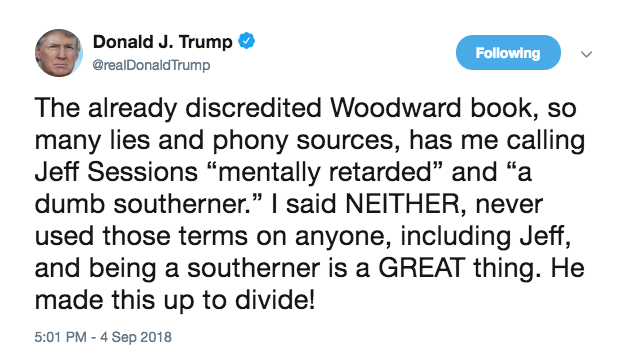 Woodward's book, Fear: Trump in the White House, chronicles a chaotic White House and questions how long senior staff can hold on. Excerpts were published Tuesday by the Washington Post, where Woodward is an associate editor, along with a transcript from an 11-minute phone call between the author and Trump.

According to the Post, the book depicts an unhinged president whose aides and cabinet appointees desperately try to control him, with members of the administration even resorting to stealing papers off Trump's desk and the defense secretary ignoring direct orders from the commander in chief.

In the excerpt whose contents Trump denied Tuesday night, the president reportedly told then-White House aide Rob Porter that Sessions was a "traitor" for recusing himself from the investigation into Russian election meddling, and then, using a mock Southern accent, added, "this guy is mentally retarded. He's this dumb Southerner. . . . He couldn't even be a one-person country lawyer down in Alabama."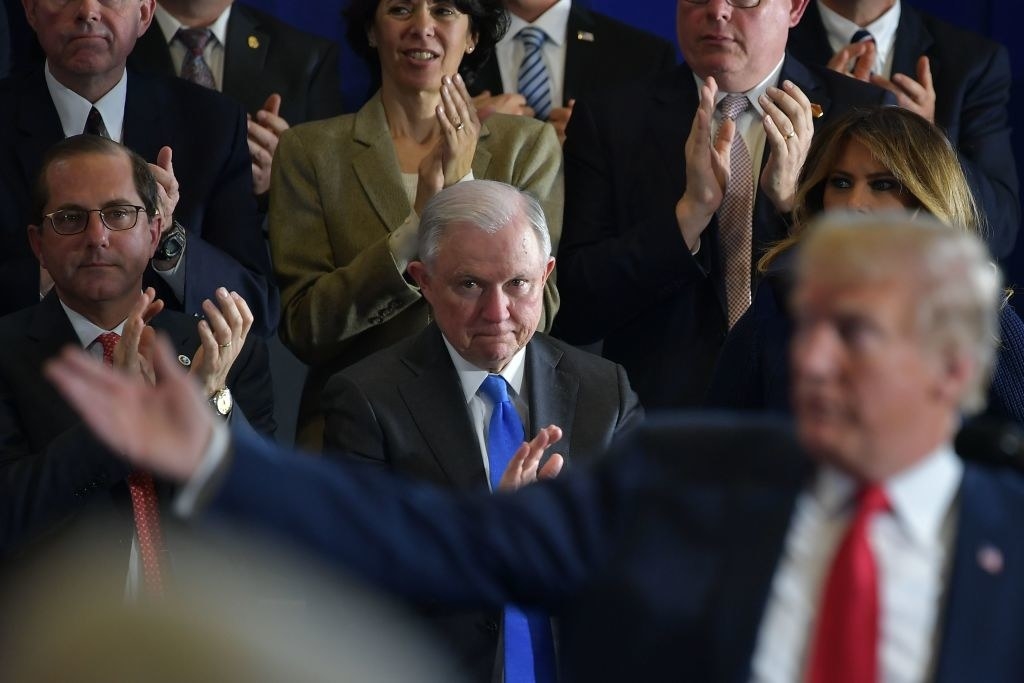 White House press secretary Sarah Sanders released a more extended criticism of Woodward's reporting earlier Tuesday, calling the upcoming book "nothing more than fabricated stories, many by former disgruntled employees, told to make the President look bad."

Other administration officials cited in excerpts of the book have also issued statements claiming that Woodward's reporting of them was inaccurate.
"The contemptuous words about the President attributed to me in Woodward's book were never uttered by me or in my presence," Defense Secretary Jim Mattis said in a statement issued by the Pentagon. "While I generally enjoy reading fiction, this is a uniquely Washington brand of literature, and his anonymous sources do not lend credibility."
In his book, Woodward reports that, following a chemical attack launched by forces loyal to Syrian President Bashar al-Assad in 2017, Mattis dismissed Trump's orders after the president said, "Let's fucking kill him! Let's go in. Let's kill the fucking lot of them." According to an excerpt, Mattis told the president he would look into it, but after hanging up the phone with Trump, told an aide, "We're not going to do any of that. We're going to be much more measured."
"In serving in this administration, the idea that I would show contempt for the elected Commander-in-Chief, President Trump, or tolerate disrespect to the office of the President from within our Department of Defense, is a product of someone's rich imagination," Mattis said Tuesday.

White House Chief of Staff John Kelly similarly released a statement denying he ever called the president an "idiot," as reported in Woodward's book. And Trump's former personal attorney, John Dowd — who Woodward reported advised Trump not to testify for special counsel Robert Mueller in the Russia investigation — also pushed back against some of the quotes attributed to him.
"I have not read Bob Woodward's book, which appears to be the most recent in an endless cycle of accusations and misrepresentations based on anonymous statements from unknown malcontents," Dowd said in a statement, according to the Washington Examiner.
Trump tweeted both Mattis and Kelly's denials Tuesday, adding that the quotes attributed to them were "made up frauds, a con on the public." He also questioned whether Woodward is a "Dem operative."