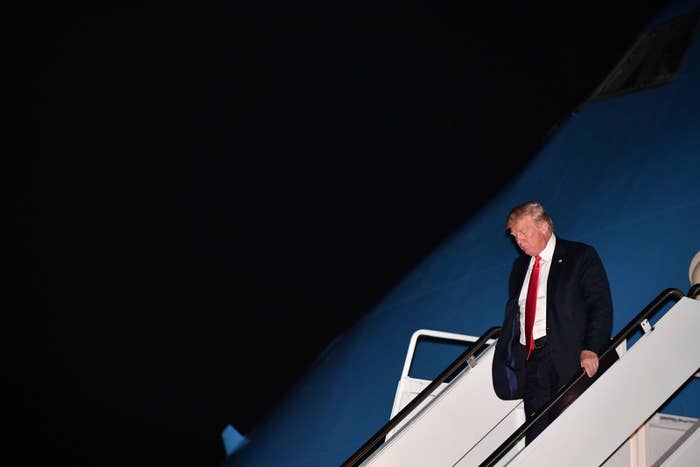 Another damaging forthcoming book is riling up the White House, but this time it's from a renowned journalist whom the president has previously sided with, making it harder for the administration to knock aside.
New excerpts from Bob Woodward's upcoming book, Fear: Trump in the White House, detail chaos — to an extent that has not previously been reported — inside the White House, and are again raising questions about how much longer senior Trump staffers can hang on.
In addition to excerpts from the book, the Washington Post, where Woodward is an associate editor, also released audio and transcript of a 11-minute call from President Donald Trump, asking Woodward why he was not interviewed for the book. Former White House officials and those close to the administration told BuzzFeed News that that conversation in some ways is even more revealing of the way Trump works and how he views his staff.
Trump's comments during the call with Woodward show how he views certain White House aides: certain staffers, he says, are "afraid of him"; he seemingly chides top aide Kellyanne Conway for not passing along the interview request to him; and he says that contacting his executive assistant — bypassing other senior staffers — is the best way to reach him. "Madeleine is the key. She's the secret," he says on the call. He also says he doesn't "speak" to principal deputy press secretary Raj Shah, who has frequently briefed the press from the podium and in gaggles on the president's behalf.
"The transcript that was released does a better job of proving the main thesis of the book than anything else," said one former White House official. "It's a total clown car."
The same official also said other book excerpts have to make it harder for chief of staff John Kelly to stay in his role, despite the agreement between him and the president that he would continue as chief of staff until 2020.
In the book, Woodward writes that Kelly told other aides of Trump: "He's an idiot. It's pointless to try to convince him of anything. He's gone off the rails. We're in Crazytown. I don't even know why any of us are here."
"I don't know how Gen. Kelly can stay as Trump's chief of staff after his comments in the book," the official said. "Just from his comment alone, it's obvious he doesn't like the president and thinks he's a child, so why stay and work for someone like that? I know he views himself as a transcendent figure who is working to stop Trump from his worst impulses, but when you look at the results he's been completely ineffective at that as well."
Another former White House official said Trump loyalists, who have been frustrated with Kelly for a while, are going to use the book as ammunition for his firing. "People are going to start calling for Kelly's head."
The official also said that Woodward's credibility along with the White House's understaffed communications team make it hard for the administration to push back. Some, like former White House staff secretary Rob Porter, who left after domestic abuse allegations, are even quoted on the record. "Woodward's done a good job of staying as an even-keeled journalist. From a communications perspective, they are totally unprepared for something like this," the official said.
Woodward's book comes out Sept. 11. The author — best known for his reporting that uncovered the Watergate scandal during the Nixon administration — has written revealing books about previous presidents from both parties.
Four hours after the Washington Post first published a story with excerpts from the book, White House press secretary Sarah Sanders released a statement calling the book "nothing more than fabricated stories, many by former disgruntled employees, told to make the President look bad."
"While it is not always pretty, and rare that the press actually covers it, President Trump has broken through the bureaucratic process to deliver unprecedented successes for the American people," Sanders said in the statement. "Sometimes it is unconventional, but he always gets results. Democrats and their allies in the media understand the President's policies are working and with success like this, no one can beat him in 2020 — not even close."
Sanders included a list of Trump's accomplishments. And Kelly released a separate statement denying he ever called the president an "idiot."
Trump also tweeted Kelly's statement before weighing in himself on Twitter, saying the quotes were "made up frauds, a con on the public."
Trump, in an interview with the Daily Caller Tuesday afternoon, also said "it's just another bad book," and that Woodward has "a lot of credibility problems."

In a late-night tweet Tuesday, Trump also disputed specific details in Woodward's book, including reports that he had called Attorney General Jeff Sessions "mentally retarded" and "a dumb southerner."
"I said NEITHER, never used those terms on anyone, including Jeff, and being a southerner is a GREAT thing," he wrote.
Trump, though, has been unusually supportive of Woodward's work on several occasions in the past, tweeting his columns and interviews and attacking those who have attacked him.

Despite Kelly's denial, repeated speculation about whether or not Kelly called the president an idiot remains problematic, said a source close to the White House. "I think Kelly has thoroughly embarrassed himself," the source said, adding that if Kelly doesn't jump, "his work life is going to unbearable in the aftermath of this."

The source also said that the book "illustrates what we've known all along." "The White House is full of people who believe it's their duty to protect the country from the man they elected," the source said. "They think they should be running the country and because of that they put the president in unwinnable situations such as this."
Trump tweeted multiple times about previous damaging books, like Michael Wolff's Fire and Fury and more recently the tell-all from his former aide Omarosa Manigualt Newman. But given Woodward's credibility, attacking him might be harder. In the call with Woodward, Trump claims that he never heard about interview requests from the journalist, but would have liked to talk to him.
"It's really too bad, because nobody told me about it, and I would've loved to have spoken to you," Trump says on the call. "You know, I'm very open to you. I think you've always been fair. We'll see what happens."
After the publication of excerpts in various news outlets, some close to the White House ramped up their defense of the president, suggesting that another damaging book would not change the administration's economic and other policy accomplishments.
A top Trump ally, Rudy Giuliani, the president's outside counsel, went a step further in a CNBC interview in response to critical comments from Kelly and others like Defense Secretary James Mattis, who Woodward reports told colleagues that "the president acted like — and had the understanding — of a 'fifth or sixth grader.'"
"If they said it, they should be questioning why they are there," Giuliani said in the interview. "Why don't they go get another job? That's the kind of disloyalty that leads to you leaving, not staying and undermining the president."