Russia Tells IOC Anti-LGBT "Propaganda" Law Isn't Discriminatory Because It Affects Everyone
The IOC received what it called "strong written reassurances" nobody at the Sochi Olympics would face discrimination, despite Russia's refusal to back down on its anti-LGBT law.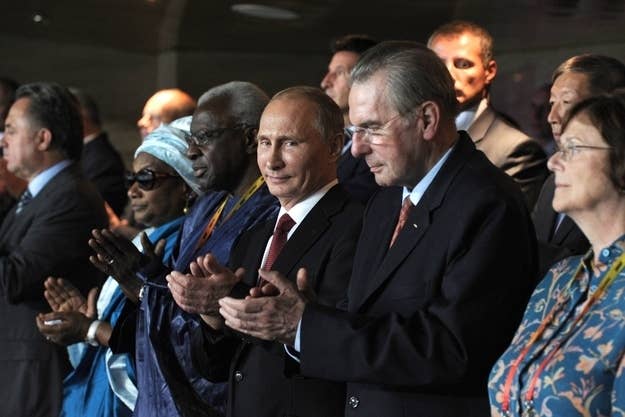 Russia told the International Olympic Committee Thursday it would comply with the Olympic Charter's anti-discrimination provision and insisted that its controversial ban on "promoting non-traditional sexual relations to minors" did not violate it.
Dmitry Kozak, Russia's deputy prime minister responsible for planning the Sochi Olympics, wrote in a letter that "the Russian Federation guarantees the fulfillment of its obligations before the International Olympic Committee in its entirety," the Associated Press reported.
"Russia has committed itself to comply strictly with the provisions of the Olympic Charter and its fundamental principles, according to item 6 of which 'any form of discrimination with regard to a country or a person on grounds of race, religion, politics, gender or otherwise is incompatible with belonging to the Olympic Movement,'" Kozak wrote.
Kozak was responding to an IOC request for "clarification" over the law.
The IOC published a statement from its president, Jacques Rogge, indicating it was satisfied with the letter, which it described as "strong."
"The IOC is clear that sport is a human right and should be available to all regardless of race, sex or sexual orientation. The Games themselves should be open to all, free of discrimination, and that applies to spectators, officials, media and of course athletes. We would oppose in the strongest terms any move that would jeopardize this principle," it added.
Kozak also made a robust defense of the anti-LGBT law — which essentially forbids any public professions of homosexuality — that went unmentioned by the IOC but was reported by the AP.
Kozak argued that the law was not discriminatory because it prevented people of all orientations from distributing information to children implying LGBT relationships are acceptable.
"These legislations apply equally to all persons, irrespective of their race, religion, gender, or sexual orientation, and cannot be regarded as discrimination based on sexual orientation," Kozak wrote.
"These requirements do not attract any limitations for participants and spectators of the Olympic Winter Games in Sochi on their legal right of residence in the territory of the Russian Federation or participation in any events stipulated in the Games program that are contradictory to the Olympic Charter or universally recognized standards of international law on human rights," he added.
Kozak did not address whether athletes or spectators who fell foul of the law would be prosecuted. An IOC spokesman told BuzzFeed in early August, however, that Kozak had assured them "that this law will not affect athletes, officials, spectators at the Games" and that "they might even suspend the law during the Games," despite Mutko's comments.
Days later, Kozak said that "there will be no diminishing of rights based on sexual orientation at the Olympics, neither before nor after."
"No one should have any concerns whatsoever. People can get on with their private lives, and spread their respective advantages and attraction among adults. The main thing is that this doesn't touch children," he added.
Seemingly unprepared for the international backlash against the law in the run-up to February's games, Russia has issued a number of contradictory statements about whether the law would be enforced. Sports minister Vitaly Mutko and the Interior Ministry, which controls the police, have insisted it will be upheld.
Separately from Russia's law, athletes who engage in "rainbow displays" — like Swedish high jumper Emma Green-Tregaro's rainbow-colored nails — to support the LGBT community are also liable under the IOC's Rule 50, which bans "political, religious or racial propaganda" as well as "advertising or other publicity." The IOC has not clarified whether these displays would be punishable under the rule or protected by Rule 2, which states that "the IOC's role is … to act against any form of discrimination affecting the Olympic Movement."
IOC spokeswoman Emmanuelle Moreau told BuzzFeed Thursday that "Rule 50 has seldom if ever been 'enforced' with a ban, expulsion or similar."
"Our research reveals only twice in the modern era when it has been used. The last was the South Korean footballer who unfurled in London a flag supporting a territorial claim to an island at the end of a match against Japan. The athlete received a warning," she said.
"Again, the IOC will always take a sensible approach when dealing with potential actions and always act on a case-by-case basis. What happens in reality is that we often start by having an informal conversation with the athletes concerned who in most cases understand the spirit of the rule and the reason for having it."
"And of course, when asked, athletes will be free to express themselves at the Games," she added.
Max Seddon is a correspondent for BuzzFeed World based in Berlin. He has reported from Russia, Ukraine, Azerbaijan and across the ex-Soviet Union and Europe. His secure PGP fingerprint is 6642 80FB 4059 E3F7 BEBE 94A5 242A E424 92E0 7B71

Contact Max Seddon at max.seddon@buzzfeed.com.

Got a confidential tip? Submit it here.