Mayor Of Sochi's Olympic Village Defends Russia's Anti-LGBT Law
"I just think they shouldn't show a cartoon on TV ... where a king loves another king," Svetlana Zhurova says.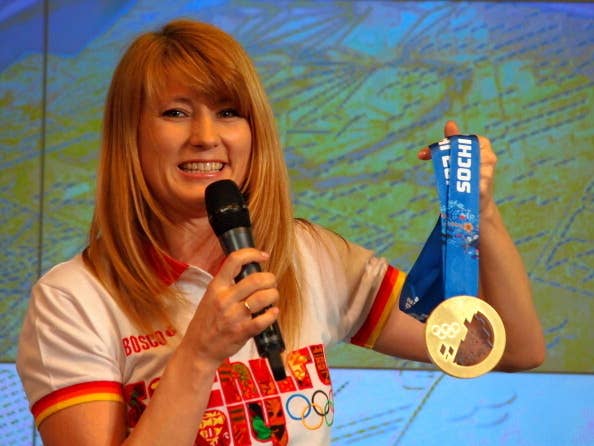 A "mayor" of the Sochi Olympic Village has defended Russia's law against "gay propaganda" ahead of the Winter Games next month.
Svetlana Zhurova, a gold medal-winning speed skater and lawmaker in the Russian parliament who voted for the bill last June, said in an interview on the independent Russian TV channel Dozhd that she "voted to stop people promoting it to minors."
Zhurova claimed that many European politicians who oppose the law had told her in private that they actually supported it and that Russian celebrities who support the law had been told by their sponsors to stay quiet. She added, "I just think they shouldn't show a cartoon on TV — excuse me, I have two boys — where a king loves another king." She went on to tell a "joke" about the law: "If someone says he's Napoleon, he'll be taken straight to the appropriate institution. If he says he's a woman, then basically nothing happens to him, he's fighting for his rights."
The law essentially prevents any public discussion of same-sex relationships, other than condemnation. President Vladimir Putin has said the language of the bill, which bans "promoting non-traditional relationships to minors" (earlier drafts said "homosexual propaganda"), is not discriminatory.
Zhurova was named "mayor" of Sochi's mountain Olympic Village, which will hold events like skiing. Previously, pole vaulter Yelena Isinbayeva, "mayor" of the games' sea-level Olympic Village, which hosts stadium sports, caused controversy by defending the law.
Correction: Svetlana Zhurova is an Olympic gold medalist speed skater. An earlier version of this article misidentified her as a figure skater.
Max Seddon is a correspondent for BuzzFeed World based in Berlin. He has reported from Russia, Ukraine, Azerbaijan and across the ex-Soviet Union and Europe. His secure PGP fingerprint is 6642 80FB 4059 E3F7 BEBE 94A5 242A E424 92E0 7B71

Contact Max Seddon at max.seddon@buzzfeed.com.

Got a confidential tip? Submit it here.