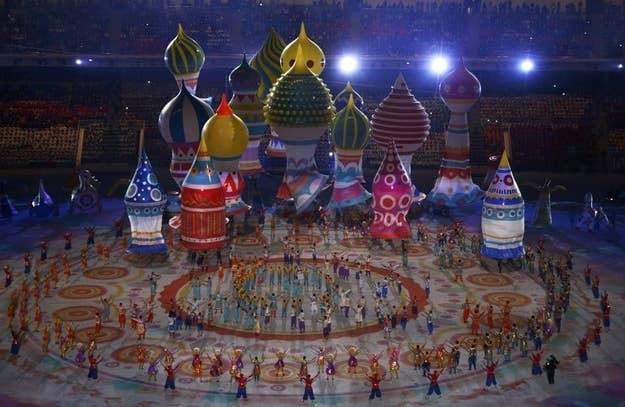 When the fifth Olympic ring failed to unfurl at the Sochi Winter Games' opening ceremony on Friday like a crumpled, stillborn star, it seemed a physical manifestation of the embarrassments that plagued Russia throughout the run-up — the unfinished sites, terrorism fears, and unjustifiable costs; the crackdown on LGBT rights, political opposition, and the free media. A designer tweeted a mockup of the failed ring as an asterisk leading to a footnote: "We didn't steal it, we just didn't manage to build it on time." State TV sheepishly cut to a shot from a rehearsal.
Despite the hitch, however, the ceremony was a delightful embodiment redolent of the rich history, cultural depth, and boundless, madcap charm that have always enticed foreigners to Russia. The show's director, state TV impresario Konstantin Ernst, said he wanted to show the world an "expression of love for our homeland" on behalf of "real Russians, untainted by decades of propaganda and the Cold War."
That, judging by the ceremony, meant a Russia that was unabashedly European. The only Russian leader to make an appearance was its great modernizer, Peter the Great, who was shown storming across the sea to found St. Petersburg, Russia's first consciously European city. Dancers from the Bolshoi Theater acted out the ballroom scene from War and Peace. Russia's modernist art scene, arguably the most advanced in the world before it was quashed by Stalin's socialist realism, featured heavily, too, with names like Chagall and Eistenstein prominent in the run-through of the Cyrillic alphabet and the early Soviet period an homage to the Suprematism of Kazimir Malevich.
Like so many of the best Russian exports, it was often impenetrably quirky too. A bizarre dreamlike sequence among cupolas in psychedelic colors ended with a girl ascending into the sky clinging to a balloon. Giant and terrifying mascots lumbered across the stage, including an apparently stoned bear. Nods to famous Russians like Dmitry Mendeleev, inventor of the periodic table of elements, and helicopter designer Igor Sikorsky were accompanied by wilfully obscure references to Soviet children's' books and stilyagi, the short-lived hipster movement that sprung up after Stalin's death in 1953.
By celebrating the Russia we know and love, however, the ceremony also reminded us of how often Putin's Russia falls short of that ideal. Its aesthetic and apolitical tour through Russia's past, especially its tactful elision of World War II, came as a great relief given how aggressively the Kremlin uses its monochromatic interpretation of history as a nationalist wedge. Its European bent was a stark contrast from Russia's hostile tone towards the West, which Russian officials seeking to redefine Russia as a bulwark of conservative values routinely accuse of fomenting unrest and forcibly introducing gay marriage in the post-Soviet sphere.
And, in the end, Ernst's impeccable style could only do so much when Russia's substance is determined elsewhere. The Olympic Charter limited Putin to a single sentence of boilerplate comments, but the ceremony's finale undoubtedly bore his stamp. Olympic flag-bearers included Russia's two most rabidly pro-Putin cultural figures, film director Nikita Mikhalkov and conductor Valery Gergiev, as well as a state TV reporter, Anastasia Popova, known for her favorable coverage of Syrian president Bashar al-Assad. Four of the athletes who carried the Olympic flame are also lawmakers who voted to ban "gay propaganda" and adoptions of Russian orphans by Americans, Putin's signature brazen anti-Western moves since returning as president in 2012.
These are Putin's Games: The Russia Sochi will present to the world is ultimately up to him. Signs until Friday night had not been promising. On Wednesday, his spokesman Dmitry Peskov recalled a recent conversation with a "wise man" (it's not hard to guess who) about Russia's struggles with its international image.
"'Do you know,'" Peskov recalled him saying, "'when everyone will love us and stop criticizing us and so on, including criticizing us for no reason? 'When?' I asked. And he said, "When we disband our army, grant them access to all our natural resources, and sell all our land to Western investors - that's when they'll stop criticizing us.' But that'll never happen," Puskov drolly added.
Peskov declared Saturday that Putin was so delighted with the opening ceremony that he had "no quibbles" to make. That's a fairly ominous approval, sure — but a sign he knows, on some level, that there's still so much about Russia that the rest of the world loves just as much, too. Let's hope he doesn't forget that.