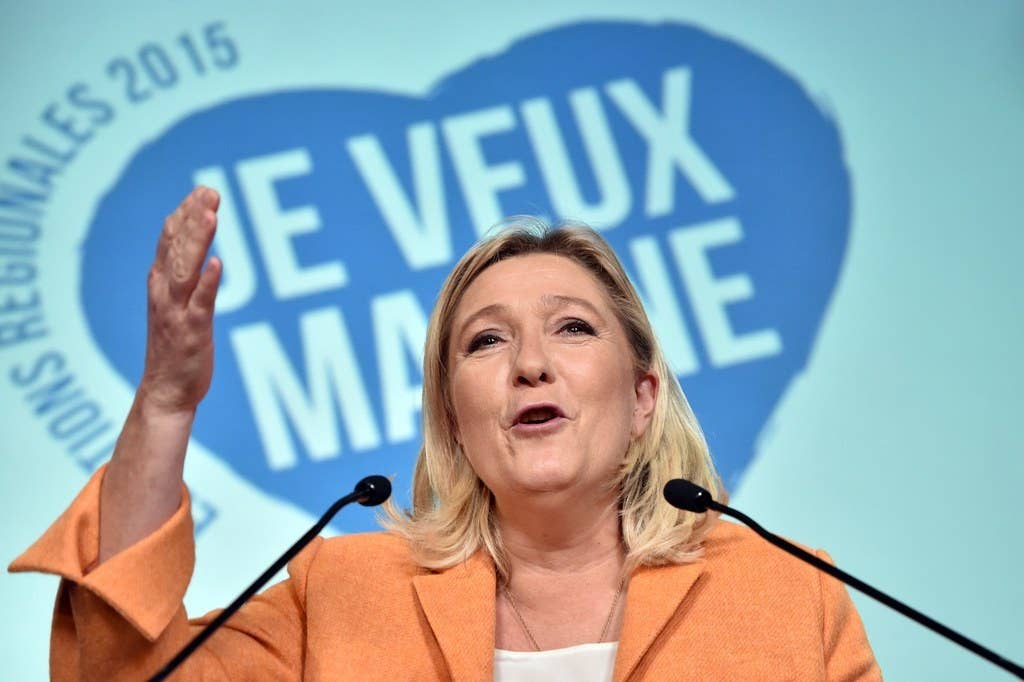 HÉNIN-BEAUMONT, France — There were two moments that changed Maeva Campergue's life. The first came in July 2009, when the journalism student from this small suburban town in northern France suffered several brain hemorrhages in a horse-riding accident that put her in a coma for two months, partly paralyzed the left side of her body, and left her with cognitive disabilities that prevented her from working.
The second happened years later, when she wrote to Marine Le Pen, leader of the far-right National Front party, about her frustration at losing her benefits over a technicality. Campergue's earlier appeals to French officialdom had fallen on deaf ears; Le Pen wrote a sympathetic reply, then met with her on her next trip to the region, and vowed to help.
"She was the only person who ever paid any attention to me," Campergue said on a recent afternoon. "The left, the right — none of them ever do anything."

People like Campergue, 26, a fresh-faced, smartly dressed married mother of one, are hardly the traditional support base for the National Front in France's dour northeastern rust belt, a former socialist stronghold where train stations have Soviet-style murals celebrating the steel, textile, and coal-mining industries that once dominated the area. In recent years, however, the party has become a major player in the Nord-Pas de Calais region, where it leads in polls for regional elections set for next month, after seizing on tension over declining living standards, immigration, and radical Islam. National Front candidates are also eyeing victory in the east, where Le Pen's deputy Florian Philippot heads the slate, and the south, where her 25-year-old niece Marion Maréchal-Le Pen has a clear lead in the polls.

The terrorist attacks in Paris this month have provided electoral fodder for the National Front, which has long advocated for stronger border controls and an end to mass immigration. Mainstream politicians are rushing to adopt many hardline positions the party has held for years, like a crackdown on Islamist preachers and tighter security measures. To many confronting the new reality of a France "at war," as its president says, with radical Islam at home and abroad, the National Front seems all the less fringe and all the more prescient. And a Le Pen presidency, once an unthinkable prospect, now seems entirely likely. (It is already the subject of a graphic novel.)
A recent Ifop poll put her in the lead in Nord-Pas de Calais with 36.5%; with 30% of voters, the National Front has the most support of any party going into the regional election, according to Opinionway. Most polls give Le Pen enough support to make it to the second round of a presidential election in 2017.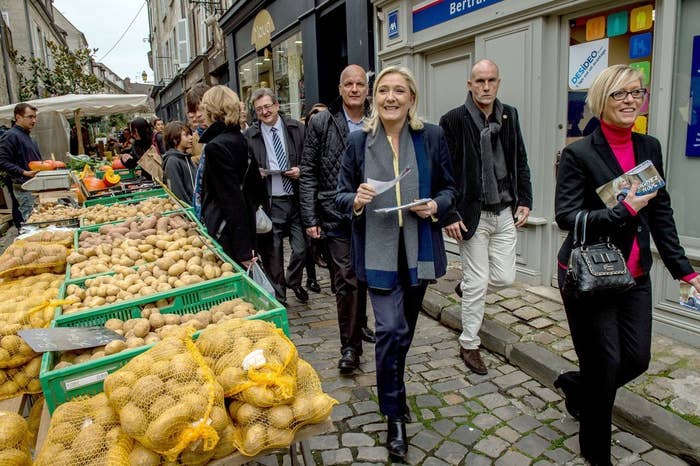 Le Pen's rise in Nord-Pas de Calais owes itself at least as much to her success in moderating the party's rhetoric and building a broader social movement as it does to her appeals to fringe sentiment. She expelled the party's founder, her 87-year-old father Jean-Marie, in August for referring to the Nazi gas chambers as a "detail of history." Her campaign leans heavily on the left-wing rhetoric of the social safety net. Earlier this month, she told a rally in Watterlos, a town on the French–Belgian border with 18% unemployment, that she was "committed to making the region take the place of the state [...] a protective region that also takes care of the neediest."
Hénin-Beaumont, one of 12 cities in France with a National Front mayor, is casting itself as a "laboratory" for the party's rule with a focus on small-ball quality of life issues. Christopher Szczurek, an aide to the town's mayor, said the party's priorities are "common sense reforms" like ceasing funding for a school in Hénin-Beaumont's Senegalese twin and "cultish" groups helping migrants in the infamous "Jungle" camp in Calais. "We want the region and the locals to be our priority," he said. "We think that we could use the money to help our citizens better." That fiduciary message resonates particularly strongly in Hénin-Beaumont, whose previous mayor, leftist Gérard Dalongeville, was convicted of embezzling public money in 2013. Current mayor Steeve Briois casts himself as tough on crime, even though France's federal structure means he is able to do little other than promise to install a vast network of CCTV cameras, a favorite National Front talking point.

The gap between rhetoric and the party's ability to act is tangible in Hénin Beaumont. Last year, a well-to-do part of town suffered a spate of violent home invasions that the town's stretched police force was unable to prevent before the burglars drove off. In response, Briois built a tiny concrete barricade just a few feet high that blocks the exit to the nearby highway. The move was widely derided — French media took to calling it a "wall of shame" — and forced some residents to take miles-long detours to work. Szczurek, however, is proud of the measure, which he says most locals support. "There has not been one robbery since," he said.
Party leaders admit the election is more important as a bellwether of public support in the runup to the presidential vote than as a platform for the National Front's flagship policies. "Picardy can't leave Schengen," said Gaetan Dussausaye, leader of the party's youth wing, referring to a northern French region and the European Union's border-free zone. "We can't renegotiate France's EU treaty just for the region," he said. The party has also proved adept at varying its message depending on local sentiment. In the south, where tensions over migration run higher, Maréchal-Le Pen's talk on "Islamism" has earned her more comparisons to Jean-Marie than Marine.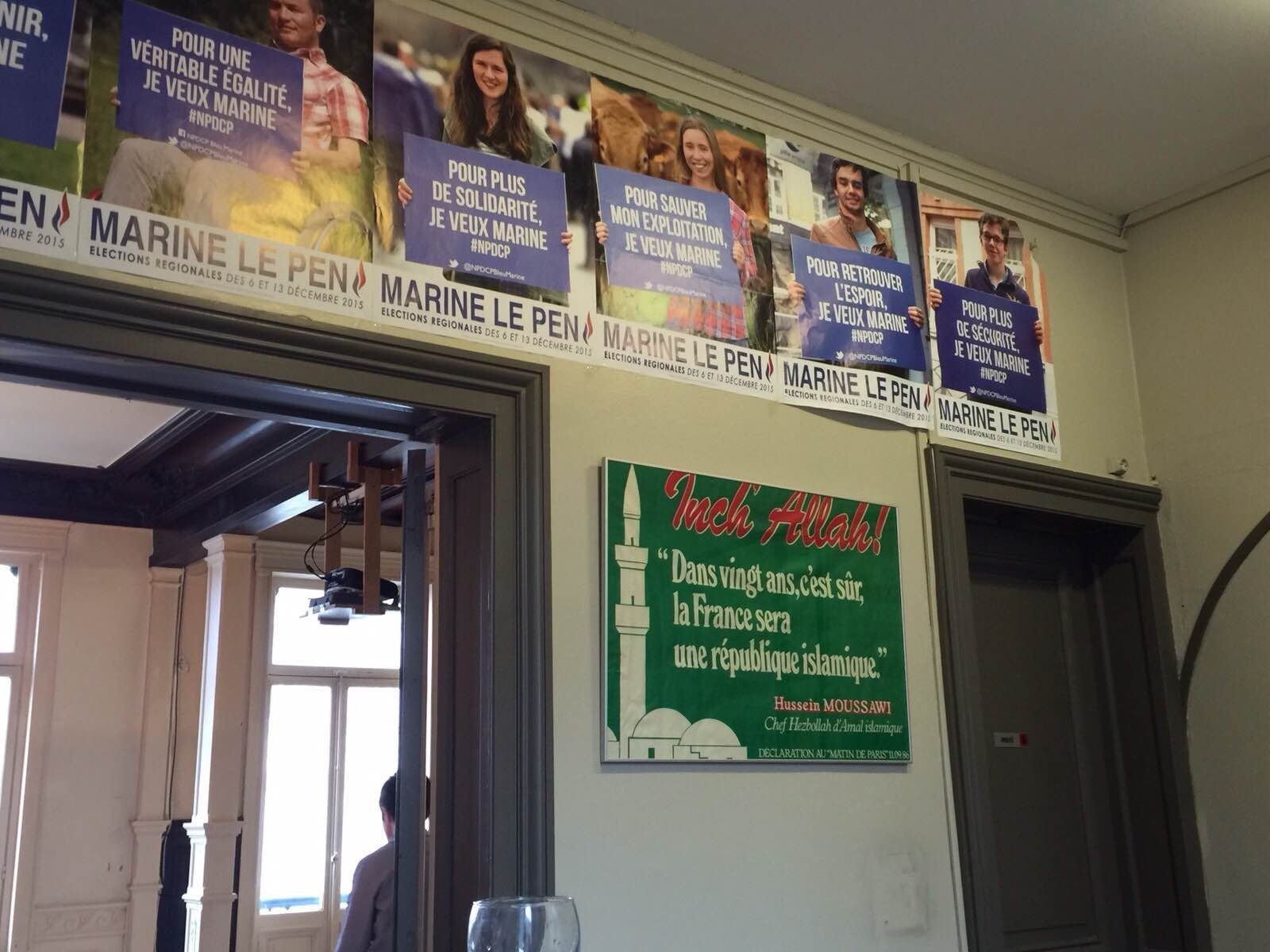 Nonetheless, the party's push for more welfare has an obvious subtext — that immigrants are profiting from the state's largesse at locals' expense. "I'm not against taking a few, but we need to help the French in France too," said Campergue. "It's a bit selfish. Why are they the only ones who deserve support?" Guillaume Kaznowski, a councillor in the nearby town of Liévin, drew an implicit link between the National Front's class-based politics and its stance against radical Islam. "The people who were terrorists [in the Paris attacks] belonged to the middle class; they are not from the cités," he said, referring to the derelict suburban housing blocks mostly home to minorities. A few days before the attacks this month, Le Pen promised to "denounce and eradicate all bacterial immigration" in the region — a comment with obvious racial overtones. (She later played down the remark as a comment on hygienic conditions in the Calais refugee camp.)

The party insists that it welcomes Muslims so long as they accept French values. National Front posters contrast a smiling woman with a French flag painted on her face with a figure in a burqa, a choice it paints as between "freedom and oppression." Party treasurer Wallerand de Saint Just, who is running for election in Paris, wants to integrate French Muslims on the model of the Consistoire, a government organization that managed Jewish religious affairs under Napoleon in the 19th century. "Napoleon said, 'You are French like any other people, but you need to organize and I need officials to talk to you,'" Saint Just explained. "Now we need to do the same with Muslims."
The National Front says that message is beginning to resonate with some French Muslims. At a recent training day for activists at the party's office in a Victorian terraced house in the regional center of Lille, Ameline Shah, 24, a half-Bangladeshi woman from a Muslim family, discussed the role of radical Islam in the Paris attacks with a dozen young, composed, white activists as they ate a ham-and-cheese filo pastry with the name "MARINE" carved into the dough. "I joined a few months ago, after the refugee crisis," said Shah, who left a party run by far-left firebrand Jean-Luc Mélenchon after he called for opening France's borders and giving refugees French citizenship. "It's not possible," she said. "The Front National is the only party to be pragmatic enough on this."