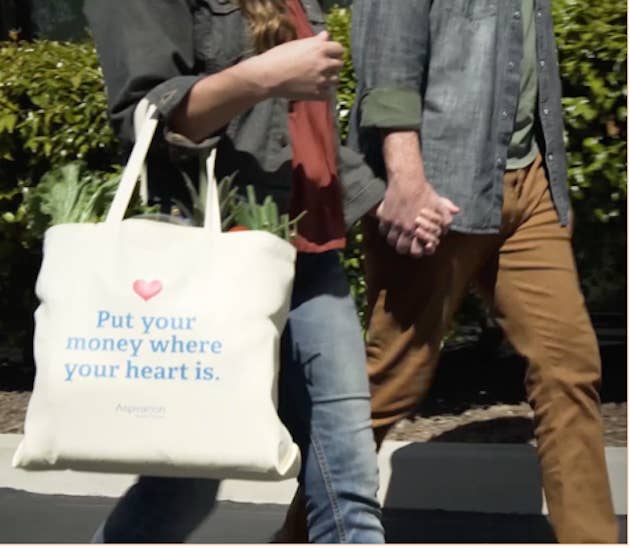 The phrase, "Put your money where your heart is," is subject of a conflict between Aspiration, a startup banking and money management company that emphasizes socially conscious investing, and Wells Fargo, the $276 billion megabank that has admitted to setting up fake accounts in customers names — among other misdeeds — and whose executives have found themselves frequently in front of a Congress to explain themselves.

In a letter sent today, Aspiration's chief compliance officer Mazi Bahadori asked Wells Fargo to cease using the phrase "Put your money where your heart is," which Aspiration had trademarked in 2015 and continues to use. Wells Fargo has been using the line to promote its financial advisory and investment services, specifically social impact investing.

A Wells Fargo spokesperson declined to comment on Friday.

Aspiration distinguishes itself by letting customers choose what they pay in fees. "We don't make a cent from you other than what you choose to pay," the company says on its website, "and then we hold down, negotiate down, and subsidize any expenses or fees to third-parties."
As part of its "We put our money where our heart is" promise, Aspiration says, "We donate a dime out of every dollar our company earns to successful charities focused on bringing economic opportunity to struggling Americans."
Aspiration founder and chief executive Andrei Cherny told BuzzFeed News, "Late last week on Friday, our chief compliance officer was on Facebook just on his own and saw this ad for Wells Fargo, of all people, saying put your money where your heart is. Not only is it something that is our own intellectual property, it could not be more at odds with what Wells Fargo does."
Cherny is a former Clinton White House staffer and who later worked as a prosecutor in Arizona.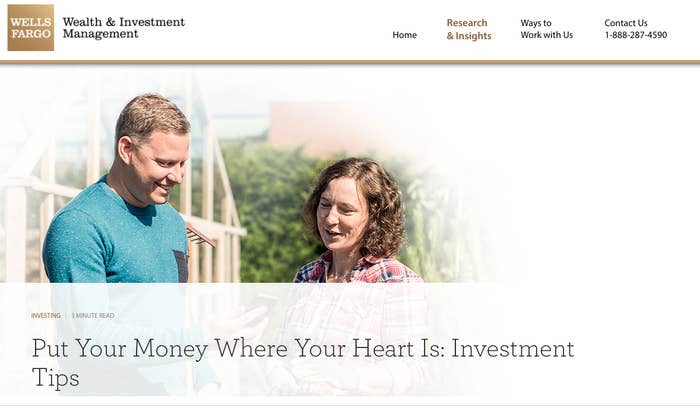 Instead of threatening Wells Fargo with a lawsuit, Bahadori, the chief compliance officer, suggested that the reputationally-tarnished bank donate to Aspiration's Opportunity Fund, a microlending charity that Aspiration puts 10% of its revenue towards.

In his letter — the full text of which appears below — Bahadori told Wells Fargo, "We hope we can settle this matter amicably and without having to file a lawsuit. From what we've recently read in the news, Wells Fargo has enough legal problems already."
Aspiration has been trying to paint itself as the anti-Wells Fargo for much of its brief life. The company sells itself as a "new kind of financial firm — built on trust, focused on the middle class instead of millionaires, and founded on the idea that we can do well and do good at the same time."
The company offers a "pay what you want" retail financial services including two funds — one that is focused on "sustainable" companies, another on "long-term growth with less volatility" — as well as a high-yield checking account with a 1% annual percentage yield (which is unusually high).
The small company, which is based in Marina Del Rey, California and opened to customers in 2015, has made something of a sport of going after Wells Fargo, whose ever-metastasizing phony accounts scandal has turned the bank into the poster child for misbehavior among retail financial giants.
Aspiration circulated the results of a survey it conducted in October that concluded that "Wells Fargo is now the least trusted bank in America." The company also keeps a tally on its website of how many customers it has won over from Wells (right now it's just over 16,000).
Aspiration does not disclose its customer numbers or assets under management, but Cherny told BuzzFeed News that the company is "growing by a few thousand customers a week," and that its high-yield checking account is "one of the fastest growing bank accounts in America."
Here is the letter: