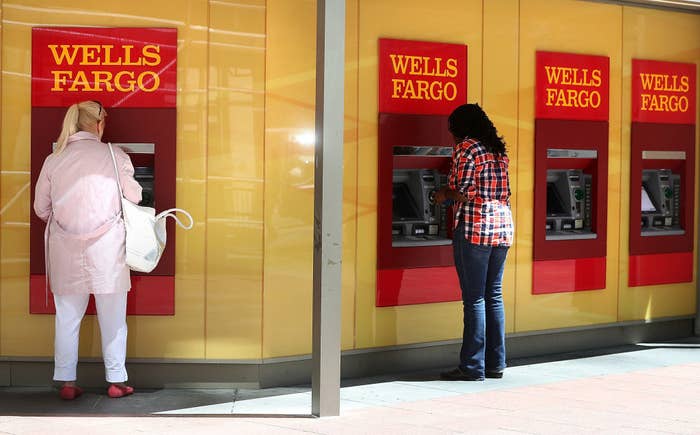 Following an expanded review, Wells Fargo said on Thursday it opened about 3.5 million "potentially unauthorized" accounts — 1.4 million more accounts than the company originally knew of.

The Consumer Financial Protection Bureau fined Wells Fargo $100 million last September for opening unauthorized accounts, while the Office of the Comptroller of the Currency and the city and county of Los Angeles extracted $35 million and $50 million payments respectively.
The company had originally identified 2.1 million "potentially unauthorized accounts" from May 2011 through mid-2015. For years, Wells Fargo employees opened up accounts that customers did not ask for in order to meet aggressive sales targets that were the basis for their pay and promotions. The bank used to trumpet to investors the numbers of products it sold per customer, which would then generate steady streams of fee income. The ensuing uproar led to the departure of several senior executives and thousands of employees, including then-CEO John Stumpf.
In a new review of more than 165 million accounts looking at data from January 2009 through September 2016, Wells Fargo identified more "potentially unauthorized" accounts, and also found 190,000 accounts that had "incurred fees and charges" to customers. The bank said it would refund $2.8 million in addition to the over $3 million it has already given back to customers.
Wells Fargo chief executive Tim Sloan told employees in a message last week that "potentially authorized" accounts refers to "the total number of accounts that a third-party analysis identified as showing patterns that could indicate a lack of authorization."
Sloan said that Wells Fargo would "err on the side of customers" in its review, refunding fees and payments to customers if their accounts "even when the third-party data analysis could not definitively tell us whether an account was authorized by a customer or not."
An additional analysis of online bill pay was also mandated by a consent order the bank entered into in September with the Consumer Financial Protection Bureau. Wells Fargo said on Thursday that it had "potentially" enrolled around 528,000 people into online bill paying services without customer authorization and would refund $910,000 to those affected.
These enrollments happened over nearly eight years and included accounts that had made "one minimal payment" and then was never used again. While it's possible that customers had wanted to make one payment and then just chose to never do it again, Wells Fargo decided to give refunds "for all enrollments the review identified as potentially unauthorized."

"This is the final review related to sales practices in our Community Bank," Jennifer Dunn, a Wells Fargo spokesperson said. "We are looking at other [lines of business] in a comprehensive review of sales practices throughout the company and that we anticipate further information on such matters to come."
"We apologize to everyone who was harmed by unacceptable sales practices that occurred in our retail bank," Tim Sloan, chief executive of Wells Fargo, said in a statement. "To rebuild trust and to build a better Wells Fargo, our first priority is to make things right for our customers, and the completion of this expanded third-party analysis is an important milestone."
UPDATE
This story has been updated with quotes from Jennifer Dunn and Tim Sloan.