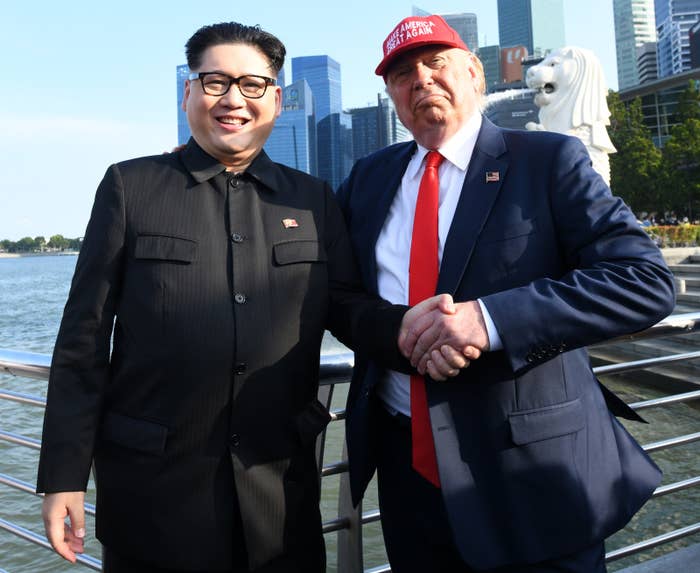 An Australian comedian who impersonates North Korean leader Kim Jong Un says he was detained for hours upon arrival in Singapore, which plays host to a highly anticipated meeting between the real Kim and US President Donald Trump next week.

The impersonator, posting on Facebook under his stage name Howard X, said he was told to stay away from the Kim–Trump summit venue and main hotel.
But he told BuzzFeed News that, if anything, his detention had made him more likely to visit the sites.
Speaking via Skype hours after he was released he said he initially "never had any plans to go to Sentosa," referring to the island off Singapore where the meeting between Trump and Kim is due to take place on Tuesday.
"Now I want to go because they told me not to go."
Howard X, who says he's in his late thirties but declined to tell BuzzFeed News his real name, added that he was "not just a lookalike, I'm a satirist. I see it as my job. I've been given this job; I should speak up for [North Korean] people who don't have a voice. It's satire. We need satire."
Earlier this year Howard X, who also works as a music producer, was dragged away from the Winter Olympics in Pyeongchang, South Korea, when he started dancing in front of North Korea's cheerleading squad. But he said he had never faced issues with being a Kim impersonator until he arrived in Singapore today.

He said there was an official waiting for him at Singapore's Changi airport when he arrived there in the early hours of Friday morning. The official asked him if he was a Kim impersonator, despite Howard X not being dressed as the North Korean leader. "I kind of feel special that they made all the effort," he said.
Howard X says he was held for two hours and asked questions, such as where he lives and what he does for a living.
"They decided to give me a lecture Singaporean style," he said over Skype. "They were very polite and professional. They just went through the usual harassment, checking your bags and asking stupid questions. They asked if I had ever been involved with a demonstration, a protest of any kind or a riot, anywhere in the world.
"I said, 'Yeah, sure!' Then they said, 'Have you ever been involved with [Hong Kong's] Occupy Central?'
"They said, 'Why?' I said, 'Because I believe in freedom of speech.' In China they don't care what other people think. In Singapore they try to put on a show that they're a democracy, which is bullshit."

BuzzFeed News has contacted the Singapore immigration and checkpoints authority for comment.

Upon his release, Howard X met up with Trump impersonator Dennis Alan, who he doesn't believe faced any difficulties arriving in Singapore.