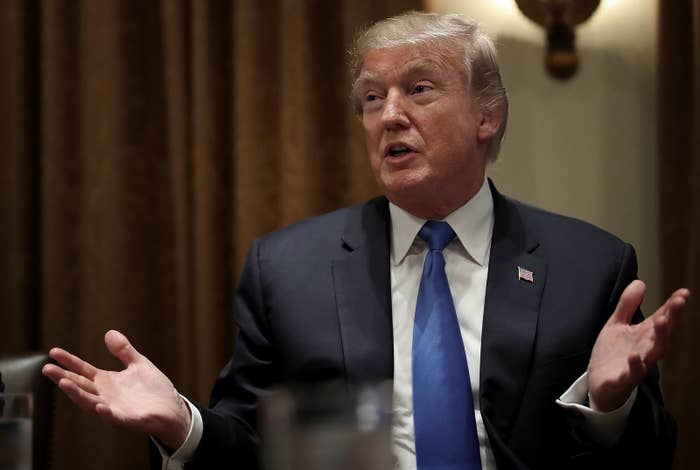 Just a week after Democratic congressional leaders secured a favorable deal with President Trump on the debt ceiling, budget, and disaster relief funding, House Democratic leader Nancy Pelosi and Senate Minority Leader Chuck Schumer said Wednesday they'd gotten something much bigger: an agreement on DREAMers.
Pelosi and Schumer joined Trump and officials from his administration for dinner Wednesday night. Soon after the meal ended, Pelosi and Schumer declared the meeting "very productive" in a joint statement.
"We agreed to enshrine the protections of DACA into law quickly, and to work out a package of border security, excluding the wall, that's acceptable to both sides," the pair said.
Trump said in a series of tweets early Thursday morning that no final deal had been made, something Pelosi and Schumer later backed up in a joint statement. But in laying out why nothing was final, Trump appeared to embrace the broad goals the Democrats outlined Wednesday. Although Pelosi and Schumer had already mentioned that the deal would exclude Trump's proposed border wall but include border security, the president said Thursday there could be no deal without those security reassurances.

And as Trump left the White House Thursday morning for a trip to Florida to survey the damage from Hurricane Irma, he suggested a firm deal along the lines Pelosi and Schumer disclosed was close. "We're working on a plan for DACA," he told reporters.
"Well, we want to get massive border security, and I think that both Nancy Pelosi and Chuck Schumer, I think they agree with it," Trump told reporters. "So we met last night with, as you know, Schumer, Pelosi, and a whole group. And I think we're fairly close, but we have to get massive border security."
Trump also said he has talked with House Speaker Paul Ryan and Senate Majority Leader Mitch McConnell and said they are on the same page about a potential plan. "Ryan and McConnell agree with us on DACA," the president said. "We are very much onboard. I spoke to them, yes."

In a statement later in the morning, McConnell did not commit to what Trump and Democrats have discussed one way or the other. "We look forward to receiving the Trump administration's legislative proposal as we continue our work on these issues," he said. The president called McConnell Thursday morning to go over DACA and border security.
Ryan, at his weekly press conference Thursday, said "there will be a compromise" on DACA, but that "there's no agreement" at this time.
The president also expanded in his remarks to reporters Thursday on an early morning tweet about the southern border wall that's such a significant priority for his base, again suggesting money for a wall would be separate from a plan for DACA.
"The wall will come later," he told reporters. "We are right now renovating large sections of wall, massive sections, and making it brand new. We're doing a lot of renovations."
Trump tried to emphasize his commitment to the wall in additional comments to reporters later in the morning from Florida. "Ultimately we have to have the wall," the president said. "If we don't have the wall, we're doing nothing."
But Trump's early Thursday morning tweets outlined the agreement Pelosi and Schumer described Wednesday night, which put the wall on the side. In the series of tweets Thursday morning, the president said he did not want to throw out DREAMers, and wanted to see legislation to protect their status in the country if a border security agreement was made.

Schumer and Pelosi, in a statement Thursday morning, said Trump's tweets "are not inconsistent with the agreement reached last night," adding that "there was no final deal."
"What remains to be negotiated are the details of border security, with a mutual goal of finalizing all details as soon as possible," they said. "While both sides agreed that the wall would not be any part of this agreement, the President made clear he intends to pursue it at a later time, and we made clear we would continue to oppose it."
They added that "Both sides agreed that the White House and the Democratic leaders would work out a border security package," possibly including new technology, drones, or air support, among other items.
"I do trust that the president is sincere," Pelosi said later Thursday during her regular press conference.
"I do believe that there is an understanding that down the road there is an eventual path to citizenship in the DREAM Act. ... But [citizenship] came up in the context of the suggestion that there might be other bills to be considered, and that didn't last long," she added.
Trump, once he landed in Florida, was asked why Democrats said they had a deal after Wednesday's dinner, and he pointed back to the new statement from Democratic leaders. "There was no deal and they didn't say they had a deal," Trump said. "In fact, they just put out a statement, they didn't say that at all."
The back-and-forth over what exactly transpired between Trump and Democratic leaders Wednesday night began nearly as soon as the dinner ended.
Soon after Democrats released their initial statement, a White House spokesperson declined to state exactly what was agreed to over dinner.

And despite Trump and the White House saying there was no official agreement, what Democratic leaders described Wednesday night fit with what House Democrats said Trump had told them separately earlier in the day.

Texas Democrat Rep. Henry Cuellar told reporters earlier Wednesday that the president, in a meeting with Democrats, had said he would not push for border wall funding in a DACA deal, but would press for it elsewhere. "He said that at the meeting, and he said not on DACA, we'll put that somewhere else, on another bill," Cuellar said of the talks with the president.
It is unclear if Republicans will go along with what Democrats say the president agreed to. Ryan and McConnell would need to agree to the plan, as they are in charge of bringing legislation enshrining a DACA agreement to the floors of their respective chambers. Neither man was at dinner Wednesday night.
And any agreement could make some House conservatives and members of Trump's base livid, as Iowa Rep. Steve King displayed Wednesday night.
The frustration stretched across conservative media after the Democrats' announcement.
Breitbart, the far right news site now again controlled by former top White House strategist Steve Bannon, on Wednesday night blared a two sentence headline atop its homepage after Democrats announced the agreement: "AMNESTY DON."
Trump, asked Thursday morning by a reporter if he favors "amnesty" for undocumented immigrants, said, "The word is DACA."
Arizona Republican Sen. Jeff Flake, a frequent Trump critic, meanwhile gave "kudos" to Trump after Democrats announced the framework.
The negotiations come just a week after Trump's administration announced it would end the Obama-era Deferred Action for Childhood Arrivals program, which protected young immigrants brought to the US as children from deportation. The administration said it would end the program in six months, with the intention of giving Congress time to find a legislative solution to account for the nearly 800,000 DREAMers in the US.
A person briefed on the meeting said Trump and the Democratic leaders "agreed to pair the bipartisan DREAM Act with some border security, excluding the wall."
"Ryan would have to put that on the floor, but his party's president backs it, so presumably that will be fine," the person said.
The Trump administration was less specific in its own readout immediately after the meeting from a White House official, who said the group discussed border security, tax reform, infrastructure, trade, in addition to DACA.

An aide briefed on the meeting said that Chinese food was served for dinner, and of the 11 people who attended the meeting, Pelosi was the only woman present.

Arizona Democrat Rep. Ruben Gallego was hesitant to embrace the apparent deal after news came out Wednesday night. "I'm skeptical of the deal until I know the details," he told BuzzFeed News.
This is a developing story. Check back for updates.

Outside Your Bubble is a BuzzFeed News effort to bring you a diversity of thought and opinion from around the internet. If you don't see your viewpoint represented, contact the curator at bubble@buzzfeed.com. Click here for more on Outside Your Bubble.