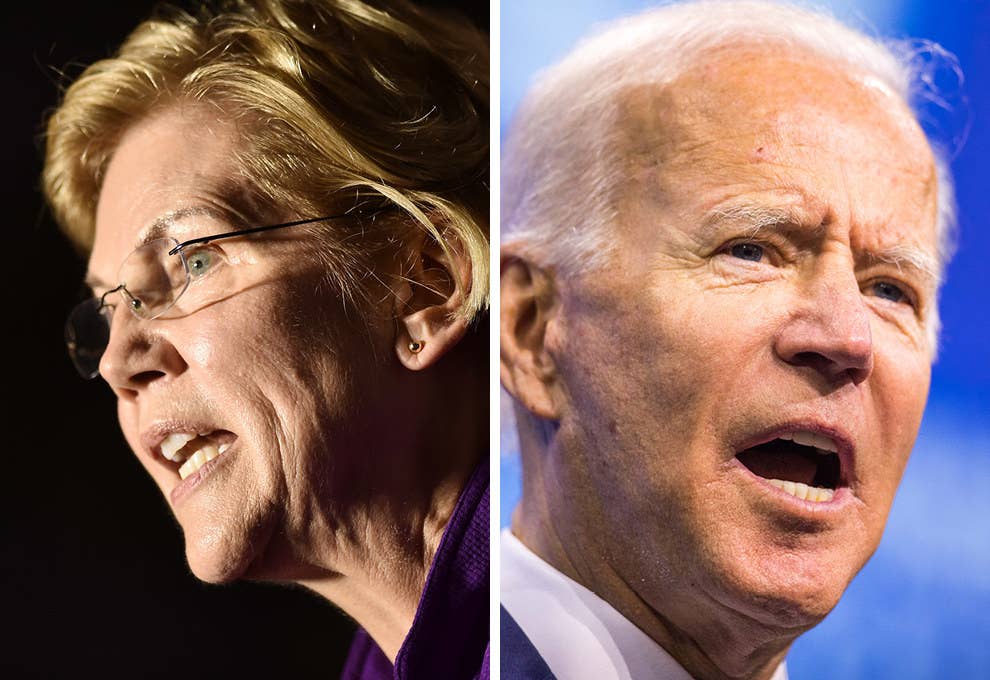 A new poll of likely Democratic primary voters shows that, at least for now, Elizabeth Warren and Joe Biden are out ahead of the rest of the field.
The poll from Civiqs and Data For Progress, shared first with BuzzFeed News, shows virtually no change in the days immediately after last week's debate from the days before. Civiqs conducted two identical surveys — one before the debate from Sept. 10 to 12 and one after, with respondents who took the first survey, from Sept. 13 to 16. The results were practically identical: Warren and Biden lead the field with Bernie Sanders in third and others further behind.
BuzzFeed News; Getty Images
Source: Civiqs, Democratic Post-Debate Survey, Sept. 13–16, 2019.
The strongest showing for Warren in the post-debate survey, though, may be in how many respondents listed her as their second choice — 27% picked Warren, with Kamala Harris (11%), Pete Buttigieg (11%), Bernie Sanders (10%), and Joe Biden (9%) following behind.

The second choice results also give a sense of which candidates are appealing to the same cluster of voters. That's particularly true for the left-wing of the primary field — 59% of Sanders voters listed Warren as their second choice, and 21% of Warren voters listed Sanders, a number in line with how many Warren backers named Harris or Buttigieg as their next preference.
BuzzFeed News; Getty Images
Source: Civiqs, Democratic Post-Debate Survey, September 13-16, 2019. (Note: A small number of survey respondents selected their first choice candidate as their second choice candidate.)
Warren and Sanders backers have some clear ideological similarities in the post-debate poll — 89% of Sanders backers have a favorable view of democratic socialism (Sanders identifies as a democratic socialist), as do 80% of Warren backers. Biden voters were much more split: 35% had a favorable view, 30% unfavorable, and 34% were unsure. A quarter of Sanders supporters said they considered themselves to be democratic socialists, compared to just 12% of Warren supporters.

In total, 75% of Warren backers and 71% of Sanders backers considered themselves progressive, liberal, or democratic socialist. That was true of only 42% of Biden backers, 43% of whom identified as politically moderate.
Another way of looking at ideological sorting in the poll: how voters with different health care preferences are lining up behind candidates. Seventy-five percent of those who back Sanders, who has made Medicare for All central to his campaign, support a single-payer health care system, and 16% support a public option, where Americans would be able to choose between a government plan and private insurance. Those numbers are virtually flipped for Biden supporters: 79% back a public option and 16% back single payer. Warren supporters were nearly evenly split between a public option and single-payer, 44%–50%.
The pre-debate survey had a sample size of 1,784 likely Democratic primary and caucus voters, and the post-debate survey had a reinterview rate of 72%, for a sample size of 1,291. The poll, which was conducted online, has a margin of error of 3.1%.