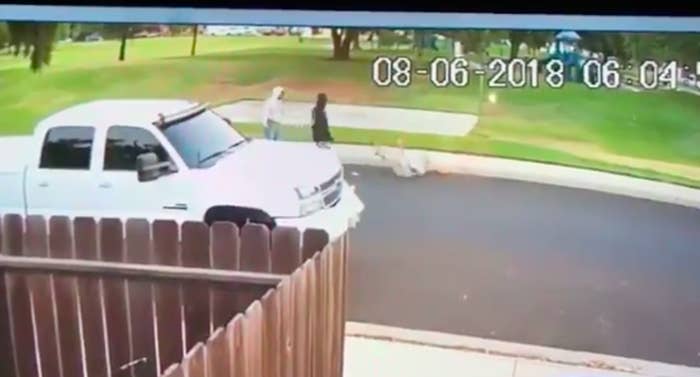 Two suspects, including the son of a police chief, were arrested Wednesday in connection with the attack of a 71-year-old Sikh man during his early morning walk in Manteca, California.
Tyrone McAllister, 18, and a 16-year-old boy who has not been identified were arrested on suspicion of being involved in the attack, which was caught on video by a nearby home's security camera, sparking outrage in the community.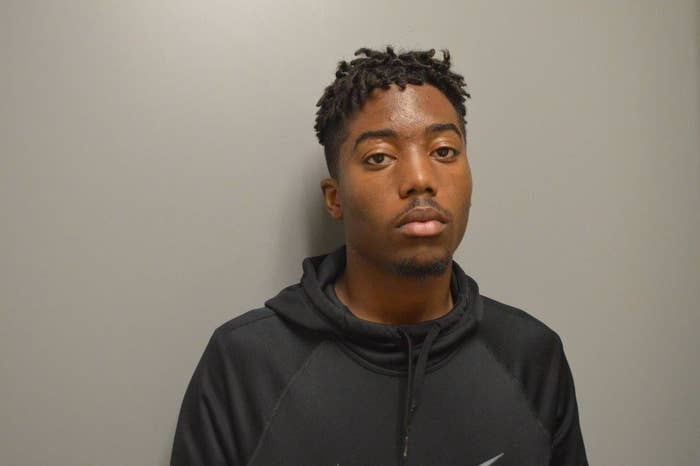 Sahib Singh was on a walk shortly after 6 a.m. Monday when two masked men approached him. After a brief interaction, one of the assailants can be seen on video kicking Singh, causing him to fall to the ground and his turban to fall off.

After getting up, Singh can be seen trying to defend himself when he is kicked again, falling to the ground a second time. The 71-year-old remains on the ground as the two men walk away, but then suddenly, one of the men returns, kicks Singh three times, and appears to spit on him before leaving.
The suspects have been charged with attempted robbery, elder abuse, and assault with a deadly weapon. The investigation is continuing into whether the attack meets the legal standard for charging as a hate crime, officials said.

It emerged Wednesday that McAllister is the son of Union City Police Chief Darryl McAllister, who wrote on Facebook that he learned of the connection shortly after issuing a statement addressing the attack, and its effect on the local Sikh community.

"I am completely disgusted in sharing with you that, later yesterday evening, I received a call from the Manteca PD that the suspect in this horrific crime turns out to by my 18-year old son," Darryl McAllister wrote on the Union City Police Department's official Facebook page. "Words can barely describe how embarrassed, dejected, and hurt my wife, daughters, and I feel right now. Violence and hatred is not what we have taught our children; intolerance for others is not even in our vocabulary, let alone our values. Crime has never been an element of our household, our values, nor the character to which we hold ourselves."
He said that his son had been estranged from the family, and had "lost his way" several years prior, after falling in with a "bad crowd" and spending time in juvenile detention and jail.
Police in Manteca said they had received several tips after the video was released. "The public's assistance in providing information with this case was instrumental in identifying the suspects and allowed my investigators to make a quick arrest," officials said in a statement.
In his post Wednesday, the elder McAllister wrote that his family had been "shaken to its core" by the attack.

"It's difficult for us to comprehend how one of three kids who grew up with the same parents, under the same roof, with the same rules and same values and character could wander so far astray. We simply don't know why, or how we got here," he wrote. "In the eyes of the public, no matter the irrelevance to the incident, the fact remains that the father of the perpetrator of this despicable crime is a police chief, period,"
"One cannot expect the general public (our Sikh community in particular) to factor in any sentiment that would distinguish this from the integrity of my family name," he concluded. "I pray that we, as a community, in conjunction with my family, can get through this and be even stronger as a result."
Residents in Manteca staged a vigil Tuesday to show their support of Singh and the Sikh community, with speakers voicing concern and outrage at racist attacks across the country, in which Sikhs have been targeted after being mistaken for being Muslim.

The Manteca incident is the second such attack on a Sikh man in California's Central Valley in the last week. On July 31, Surjit Malhi was attacked by two men who threw sand in his eyes and beat him while allegedly shouting, "Go back to your country!" according to an interview he gave to CBS Sacramento. That phrase, along with a Celtic cross, was also spray-painted on his truck.
Malhi credited his turban for saving his life, saying it softened the blows.